With 2 Mass. studios planned, training programs expand to teach production skills

By Johnny Diaz
Boston Globe
August 19, 2009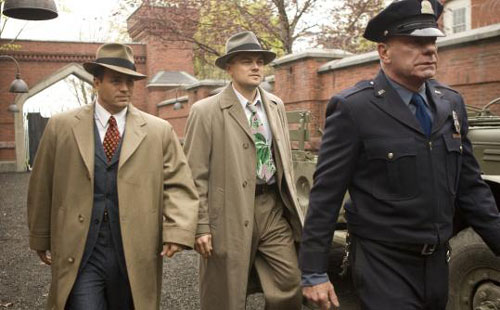 Director Martin Scorsese shot SHUTTER ISLAND which features Mark Ruffalo (left) and Leonardo DiCaprio, in Massachusetts last year. (Andrew Cooper/ Paramount Pictures)

CAMBRIDGE – In the second-floor offices of Future Media Concepts, where framed movie posters line the hallway, students hunch over rows of computers and learn the latest in digital and video editing.
While some students are learning to upload their own videos for personal use, the majority of them are brushing up their skills in the hopes of working in Massachusetts' flourishing film industry.
"There's a tremendous amount of positions for people in the film industry in Boston,'' said Adam Greene, a former student and current instructor at Future Media Concepts, which recently moved into a new 3,000-square-foot facility – double the size of its former site. "You are seeing a lot of Massachusetts residents taking advantage of becoming assets to the film industry.''
Two proposed studios, tax incentives for in-state productions, and a booming film industry are combining to create more opportunities for local workers who can edit and help in post-production aspects of the film, television, and digital media industries. As a result, local businesses and schools such as Future Media Concepts and Powderhouse Productions in Somerville are expanding their facilities or programs to help folks fill those jobs.
"The more movies we get, the more workers are required, the more infrastructure is needed and, therefore, the more jobs are created,'' said Nicholas Paleologos, executive director of the Massachusetts Film Office, which estimates $452 million was generated from movies filmed here last year.
Indeed, Massachusetts has seen a wave of films produced locally since 2006, when only two films were made here. In 2007, that number jumped to eight. Last year, there were 13 made-in-Massachusetts movies including "Shutter Island,'' starring Leonardo DiCaprio, and "The Surrogates,'' with Bruce Willis.
Film industry executives attribute part of that growth to the 2006 tax credit for local film productions. The program underwrites a quarter of a movie production company's costs with the idea that the filmmakers will hire Bay State workers and spur economic growth. However, production companies aren't required to hire a certain number of Massachusetts workers. And according to a report released last month by the Department of Revenue, Massachusetts only gets 16 cents for every dollar spent on the incentives.
Officials are hoping two proposed film studios will boost the local film industry even more. Plymouth Rock Studios, scheduled to break ground later this year, is billed as a $282 million project with 14 soundstages and plans for as many as 28. Production buildings and back lots are also included in the plans. Another studio is planned for 30 acres at the former South Weymouth Naval Air Station and is estimated to cost $147 million. That facility would be used for movies, television shows, and video game production.
"Most projects that come to Massachusetts don't want to hire people from out of state because it's more expensive,'' said Paleologos.
Even though companies and schools are training local talent, more work may be needed to create a critical mass of workers. One estimate from the Massachusetts Film Commission puts that number at 3,000 to 10,000 workers, if the two film studios were built right away. Meanwhile, membership in the International Alliance of Theatrical Stage Employees Local 481, which represents 400 film technicians in New England, has doubled since 2006.
"We have some workforce that can do the movies and the TV shows,'' said Peter Forman, president of the South Shore Chamber of Commerce in Plymouth. "We don't have enough workforce to do several of them all at the same time, and that's where we have to do more recruitment and training.''
That's where local schools and production companies are stepping up. Last May, the New England Institute of Art launched "College On The Lot,'' a weekly series of workshops that introduce people to the local film industry and the potential jobs, as well as to courses available at the school. The workshops are held on the lot where Plymouth Rock studios are proposed to be built.
"There's this great general interest, in what does this all mean because Massachusetts doesn't have any film studios,'' said Susan Lane, president of the Brookline-based college. The school expanded the workshops for fall. So far, 200 students have participated.
Back in Kendall Square in Cambridge, Future Media Concepts added five digital media training suites to teach people the latest in post-production and broadcast editing applications such as Apple, Adobe, and Final Cut Pro. "I didn't have the room to schedule all the classes in our previous location,'' said Keri Wilson, Boston branch manager of the 11-year-old company. "People are more technology oriented now. They are finding that they need more training.''
At Somerville's Powderhouse Productions, executives recently expanded their 5,000-square-foot offices to 14,000 square feet to take on more projects. "I like to refer to the tax credit as Miracle-Gro for our company,'' said Tug Yourgrau, cofounder of Powderhouse, whose clients include the Discovery Channel, Animal Planet, and TLC.
Yourgrau said his company has hired four people full time to develop ideas and pitches for TV and film companies. The projects have also helped Yourgrau hire 37 interns from local schools such as Emerson College and Boston University this summer.
"Think of all the colleges and universities who pump out all these kids in television and [they] go to Hollywood and New York to start out,'' said Yourgrau. "We have given them a reason to stay in state.''
Johnny Diaz can be reached at jodiaz@globe.com.