Movie, TV industry contributed 2.5 mil U.S. jobs in 2007
By Georg Szalai
The Hollywood Reporter
April 22, 2009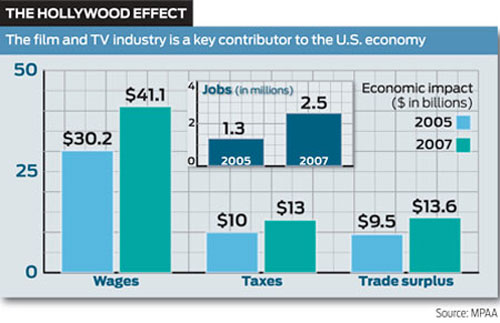 NEW YORK –The movie and TV industry contributed 2.5 million jobs and $41.1 billion in wages to the U.S. economy in 2007, according to an MPAA report.

That's up from more than 1.3 million jobs and $30.2 billion in 2005 as reported by the trade group in its inaugural report a couple of years ago.


In another key finding, there has been a shift of top production states beyond the traditional entertainment powerhouses of California and New York. Illinois, Texas and Florida are among those that have become more important industry hubs, while Nevada, Arizona and Montana are among those that have lost some luster.

MPAA chairman and CEO Dan Glickman will present the findings of the entertainment economic impact study today at the start of the second biennial Business of Show Business symposium in Washington. Under the theme "American Creativity at Work," the MPAA event is designed to showcase Hollywood's economic contributions and importance.

U.S. Secretary of Commerce Gary Locke, Sen. Orrin Hatch, R-Utah, Reps. John Conyers, D-Mich., Henry Waxman, D.-Calif., and Steve Scalise, R-La., journalist and former TV host Nick Clooney and studio reps are expected at the event. In addition to panels and other events, actor Dwayne Johnson will give a luncheon speech. 

The impact study, most of whose data is for 2007 despite the inclusion of some 2008 figures, shows that more than 285,000 people were employed in the core business of producing, marketing, manufacturing and distributing films and TV shows.
The average salary of employees in the core production-related space came in just below $75,000 for 2007, 75% higher than the average salary nationwide, the MPAA found. For 2005, the average pay of $73,000 was nearly 80% above the U.S. average. 

Overall, there are more than 115,000 entertainment firms in all 50 U.S. states — and 81% of them employ fewer than 10 people.

More than 478,000 work in industry functions in related businesses, such as movie theaters, video rental firms, broadcasters, cable operators and online ventures like Hulu.com and TV.com.
The motion picture and TV industry also supports an additional 1.7 million jobs indirectly, up from nearly 1 million in 2005, at companies doing business with Hollywood players, such as apparel retailers, car rental firms, caterers, dry cleaners, transportation companies and lumber and hardware suppliers.


The industry also boosts the cash in state and federal coffers — a key argument in debates over the value of production tax incentives. Taxes paid by film and TV workers in 2007 and sales taxes on goods and services amounted to $13 billion, up $3 billion from 2005. The study couldn't quantify such other government revenue as corporate income, property and business license taxes or contributions from indirect employment.


According to the MPAA, 40 states plus the District of Columbia have found production activity so economically beneficial that they have incentive programs to attract and maintain productions. Beyond the traditional entertainment hubs of California and New York, the study listed these as the top 10 production states: Illinois, Texas, Florida, Georgia, Pennsylvania, New Jersey, North Carolina, Louisiana, Tennessee and Massachusetts.

Michigan, Arizona, Connecticut, New Mexico and Utah are "states to watch" based on recent production levels, tax incentives and economic impact of the industry.


The film and TV industry is also "one of the few that consistently generate a positive balance of trade," according to the MPAA. For 2007, the trade surplus amounted to $13.6 billion, or 10% of the total U.S. private sector trade surplus in services. For 2005, the figures amounted to $9.5 billion and 12%, respectively.

U.S. entertainment earned $15 billion in audiovisual services exports in 2007, up 23% from 2006, up more than 50% from 2003 and the highest reading since tracking began in 1992.