Cruise, Cameron Diaz, 20th Century Fox needed a quiet, empty place
By Nancy Sheehan
TELEGRAM & GAZETTE
September 2, 2009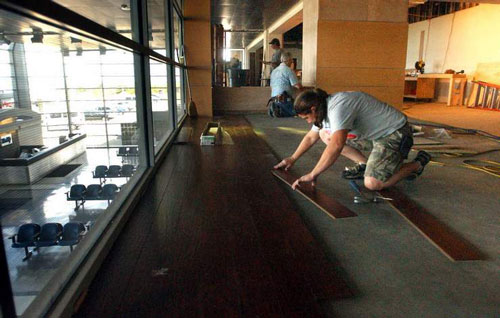 Jill DiCicco of Holliston and other members of the New England Studio Mechanics, Local 481, build a set at Worcester Regional Airport yesterday that will be used in the filming of "Wichita." (T&G Staff / MARK C. IDE)

What do you mean no one uses Worcester Regional Airport?
How about Tom Cruise and Cameron Diaz? The Hollywood superstars are sure to create a flurry of excitement at the otherwise underutilized airport when they breeze in to the terminal about two weeks from now to shoot scenes for an upcoming movie. Construction workers already are building sets in the cavernous, almost empty terminal building for "Wichita," a 20th Century Fox action comedy in which Cruise plays a secret agent who weaves in and out of the life of a single woman.
Much of the movie is set in Boston and shooting will take place there as well as in Chelsea, Woburn, other Bay State locations and overseas, including Barcelona, Spain. But Worcester will be where the first scene will be shot. What will Worcester's role be? (Hint: Think of the movie's title.) That's right! Worcester Regional Airport will be Wichita Airport in the film. Shooting here is expected to start around Sept. 15 and take three or four days. The James Mangold-directed movie is scheduled for a summer 2010 release.
Now, you might be thinking: "Oh, no. We got all excited about 'The Maiden Heist' with scenes shot at Worcester Art Museum, only to recently find out financial problems probably have scuttled a theatrical release." Worry not. We don't mean to jinx "Wichita," but we really are talking apples and kumquats here. "The Maiden Heist," in spite of a cast list that included Oscar winners Morgan Freeman, Christopher Walken and Marcia Gay Harden, cost just under $20 million to make. "Wichita," by the time filming wraps and all the popcorn is popped, will be in the megabudget range. The studio isn't saying how much, but one of their employees building sets at Worcester airport who has worked for 20th Century Fox on various movies for 30 years pegged it at about $130 million.
Add to all that money the fact that most of Hollywood held its collective breath wondering "What will Tom do next?" while Cruise sifted through a slew of major project offerings including this one. Once the project was selected, where to shoot? Massachusetts was chosen because of the generous tax breaks the state grants moviemakers in hopes that their unfathomably huge budgets might spur our sagging economy into showing signs of life.
Not to mention our sagging airport.
Actually, that turned out to be a good thing. A main reason Worcester Regional Airport was chosen was because of its … emptiness.
"The filmmakers love it," said Nick Paleologos, executive director of the Massachusetts Film Office. "Most airports are under incredible security constraints in the wake of 9-11. If a movie happens to require use of an airport, it's really a pain in the neck. So to be able to come to a state where you have an underutilized facility like Worcester airport and be able to really go in there and just remake it for a little while for the purposes of the film is a great benefit, obviously, to the locality but it's a terrific benefit to the filmmaker as well."
The construction phase in Worcester employs about 80 people, said Larry Clark, a scenic painter for 20th Century Fox. The studio sent about eight people, including Clark, but most of the others are from the New England area, he said. To accommodate "Wichita" (that's a working title and might change), the crews are building a bar, a Transportation Security Administration inspection area, a gift shop and a coffee shop. When the shoot is over, they will tear down the sets.
Now for the important part: How do you get a job as an extra? Boston Casting is handling that for the film, so you should go on its Web site, www.bostoncasting.com, and click on talent application. (Don't call them. They'll call you, or so they told us when we asked about the process.)
Do not tarry, however. Casting already is under way, the agency says. Maybe so, but your chances still should be pretty good. Just think of how many extras are going to be needed to make Worcester airport actually look busy.