By Simone Press and Ira Kantor
Boston Sunday Herald
September 20, 2009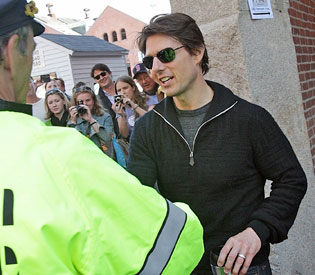 Photo by John Wilcox
Tom Cruise shot a scene yesterday at Stella in the South End.

Hollywood hunk Tom Cruise gave Hub fans an unexpected treat yesterday by turning up in the South End to film scenes for his latest flick at Gaslight restaurant alongside A-list hottie Cameron Diaz.
The pair star in a new action comedy, tentatively titled "Wichita." The film features Cruise as a secret agent popping in and out of the life of single mom Diaz.
Outside Gaslight, the Academy Award-nominated heartthrob told the Inside Track that filming local scenes, including at Worcester Regional Airport, has "been a blast."
"It's been a great first week," Cruise said before departing in a black Escalade. On Friday night, Katie Holmes, Daddy Cruise and little Suri had dinner at Abe & Louie's on Boylston Street.
Some fans, such as Cara Tirrell of Ashland, grilled Cruise for pledging allegiance to the New York Yankees. Tom played it up, telling the crowd he has a lot of friends who are Red Sox fans and wants to see the Sox in the playoffs.
"We didn't even know he was there," said Tirrell, a 37-year-old mental health clinician. "We just stumbled onto the scene."
Cruise and Diaz also will film a post-plane-crash scene in Bridgewater. However, a chunk of an old Boeing 727 slated for the set was nearly derailed Friday after being stuck on a flatbed truck in Longmeadow for about 18 hours.
The fuselage was being sent from North Carolina to Bridgewater for inclusion in an explosion scene on a 263-acre corn field. Longmeadow police Lt. Gary Fontaine said the truck carrying the fuselage remained parked at a rest area on Route 5, where "it wasn't blocking traffic," before being escorted by state police to Bridgewater between 1:30 p.m. and 2 p.m. Friday afternoon. The truck driver told WWLP Ch. 22 News that the trip, which should take two days, has taken nearly two weeks. The network reported the delay was because the driver was awaiting state permits.
Article URL: http://www.bostonherald.com/track/inside_track/view.bg?articleid=1198628