Lights, camera, action

By Colneth Smiley Jr.
Boston Herald
November 22, 2009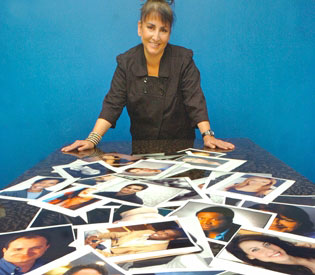 Photo by Patrick Whittemore
Boston, your agent is on Line 1.
"It's an explosion of work and the future is incredibly bright," said Dona Sommers, executive director of the New England office of the American Federation of Television and Radio Artists and the Screen Actors Guild, which manages more than 2,500 union actors within the region.
Local movie studio development may be struggling and film-industry tax credits remain controversial, but for those in the casting business, the story of film in Beantown remains a feel-good blockbuster.
"The local acting community has never had so many opportunities for work before, and I can only see that growing with every passing year," said Sommers.
As the Herald reported earlier this year, moviemakers spent $676 million in the state at the end of fiscal 2008, according to the state Department of Revenue. Direct employment of state residents in film production rose by 537 percent (3,177 jobs) since 2006.
But it hasn't all been smooth sailing. A Department of Revenue report this summer found that for every dollar the state laid out in tax credits over the first three years, it realized only 16 cents in return. Only 18 percent of wages eligible for tax credits were paid to Massachusetts residents – the rest went to out-of-staters.
And last week, development of Plymouth Rock Studios was put on hold due to a canceled loan agreement of $550 million for construction. None of that fazes casting agents, who give the state raves. "The film tax in credit was in essence a job creation bill," said Sommers. "We have lived in the shadows of New York and Los Angeles, and the film tax credit has allowed us to demonstrate to the production community that we have talented actors who choose to work and live in New England."
"Boston is your next big market to blossom," agreed Joe Freeman of Dynasty Models & Talent Inc.
"With the tax incentive in place going to 2025, and 25 cents back in tax incentive on each dollar, Hollywood is taking advantage – and why wouldn't they?," said Angela Peri, owner of Boston Casting, New England's largest casting company. "It's called show business, and they're saving money."
Peri, who worked with local stars such as comedian Dane Cook and actor John Krasinski of "The Office," said she's "put 10,000 actors to work in the last six months" as extras and in speaking roles.
"We just finished Mark Wahlberg's movie with Christian Bale – fabulous. It's going to be an Academy Award-winning film," she said. "We're doing the Tom Cruise movie right now. We did 'The Proposal,' 'Mall Cop,' 'Pink Panther,' 'What Doesn't Kill You,' 'My Best Friend's Girl' – it goes on and on."
Some actors that have left the area are coming home in order to audition, Peri said.
"I think New England is pretty much an untapped resource of talent," Freeman said. "We're such a diverse cultural area. We have people from all over the world here. I have models and actors from 75 countries and speak about 100 different languages."
Liz Eng, a theater and psychology major at the University of Massachusetts at Boston, describes herself as a "working actor" who has appeared in "The Departed," "27 Dresses" and, most recently, "Grown Ups," which stars Adam Sandler and Salma Hayek.
"Boston is a great place to be, especially if acting and working on film is your goal or passion," said Eng. "It's not as crowded as New York or L.A. You can be a big fish in a small pond here."