If we want to be Hollywood East, we've got to start acting like it.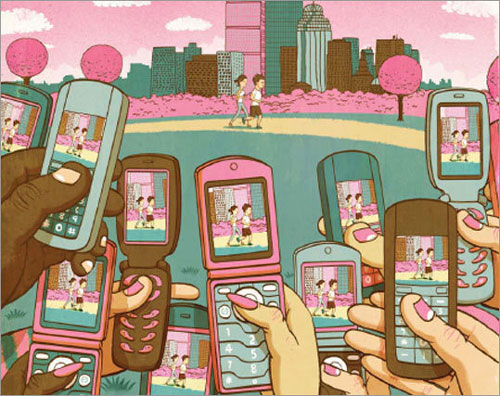 (Illustration by Andy Ward)
By Joel Brown
Boston Globe
December 13, 2009
Anchor: And now let's hear from our reporter on the North Shore, where locals are very excited about the filming of an Adam Sandler movie!
Reporter: That's right, everyone here is thrilled to get a taste of Hollywood glamour. Stay tuned for my exclusive interview with a local fourth-grader who had the once-in-a-lifetime experience of selling the comedy star a cup of lemonade!
Anchor: Wow, that sure is exciting. By the way, did you get the part?
Both: Ha-ha-ha-ha-ha!
Yes, the movies have come to Massachusetts, and too many of us are going gaga. Sandler and Salma Hayek, Tom Cruise and Cameron Diaz, and Ben Affleck and Jon Hamm are among the Hollywood luminaries filming in the Bay State this year. About a dozen major productions shot here in 2008 and 2009, according to Nick Paleologos, executive director of the Massachusetts Film Office.
The stars have a very good reason to come here besides the scenery — the 25 percent tax credit for production spending, formally known as The Drew Barrymore Photo Ops for State Reps Act of 2005. Supporters of the state's film industry say the incentive has worked, creating jobs as well as revenue for local businesses. Others doubt the net benefit.
But either way, what does all this mean for us little people? I've been denied a clam roll at Woodman's of Essex and a beer at Jacob Wirth in the Theatre District because they were closed for location shoots. Film crews have shut down streets around Fenway Park and even, briefly, closed the Zakim Bridge. If you've been snarled at by a production assistant in cargo shorts brandishing duct tape in a menacing manner, then you've seen the real face of Hollywood.
Mike Piehl of Somerville says he called the police to complain about Affleck's crew working behind his home at 2:30 one October morn. "My wife and kids were asleep, but not for long. There was a guy fixing a generator, swearing and throwing wrenches and numerous people yakking on cellphones LOUDLY!" he recounted in an e-mail to the Globe. But he says the cops told him the shoot had a permit and there was nothing they could do. "Do we non-Hollywood types just have to suck it up when a big movie is in town?" Piehl wrote.
In LA, where officials are trying hard to retain production revenue and jobs, residents often object to film crews intruding in their neighborhoods. Here, we're more likely to call in the TV news and Great-Aunt Martha. Our excitement seems to reinforce our second-rank status behind jaded LA and New York, where Sandler is just another guy in the valet line.
And we never see much on a set, anyway. Today's movie and TV shoots are deadly serious quasi-military operations despite the relatively trivial end product — you know, like the Grenada invasion or the Sarah Palin book tour. Camera phones and YouTube and Twitter have turned location filming into a covert op. "Spoilers" are the enemy. Journalists and fans alike are generally pushed back past the lemonade stand.
I visited a suburban location for the TV series Spenser: For Hire as a cub reporter in the 1980s and watched take after take before genial star Robert Urich sat patiently for an interview. Seemingly half of Cohasset watched Jack Nicholson lurching devilishly around the streets for The Witches of Eastwick.
In 2009, many New Englanders and especially our local TV newsies still seem beside themselves at the slightest glimpse of fame. Maybe that's because our star quota normally consists of Tom and Gisele and . . . Hey, what's Ernie Boch Jr. doing tonight? When one TV station managed to get a shot of Diaz sprinting through Boston traffic in a chase scene, I assumed she was fleeing a Herald photographer.
Massachusetts now seems to be a victim of Hollywood accounting, as grand plans for a Plymouth movie studio fade like a desert mirage. Take a lesson, people, and toughen up. If we want Hollywood to respect us in the morning, we need to treat the movie biz with casual disdain, just like the folks in LA.
So if you see Hamm on your street in an FBI raid jacket, ask him if the new job means he's been cut from Mad Men. Katie Holmes wanders into your boutique? No shoes, no shirt, no service. Even those with local cred like Affleck and Sandler get no breaks, at least until the guy with the cargo shorts gets out the duct tape.
Joel Brown is a writer in Newburyport. Send comments to magazine@globe.com.