The director was challenged by the plot-driven story. The actor was emotionally drained. And the writer, well, he just feels lucky.
By Scott Timberg
Los Angeles Times
February 7, 2010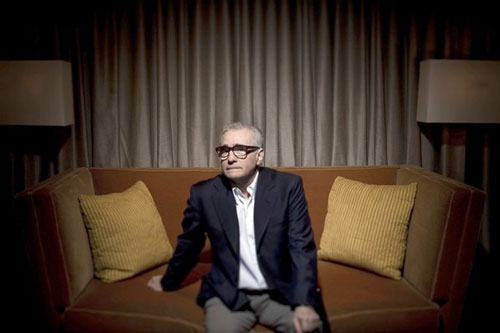 "Shutter Island," which reaches theaters Feb. 19, sent director Martin Scorsese on an exhausting emotional journey. (Jay L. Clendenin / Los Angeles Times)

To many — movie fans, film theorists and the dozens of young directors who've sought to emulate his two-fisted early style — Martin Scorsese is the consummate American auteur. He's a filmmaker, that is, with a profound and distinctive personal vision and the clout and courage to put it on screen.


But when Scorsese, 67, was working to adapt a tightly constructed thriller by author Dennis Lehane — a novel that pulls the rug out from under its premise several times — the director was suddenly in a very un-auteur-like straitjacket. Not only did the book's twist-driven structure preclude reinterpretation or personal moments, "Shutter Island," which reaches theaters Feb. 19, sent him on an exhausting emotional journey as well.


"When I got to it I said, 'Oh, my, this has to be exactly right,' " a compact-and-dapper-looking Scorsese says of the film's hair-trigger plotting. And the actual filmmaking made him feel he was trapped inside a Hitchcock movie: "When I got to the shooting and editing of it," he says, "it was like being thrown down a spiral [staircase].

"I just don't know how to do it any other way," the director says, sitting in the bar at the Beverly Hills Hotel as torrential rains assault the city. "I tried to pull back a few times and not get so emotionally and psychologically involved. . . . But this story, these characters — it was a very unsettling experience."


"Shutter Island" takes place off the coast of Massachusetts in the 1950s, in and around a hospital for the criminally insane run by an eccentric and possibly dangerous doctor (Ben Kingsley). The film begins with the arrival of Federal Marshal Teddy Daniels (Leonardo DiCaprio) and Chuck Aule (Mark Ruffalo), who have been sent to investigate the disappearance of a homicidal patient. But before long, a hurricane begins closing in, putting everyone on the island in imminent danger.

"Shutter Island" (shot mostly in and around Boston Harbor, including Peddocks Island) may most closely resemble Scorsese's 1991 "Cape Fear" remake.
Like that film, "Shutter" is also a singular piece of work featuring some spectacular performances, but one that could face some inherent commercial challenges. Ostensibly, it could be too sophisticated and complex for younger audiences and too intense and genre-driven for many of the adults who support cinema by serious directors.


Although "Shutter Island" might have seemed like a slam dunk — bestselling novel by well-regarded author, the director's first feature since the four Oscars that greeted "The Departed," top-tier cast — adapting it for the screen ended up being trickier than expected. And Scorsese wasn't the only one who found the production to be a particularly wrenching experience.


"There were moments on set where I definitely felt like we were going into uncharted territory," says DiCaprio, whose marshal is also a World War II veteran haunted by what he saw at Nazi concentration camps. "It was draining. It got to the point where it became more and more realistic the deeper it got — swerving away from anything stylistic and becoming more about human nature.
"

And a late-inning schedule change by Paramount, pushing the film's opening date from Oscar-rich territory in October to the no-man's land of mid-February, has only made matters more complicated.


Seed of an idea


The project was born of nightmare — literally.

Lehane, esteemed for his series of South-Boston based mysteries featuring detectives Patrick Kenzie and Angela Gennaro, had just watched his novel "Mystic River" shoot up bestseller lists. The book had not yet been made into an Oscar-winning film by Clint Eastwood, but this story of bloody revenge in Irish Boston had already become his breakthrough novel.


"I was faced with the possibility of writing a certain kind of book," Lehane, 44, recalls by phone. "A blue-collar literary mystery. I didn't want to be writing 'Mystic River 2,' '3' and '4.' "

So while Lehane was walking on a Florida beach, he got the glimmer of a setting for his next novel.


"I'm loathe to tell this," Lehane says, laughing. "But I had this dream one night — and it was the whole novel. There was some stuff that I wouldn't have come up with."

Lehane had not been partaking of the opiates that inspired certain English poets but credits stress and his mother's illness with producing his visions. He scrawled it down upon waking the next morning.
"Once I got all the plot points down, I had to write it as fast as humanly possible."

The resulting novel was both a real departure for Lehane and a kitchen-sink of genres: anagrams that come from Poe, Brontës-style dark-and-stormy-night, B-movie psych-ward thriller, hard-boiled detective story, Golden Age "locked room" mystery, and a little Hitchcock to wash it all down.


"I was surprised, as I read the script, how it kept shifting from one genre to another," says Scorsese of the screenplay from Laeta Kalogridis, who also worked with James Cameron on "Avatar." "And how I was in total acceptance of those shifts. It didn't feel artificial.
"

The fact that the book's tight, house-of-cards storytelling allowed for no deviation didn't bother Scorsese — except for one thing: "I'm not very strong on plot," he admits. "I prefer character and mood and atmosphere — and music. I find it a little difficult to visualize, to make clear to an audience what's going on . . . which is not good for a director! I never really quite know the extent to which I'll be challenged to tell a story — I never know until I'm there.
"

Ultimately, Scorsese looks to cinema's past for inspiration (see sidebar). For shots of the mental hospital, he thought of the trapped, claustrophobic spirit of "The Trial," Orson Welles' often overlooked 1962 adaptation of Kafka. He also had in mind Sam Fuller's "Shock Corridor," a classic of twisted pulp he knew he couldn't exactly emulate.
"You can't beat 'Shock Corridor.' The super-low-budget added to the horror, the sense of tension, the sense that somebody behind the camera was unbalanced — in a good way."

The director knew then that he had to play the story straight. An early script, Lehane says, written while the book was optioned by Columbia Pictures, took liberties with the plot. "It won't work — I constructed the labyrinth in a very specific way. If you go down the wrong corridors you're never coming out.
"

Mutual admiration

"Shutter Island" marks the fourth collaboration between Scorsese and DiCaprio — perhaps the richest run with one actor the director has had since his eight films starring Robert De Niro.

Neither Scorsese nor DiCaprio calls their four films a challenge to those earlier movies — including "Taxi Driver" and "Raging Bull" — that manage to be both genuinely disturbing and indomitable parts of film history: DiCaprio calls that union "the greatest collaboration of all time."
And the director, who's known De Niro since he was 16 years old, says they share "the same fundamental references — friendship, trust, obligation, betrayal, forgiveness, trust again.
"

But Scorsese and the "Titanic" star have been on a pretty good roll since 2002's "Gangs of New York." And appropriately, their connection goes back to De Niro himself.


"Bob had been talking to me about him," Scorsese says. De Niro had worked with the then-teenage actor in "This Boy's Life," adapted from Tobias Wolff's memoir, and told the director, " 'Here's a young actor you're gonna have to someday work with,' " Scorsese recalls.


DiCaprio had first seen Scorsese's films as a 15-year-old preparing to work with De Niro and was especially struck by "Taxi Driver."

"I just remember being so incredibly emotionally invested in Travis Bickle," he says. "His isolation, his loneliness, his contempt for his environment. I cringed when he took the girl to the porno film for their first date.


"What Scorsese does so well is when the lead character starts to betray you after a while: After you're with him, he starts to do things you don't understand."


And after working with him, DiCaprio got to see how the director's main focus is a character's "emotional journey."

For his part, Scorsese seems sincerely touched that a young actor would know his early films. And he always thought of DiCaprio as an actor, not a movie star.


"I saw 'Titanic,' " Scorsese says. "It's a different type of film, a wonderful audience experience of cinema, back to that very basic impulse. But I always remember his performance in 'This Boy's Life' and 'What's Eating Gilbert Grape.' I was cognizant of the popularity of 'Titanic,' but I didn't listen to or read or have anything to do with the mania.
"

Of course, "The movie star helped get the movies made, the way in the '70s De Niro helped get movies made," Scorsese says. That was especially important with the 2004 film "The Aviator," a big-budget spectacle starring DiCaprio as Howard Hughes, and it didn't hurt with "The Departed," which won Scorsese an Oscar.


Some will consider the actor's Boston accent in "Shutter Island" too pronounced (it's not dissimilar to the one he used in "The Departed"). But it's a strong performance by any measure and a difficult one because he's playing a character with a more complicated back story than he lets on.


"It's the one thing I thought of when they moved the date of the film," Lehane says of DiCaprio's role. "This would have been a horse race between him and Jeff Bridges at the Oscars. I remember feeling in the pit of my stomach, 'Oh, poor Leo.' "


Path to the screen



At the very least, "Shutter Island" is likely to garner strong (though probably not unanimous) reviews as well as special notices for its constellation of actors.

For Scorsese, it will be another departure in a career of departures, for DiCaprio another performance that reinforces his growing seriousness — and for Lehane, the third adaptation that's led to a critically acclaimed film (besides "Mystic River," the Ben Affleck-directed "Gone Baby Gone," starring Casey Affleck, also ended up as a gripping neo-noir).


The author — who seems somewhere between skeptic and pessimist on the workings of Hollywood — is well aware of the good fortune he's had with adaptation. "I've been ridiculously lucky. It has nothing to do with me in the end. I've never written an original book in my life. 'Mystic River' is a Jimmy Cagney film updated," while the "Shutter Island" novel came from "The Manchurian Candidate," 19th century Gothic and a host of other sources. "I'm not exactly Mr. Originality."


Lehane credits the success of the three adaptations as "the auteur theory completely in play: a writer, a director and a locked script with no studio interference. You can't tell Clint Eastwood how to make his movie, even if you take his budget away. And with Martin Scorsese, what are you gonna say?"

No amount of clout by the director, though, was able to keep Paramount from moving the film's release from the fall to February. The official word from Paramount was that the initial scheduling had taken place during "a very different economic climate," bringing about a need "to recalibrate and adapt to a changing environment."


The studio also may have worried that the film was simply too horrifying for Oscar voters. Which leads to an essential paradox about the film. Can a serious and sophisticated genre movie — with supporting actors associated with Gandhi (Kingsley) and Bergman (Max von Sydow plays a doctor at the hospital), a subtext about psychiatric theory, and several especially gory sequences — appeal to a wide audience?
Only the box office knows for sure.


But when it comes to the new release date, even the star of what was until recently the highest-grossing movie in history knows that it's best to remain philosophical. "Some things," DiCaprio says with mock gravity, "are beyond our control. Just out of our hands."


scott-timberg@blogspot.com