With tax credits and facilities, state can build stable movie sector, study says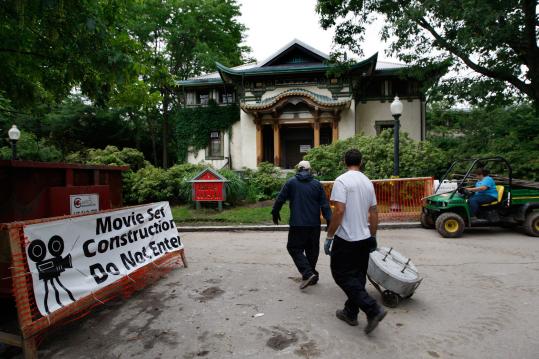 The Franklin Park Zoo in Boston was the setting for several scenes of "The Zookeeper'' last summer. Producers expect the movie, starring Kevin James, to be released in the fall. (Barry Chin/Globe Staff/File 2009)
By Robert Gavin
Boston Globe
February 11, 2010
Massachusetts has the potential to develop a small but robust film industry that could establish the state as a leading production center and support thousands of good-paying jobs, according to a study to be released today by the University of Massachusetts at Boston.
Boosted by a generous tax credit, Massachusetts has become one of the nation's fastest-growing locations for film and television production since 2005, with employment in the industry jumping about 30 percent, according to the study. But the state has more than just incentives to offer, it said, Massachusetts has a base of facilities and available skills; a ready labor force from film programs at local universities; a variety of service firms that support production; and a technology sector of software firms and video game developers that is well-positioned to exploit an accelerating shift to digital entertainment.
"There is something here to build on,'' said David Terkla, a UMass-Boston economics professor and a coauthor of the study. "We're never going to be the feature film center, but this is a part of the arts sector that can employ a reasonable amount of people at pretty good salaries.''
The study was released as Governor Deval Patrick has proposed cutting the money available for the state's film tax credit, a discount offered to companies that bring productions to Massachusetts, to $50 million a year from about $125 million. In an interview with Globe reporters and editors yesterday, Patrick said cutting the credit was among the many steps needed to close a sizable budget gap.
"I support the film tax credit,'' Patrick said. "I can see what it's done in rapidly incubating that industry. But we're at a place today where we have to make those kinds of choices.''
Film tax credits have been controversial. Critics say they subsidize Hollywood moguls and provide short-lived and minimal benefits for the local economy. A recent study by the Massachusetts Department of Revenue found that each dollar spent on the tax credit generated only 16 cents in taxes for the state.
The UMass-Boston study did not address the impact of the tax credit but provided a profile of the industry and the economic activity it generates. Its authors praised the revenue department study but said tax collections are only one measure of an industry's economic activity.
The state's film industry is still small, employing about 6,000 in 2008, compared with nearly 150,000 in California. But it has added jobs quickly as overall state employment fell.
Nearly 30 films and television shows were filmed in Massachusetts in the past two years, including "The Zookeeper,'' starring Kevin James, Martin Scorsese's "Shutter Island,'' and John Wells's "The Company Men,'' starring Ben Affleck.
The study estimated that the film industry in 2008 created about $1 billion in economic activity in Massachusetts, as every dollar spent directly generated nearly another dollar in activity.
It appears that tax credits are not the sole reason, the study said. States with more generous tax credits, such as Michigan, experienced declines in film and television employment.
Massachusetts offers a variety of locations – urban, rural, and coastal – and a world-class city, Boston, which is attractive to movie executives and stars, the study said. Production facilities include public television station WGBH, which produces nonfiction programs, and a ready workforce, including film graduates from schools such as Emerson College and Boston University.
As the digital revolution in filmmaking accelerates, production will become decentralized away from Hollywood and New York, the study said, providing opportunities for Massachusetts.
"This is a rapidly growing industry,'' said Pacey C. Foster, a study coauthor. "The question for the long term is whether this is all incentive driven. The answer depends on what you think is going to happen to the media industry.''
Robert Gavin can be reached at rgavin@globe.com.