By Laura Krantz
MetroWest Daily News
February 12, 2010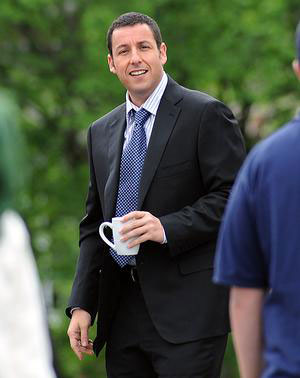 Photo by Allan Jung/Daily News staff
Adam Sandler arrives for the first day of a movie shoot at Pilgrim Church in Southborough.
The film industry is seizing on a new study, saying it justifies the state's decision to offer lucrative tax credits.
The UMass-Boston study says Massachusetts is benefiting from new jobs and more revenue as a result of state tax breaks now being threatened by cuts in Gov. Deval Patrick's proposed budget.
"Employment in film and television production has increased in Massachusetts during a period when total state employment has been on the decline," said the study conducted by economics and management professors.
The research, which looked at the growth of the state's film industry from 2005 to 2008, found the number of jobs grew by 33 percent, to 6,048 people.
The tax credits have drawn a steady stream of film projects to Boston, with some scenes being shot is suburban communities like Sudbury, Southborough, Hopedale and Waltham in recent years.
"The filmmakers gave the town $30,000 for being in town for a week. That's not bad," said Southborough selectmen Chairman Sal Giorlandino.
In May 2009, Columbia Pictures filmed portions of "Grown Ups," an Adam Sandler film, at a church in Southborough. The shooting lasted six days and the church was paid over $25,000, in addition to the money paid to the town.
Restaurants, floral shops and coffee shops also benefited during the week the crews were in town, according to the selectman.
Although some traffic was rerouted during the shoot, Giorlandino said: "I haven't heard anything negative about the experience."
And his kids caught a glimpse of Adam Sandler.
Police Sgt. Joe Guigno worked at the site of "Knight and Day," a Cameron Diaz film shot partially in Waltham.
"People thought it would disrupt, but it (had) a positive effect on the community," said Guigno. The film company paid police for being on-site 16 hours a day.
In addition, scenes from the Bruce Willis movie, "Surrogates," were filmed in Hopedale, and "Ghosts of Girlfriends Past," starring Jennifer Garner and Matthew McConaughey, shot a wedding scene in Sudbury.
The Massachusetts film industry is supported by a $125 million annual tax credit, created in 2006 to encourage filmmakers to come to Massachusetts.
Patrick's new budget proposal – which has not been adopted – would decrease the aid by 60 percent, lowering the tax credit cap from $125 million to $50 million in 2011.
The UMass-Boston study, paid for by a "creative economy initiatives" fund at the university, reported that local production and post-production companies have experienced "particularly dramatic growth" since 2006, and provide college graduates with new career paths.
Mary Fifield, spokesperson for the Massachusetts Production Coalition, which represents the film industry, said that until the 2006 state credit, Massachusetts was lucky to get $6 million of filmmakers' money.
In 2009, Fifield said, the industry spent over $400 million in the state.
Fifield said electricians, carpenters, cab drivers, hair dressers, hotels, accountants, caterers, florists and antique shops benefited.
She explained that TV shows are even more beneficial to local businesses, producing a steady stream of business rather than a film's short-lived frenzy.
A TV pilot coming soon to Boston could turn into a 26-episode show that would bring between $100 million to $200 million to the state, Fifield estimated.
"That spending includes the creation of new businesses and new jobs in Massachusetts," she said.
(Associated Press material was used in this report.)