By Gayle Fee and Laura Raposa
Boston Herald (Photos by Lisa Hornak)
March 4, 2010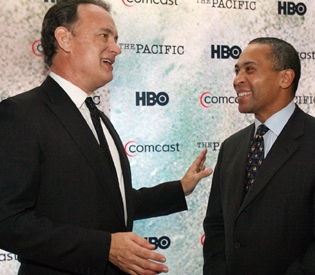 'The Pacific' producer Tom Hanks meets up with fellow history buff Gov. Deval Patrick at a screening of the first episode of the HBO miniseries at the John F. Kennedy Library.

Hollywood history buff Tom Hanks made a Splash at the JFK Library last night at a screening of his latest World War II epic titled "The Pacific."
Tom, who produced HBO's highly decorated miniseries "Band of Brothers" and starred in "Saving Private Ryan," said he's been fascinated with World War II since childhood.
"I became a guy in search of authenticity," the actor/producer told the Track. "I wasn't a fan of the stuff that was geared to us because we were stupid kids. I knew 'McHale's Navy' was fake and so was 'Hogan's Heroes.' "
It was "The World at War," a British documentary series narrated by Sir Laurence Olivier, that "changed my life," said Hanks.
The Tinseltown teller of war stories said while watching the doc, history became more of a series of battles and map, it became human with the stories of the men who fought on the ground.
"These guys had a huge responsibility for men and they were 21 years old," he said. "I always wondered what I would have done if I were them."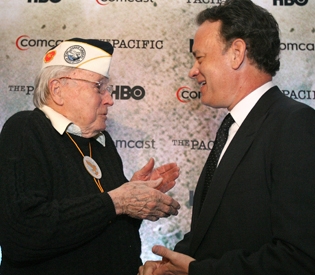 World War II veteran George Hursey of Brockton tells his war stories to 'The Pacific' producer Tom Hanks at the John F. Kennedy Library.

"The Pacific," a 10-part series that begins March 14, follows the real-life journey of three U.S. Marines who fought in the Pacific Theater.
The series – which took eight years to research and develop – is based on "Helmet for My Pillow" by Robert Leckie and "With the Old Breed" by Eugene Sledge.
Before the screening, Hanks met up with Gov. Deval Patrick after charming a legion of local World War II vets who were quite proud to be feted by such a superstar.
The gov told us he became fascinated with the war through the stories of his father-in-law, who lied about his age – and race – to enlist in the U.S. Navy.
"He didn't want to be stuck in the galley," he said. "He was a mine sweeper. It goes to show the patriotism of the times."
The governor said he told Hanks that "The Pacific" is a "wonderful thing" he's done "to honor the service and sacrafice of that generation."
Joining Hanks at the event was his co-executive producer Gary Goetzman, "The Pacific" head writer Bruce McKenna (he swears he's writing a romantic comedy next) and HBO miniseries sultan Kary Antholis.