Airport teams up with American Airlines and the Hotel de Vigny for trip to France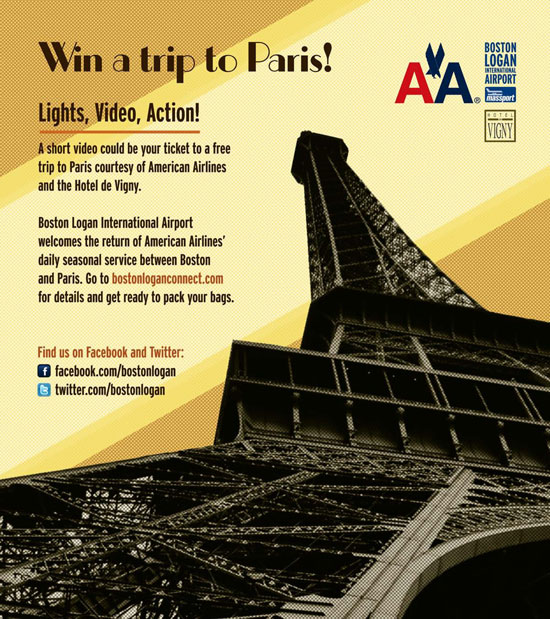 BOSTON – Boston Logan International Airport is celebrating the return of daily seasonal service between Boston and Paris on American Airlines by offering a three night stay for two in Paris — the City of Light — courtesy of American Airlines and the Hotel de Vigny located near the Arc de Triomphe and the Champs-Elysées.
To win this trip of a lifetime, contestants need to submit a short video about what it means to be an American in Paris to BostonLoganConnect before May 20, 2010. Three finalists will be chosen by a popular vote of those viewing the website and the grand prize awarded in June by a panel of judges, so tell your family and friends to vote for your video! For complete contest rules and regulations visit www.bostonloganconnect.com or facebook.com/bostonlogan.
"We are very happy that American Airlines has partnered with us at Boston Logan to promote the return of seasonal service to Paris," said Logan Airport's Director of Airline Route Development Yil Surehan. "This is a unique promotion that we hope our passengers will enjoy while at the same time stimulating travel for American Airlines."
"There's nothing like a getaway to the breathtaking city of Paris," said Charlie Schewe, Regional Sales Director – Northeast /Canada for American Airlines. "We're delighted to offer the winner in this fabulous competition roundtrip air travel for two to the City of Light, one of American's 250 worldwide destinations."
American Airlines, American Eagle and AmericanConnection® serve 250 cities in 40 countries with, on average, more than 3,400 daily flights. The combined network fleet numbers more than 900 aircraft. American's award-winning Web site, AA.com®, provides users with easy access to check and book fares, plus personalized news, information and travel offers. American Airlines is a founding member of the oneworld® Alliance, which brings together some of the best and biggest names in the airline business, enabling them to offer their customers more services and benefits than any airline can provide on its own. Together, its members serve nearly 700 destinations in more than 130 countries and territories. American Airlines, Inc. and American Eagle Airlines, Inc. are subsidiaries of AMR Corporation. AmericanAirlines, American Eagle, AmericanConnection, AA.com, We know why you fly and AAdvantage are registered trademarks of American Airlines, Inc. (NYSE: AMR)
Boston Logan, 15 minutes from Routes 128/90 and five minutes from downtown Boston, serves as the gateway to the New England region and offers nonstop service to 70 domestic and 31 international destinations and in 2009 handled 25.5 million passengers. Boston Logan is the Air Line Pilot Association's Airport of the Year for 2008 because of its commitment to safety. Over the past decade, the airport spent $4.5 billion on a modernization program that includes new terminals, parking facilities, roadways and airport concessions, and has been transformed into a world-class 21st Century facility. The airport generates more than $7 billion in economic impact each year. You can find us on facebook at facebook.com/bostonlogan and follow us on twitter at twitter.com/bostonlogan.
The Massachusetts Port Authority (Massport) operates Boston Logan International Airport, the Port of Boston, Hanscom Field and Worcester Regional Airport. Massport is a financially self-sustaining public authority whose premier transportation facilities generate more than $8 billion annually, and enhance and enable economic growth and vitality in New England. For more information please visit massport.com.