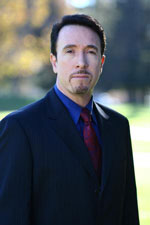 David Salzberg
By Keith Ferguson
Walpole Times
May 3, 2010
WALPOLE — When David Salzberg's friends called him "Hollywood" as he was growing up in Walpole and in the area, it was more-or-less a derogatory moniker. Nowadays, that has all changed.
With the release of "The Perfect Game" earlier this month, Salzberg, a Hollywood mainstay, earned his first executive producer film credit.
Based on the true story written by W. William Winokur, "The Perfect Game" follows a group of poor young boys from Monterey, Mexico in 1957 who dreamed of playing baseball in uniform. With the help of a local priest (played by Cheech Marin) the boys realize that dream and much, much more.
The team found unlikely success in a Texas Little League division and advanced all the way to the Little League World Series in Williamsport, PA, but wasn't given much of a shot to win anything – let alone the title.
"Long story short these kids were expected to come to America and lose and sightsee for two days," Salzberg said. They didn't even give themselves much of a shot – many electing only to pack one change of underwear.
In a true turn of events perfect for the silver screen, the team became the first foreign team to win the Little League World Series championship.
Critics and movie buffs are comparing the baseball flick to Best Picture nominee "The Blind Side" for its feel good storyline.
"That is a wonderful comparison and we're thrilled," said Salzberg.
Since production began five years ago, said Salzberg, Perfect Game child actors Moises Arias, Jake T. Austin, and Ryan Ochoa have all "blown up" – creating a significant buzz with a younger crowd.
Of the 20,000 on hand at the film's Monterrey premier, about a fourth were screaming young girls, Salzberg laughed.
This isn't a Disney movie strictly aimed toward kids, however, it's a family film with an underdog plot that appeals to nearly every demographic.
Salzberg believes a wide array of Bay State audiences will enjoy the message.
"Everybody in Massachusetts can relate to a true underdog story, especially with our Sox a few years ago, right?" Salzberg joked.
Salzberg was in the area the weekend of April 10 for the hub premier at the Loews Boston Common Theatre, where he said the reception was wonderful.
On April 16, the film saw a limited release to 360 theatres in Mexico, about 100 in Canada and 450 in the U.S. – five of which were in Massachusetts.
The film will be released to a wider audience if it sees box office success.
"People are coming out feeling good," Salzberg said in a phone interview with the Times on the film's release date. "No one knows what's going to work but the audience."
Regardless, the independent film has come a long way and overcome a myriad of obstacles just to obtain the success it's already seen.
"We were an underdog ourselves," said Salzberg.
The father of three young children said he'd see the film as successful as long as his kids are proud of it.
The story has already touched other children and adults alike.
"I have kids come up to me and say, 'Hey, this inspired me to do something great,'" said Salzberg.
Players from the 1957 team have hugged him after seeing the movie and told him he has no idea what he's done for their families and the Latino community.
"What do you say to that? It's humbling," he said.
Latinos everywhere, and especially in Boston, have backed the team-based story monumentally.
"The Latino response has been crazy with this thing," Salzberg said.
Mexican President Felipe Calderon and action star turned California Governor Arnold Schwarzenegger have both seen the film.
"The Perfect Game" was shown the entire Green Bay Packers football squad as a team building exercise.
Although Salzberg didn't play a role as a member of the baseball team, he did receive an unexpected cameo.
A slew of extras failed to show up one filming day while shooting in the desert outside of Los Angeles in 117-degree heat. In the pinch, Salzberg was told, "today's your chance" and was sent to wardrobe.
He appears in the movie as a cowboy.
"I've been told I'm a convincing Texas cowboy even with my heavy Boston accent," he said.
Salzberg admitted he was, however, heckled for the role by noted Texas Cowboy and former Pres. George W. Bush.
Salzberg's life hasn't been all silver screen productions and dubiously well-acted cowboy roles, however. He's had to work his way up to those.
He moved to Los Angeles in 1987 and, after paying his dues, prospered under the tutelage of renowned producer Peter Guber.
Salzberg produced a variety of sports documentaries before beginning to production of feature films and accepting a job as president of Highroad Entertainment Group.
Since he was a 7-year-old watching Clint Eastwood and John Wayne movies, Salzberg knew he wanted to be in the film industry and hasn't looked back.
He still has family in the Walpole, including his brother, police Lt. Peter Salzberg, and sister and mother Missi and Kathy Salzberg, who run The Village Groomer on Rte. 1.
Salzberg hopes the film industry continues to boom in the Bay State with favorable tax incentive packages for filmmakers and major studios planning to set up shop here.
"I would be thrilled to make movies in Massachusetts," he said.
Copyright 2010 Wicked Local Walpole. Some rights reserved