By Gayle Fee & Laura Raposa
The Inside Track
Boston Herald
May 17, 2010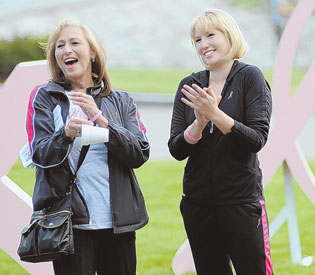 Photo by Faith Ninivaggi
'What's Your Number' actress Ari Graynor (right) supporting walkers at the Avon 2 Day Walk for The Cure at Reebok headquarters.
Natick homegal Ari Graynor starts shooting Anna Faris' made-in-Boston romantic comedy "What's Your Number?" today. But that career rush can't compare to the day she went to Priscilla of Boston to get fitted for three onscreen wedding gowns!
"It's been my dream since I was a little girl to have a Priscilla wedding gown, so what a fun day that was," said Graynor, 27, who plays Faris' affianced sis in the funny flick. "At the tail end of the fitting, I had my mom come in to sneak a peek. It was a dream come true!"
The film, which co-stars Sudbury homey Chris Evans, revolves around Ari's faux wedding. It seems Faris' character doesn't want to go to her sister's wedding alone, so she revisits each of her past paramours – and there are many – to see if she missed her Mr. Right. Hilarity, as you can imagine, ensues.
Ari, who is known for her roles in "Nick and Nora's Infinite Playlist" and on TV's "Fringe," reports she's been "completely high on life" during her time back home.
"It's been amazing," said the Buckingham, Browne and Nichols alum, who rang in from her parents' home in Natick. "I've spent time working, of course, but I've been out with high school friends, went to a movie with another friend and have spent lots of time with Anna and Chris.
"On a movie set, you form relationships quickly," she said. "Chris is amazing and a lot of fun. We've been out and about."
So we've noticed . . .
Over the weekend, Ari dropped by Reebok's HQ to cheer on the participants in the Avon Walk for Breast Cancer and to snag a pair of pink-ribbon ZigTech kicks.
"Young women have to understand that this isn't just an older women's issue," said Graynor, whose Trinity College roommate's mom was an "inspirational" breast cancer survivor. "I will do whatever I can to show how important it is to take preventative measures to stay healthy."
File Under: Number's Game.