By Gayle Fee and Laura Raposa
Boston Herald
June 13, 2010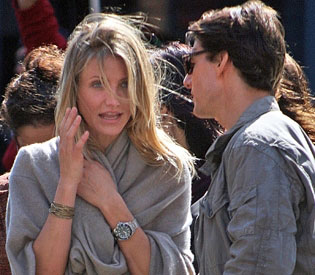 Photo by Nancy Lane (file)
The Tom Cruise-Cameron Diaz comedy-thriller "Knight and Day" hits the megaplexes June 23 and Tinseltown is hoping the made-in-Boston spy spoof can hold its own against a cadre of comedians and a band of bloodsuckers.
Word is the studio decided to open the flick two days early so as not to go head-to-head with another made-in-Mass. comedy, Adam Sandler's "Grown Ups." And the early release gives Tom and Cameron a little leg up on the new installment of the "Twilight" saga.
"Sandler comedies open to about $35 to $40 million, and the track records of Cameron Diaz and Tom Cruise means that the action picture probably won't win the weekend," said hollywoodnews.com. "The move gives it two more days before the 1,600-pound gorilla known as 'Twilight Saga: Eclipse.' "
Cruise, a former box-office champ who hasn't had a knockout since he jumped up and down on Oprah's couch, is hoping for a little redemption with "Knight and Day."
And while he may not win the battle at the box office, at least Tom had a helluva time in the Hub making the pic. Cruise told Entertainment Weekly he and his fam had their best Halloween ever in Boston, because the Hollywood heavy, his bride Katie Holmes, daughter Suri, and Tom's kids Connor and Isabella, roamed the streets of Beacon Hill – in costume – and no one recognized them!
"Ohmigod, the best trick-or-treating ever," he told the maggie.
Tom said his costume was so fab he won't reveal what it was because he plans to use it again next year to go door-to-door icognito.
Hmmmm. We're thinking gorilla suit. (Worked for Theo Epstein.)