By Inside Track
Boston Herald
June 20, 2010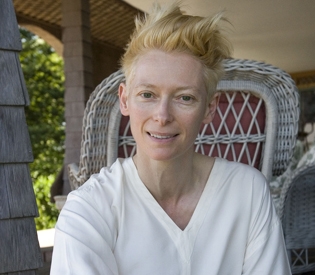 Photo by Abigail Peterson
PROVINCETOWN – Academy Award-winner Tilda Swinton came to the Provincetown Film Festival yesterday to promote her new flick, "I am Love." She had no idea she would be taking home the Cape festie's Excellence in Acting Award.
"I honestly didn't even know I'd won anything," Swinton told the Track. "I feel a little embarrassed. Nobody told me and it was not my idea."
Nonetheless, the "Michael Clayton" actress will have another piece of hardware to add to her collection, which, in addition to an Oscar, includes a BAFTA award and Screen Actors Guild and Golden Globe nominations.
"I am Love," which has just opened in the United States, is a tragic love story set in Milan that took Swinton and filmmaker Luca Guadagnino 11 years to make.
"That's one of the reasons I'm so tired," said the actress, who traveled from Scotland to Provincetown to introduce the flick yesterday and was due to blow out today, leaving her no time to enjoy a beautiful weekend on Cape Cod.
"I live in a little town in the north of Scotland that literally makes this look like Times Square," Swinton said. "It's right on the water, so I don't need to walk in the sand while I'm here, I can just talk to people."
Director Kevin Smith, the man behind the cameras for "Clerks," "Zach and Miri Make a Porno," "Cop Out" and more than a dozen others, picked up the festival's annual Filmmaker on the Edge Award and spent some quality time yesterday with P'town regular John Waters of "Pink Flamingos" and "Hairspray" fame. Smith drove to the Cape from Los Angeles in a bus because he hates to fly.
"I have Bonnie Raitt's old bus," he said.
Raitt's ex, by the way, in case you don't know, is Michael O'Keefe, best known as Danny in "Caddyshack," but who also starred in "Michael Clayton" with Swinton. Such a coincidence!
Smith said his cross-country cruise makes him "the person who drove the farthest to pick up a piece of tin."
The "Jersey Girl" Jersey guy, who is BFFs with Ben Affleck and Matt Damon said he has gigs for the Cambridge homeys in his new flick "Hit Somebody."
"It's the story of a hockey goon and is based on the song by Warren Zevon," Smith said.
Which, in case you don't know, was written by Mitch Albom of "Tuesdays With Morrie" fame. But do Matt and Ben play hockey?
"No, but they're actors," Smith laughed, adding that he may film some of the minor-league hockey action in Worcester because "those bastards never get anything."
He's also working on another flick, "Red State," which he describes as "a political horror story."
Other filmmakers in town for the festival include documentarians D.A. Pennebaker and Medfield homey Chris Hegedus, the duo who made the 1990 film "The War Room," about Bill Clinton campaign gurus James Carville, George Stephanopoulos & Co.
Their new flick, "Kings of Pastry," follows Jacquy Pfeiffer, founder of The French Pastry School in Chicago, as he returns to France to compete for the prestigious Meilleur Ouvrier de France.
"The French take their pastry so seriously," Pennebaker said. "Because, I think, if you put the wrong things in bread, you can go to jail."
"Spellbound" director Jeffrey Blitz's new documentary, "Lucky," follows a group of lottery winners to see how their lives turn out after the windfall. It may surprise you to know that for most, it's not so good. It will premiere July 19 on HBO.
File Under: Movies Stars.