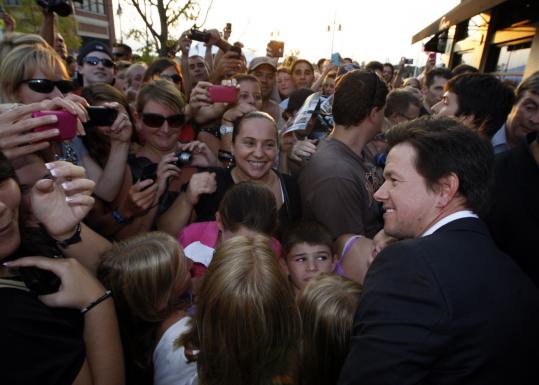 Fans crowd around Mark Wahlberg (right) outside the restaurant Alma Nove in Hingham yesterday. (Photos By Barry Chin/Globe Staff)
By Mark Shanahan & Meredith Goldstein
Boston Globe
August 4, 2010
Just a day after Dorchester's own Mark Wahlberg premiered his comedy "The Other Guys'' in New York with costars Will Ferrell and Eva Mendes, he took the film to Hingham — more specifically to Alma Nove, his brother Paul Wahlberg's new restaurant in the Hingham Shipyard. Mark was joined on the South Shore last night by "Entourage'' producer Eric Weinstein, former Patriot Tedy Bruschi, Bruin Milan Lucic, as well as Paul, his brother Jimmy, and his mother, Alma, for the local screening of the Adam McKay-directed cop comedy.
The party was a benefit for the Mark Wahlberg Youth Foundation, which helps inner-city kids. The actor-producer has hosted other movie premieres here, but this was the first time he's rolled out the red carpet on the South Shore. So will he be back at Alma Nove for the premiere of "The Fighter,'' set for release this December? Mark sounded optimistic.
"If it goes well tonight, we'll do it again, but we're definitely going to do something for 'Fighter' for sure.'' As for Paul, who opened his Mediterranean-style restaurant just last month, he was thrilled to show off his new hot spot. Amid the crowds of autograph seekers and young fans, we asked the chef how he felt about having his family in the house:
"Fantastic,'' he quipped with a smile, "except they're all looking for free food.''
Ben Affleck's film to hit Fenway
We're hearing that Ben Affleck will premiere his local thriller "The Town'' at Fenway Park next month red carpet-style, just like Drew Barrymore and company did with "Fever Pitch'' a few years ago. It would make sense; scenes for Ben's film, which costars Jon Hamm, Blake Lively, Rebecca Hall, and Jeremy Renner, were filmed at the ballpark last year.