By Lauren Beckham Falcone
Boston Herald
September 7, 2010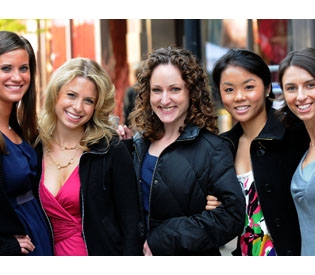 Photo by Arthur Pollock
Mindy Barclay of Hanson, Samantha Karlin of Somerville, Shayna Blinderman of Southboro, Liz Eng of Boston, and Amy Hilliken of Boston, were in a scene with Kate Hudson on the set of 'Bride Wars' in Boston.
Who you calling an "extra"?
It's "background work," but whatever its name, if you want to get in on Boston's acting scene, central casting is the place to start.
"Everyone in this business was an extra," said Angela Peri, owner of Boston Casting. "I was an extra."
According to a 2010 University of Massachusetts study, the Bay State is among the fastest growing states in the country for film production. And while employment is down, film production jobs have increased, the study said. Case in point: Ben Affleck's "The Town" was shot here and opens Sept. 17.
While background work won't net a celebrity's salary – or status, for that matter – it is a way to break into the biz, earn some extra bucks and watch what goes on behind the scenes.
"There are good things and bad things about background work," said Kristina Ellery, whose first film was "I Am Legend" in New York City and, more recently, "Grown Ups" in Massachusetts. The 24-year-old Raleigh, N.C., native makes a decent living being things like "girl on the sidewalk."
But she's made some sacrifices.
"I can't have a normal job, because if there's a call the next day, I have to be on set," she said. (Ellery works as a swing-shift bartender.) Ellery got lucky last summer by scoring a union waiver, meaning she gets paid union scale.
But it's not about the money.
"I've made great connections," she said, adding she's trying to get more lead roles. "But if you're thinking about doing the job, there are some things to keep in mind."
Like long hours. (Sometimes 16-hour days.) And they're not "all sunny and 70 degrees," she said.
"It can be freezing, raining, hotter than hot," she said. "The work is unstable, you never know when you will be called. You have to be patient, flexible and you really have to love it."
Peri said if the hours and random workdays don't daunt you, the first step to getting on a set is a head shot and listing yourself with every casting agency in the area.
Next, the resume.
"Skills," she said. "This is important. List everything. Juggling, military experience, stunt work."
Why? According to Anne Mulholl, owner of LDI Casting in Rhode Island, background work is not just about standing in the background.
"If we have a scene where we need joggers, I'm going to pick someone who lists it on their resume, because you end up jogging for hours," she said. "Or if there's a scene where the extras are walking up the stairs – you might do that 100 times. Which is why I look at the resume for hobbies. In this business, there's no such thing as TMI (too much information)."
If you get the gig, even extras get their own version of a script – on set rules.
"You know, this isn't a meet-and-greet," Mulholl said. "You don't approach the actors. No photos. Show up on time, not 15 minutes late."
And even though you're just part of the scene and not the star, extra work is worth it.
"A hundred bucks a day, a free lunch and you get to see Martin Scorsese work at his craft," Peri said. "What is better than that?"