By Inside Track
Boston Herald
September 10, 2010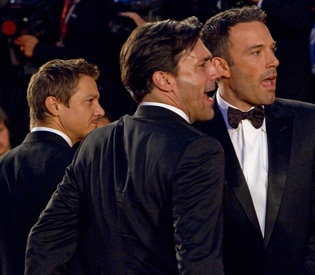 Photo by AP
The critics have spoken, and early reviews out of Venice for Ben Affleck's made-in-Boston thriller "The Town" are mostly positive.
The set-in-Charlestown bank-robbery drama debuted at the Venice Film Festival earlier this week, and most of the critics say the flick is a worthy successor to Hub classics such as "The Departed," 'Mystic River' and Ben's earlier work in "Gone Baby Gone."
"Affleck delivers another potent, serious-minded slice of pulp set on Boston's meanest streets, where loyalty among thieves runs thicker than blood," declared Variety.
Entertainment Weekly said the film is an early Oscar contender that "delivers in every department: acting, writing and directing." The Hollywood Reporter wasn't as blown away: "Steeped in an authentic sense of place, this crime drama is less convincing on the storytelling front," was their bottom line.
And Britain's The Guardian was downright nasty!
"A bogus, bull-headed enterprise . . . a film that leaves no cliche untrampled," writes Xan Brooks, who says the flick's final bank job is a real laugher.
"Hilariously, this involves Affleck and (Jeremy) Renner dressing up as policemen. They come striding down the corridor in their smoked sunglasses and jaunty caps, with their legs apart and their shoulders swinging, like a pair of strippers en route to a hen night." Um, ouch!
BTW, People maggie has a Boston trifecta in its Fall Movie Preview. Under "Oscar Hopefuls" it cites "The Town," the partly-filmed-in-Boston Facebook flick "The Social Network," and Matt Damon's upcoming "Hereafter."