By Mark Shanahan & Meredith Goldstein
Boston Globe
September 15, 2010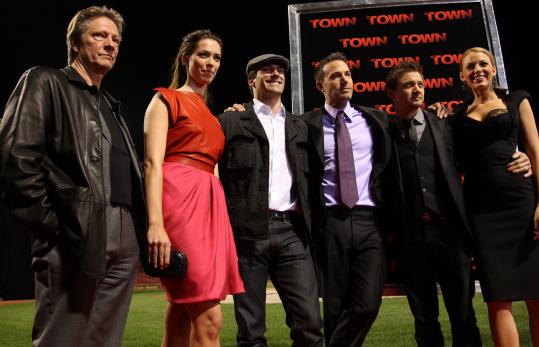 A host of Hollywood heavyweights hit Boston yesterday, gathering at friendly Fenway for a screening of Ben Affleck's latest film, "The Town.'' The movie's A-list cast — Affleck, Jon Hamm (who brought his longtime girlfriend Jennifer Westfeldt), Jeremy Renner, Rebecca Hall, Chris Cooper, and Blake Lively — all made the scene, and walked a red carpet in front of the first base dugout. The surprise guest of the night was Matt Damon, who brought his pregnant wife, Lucia, his mom, Nancy, his dad, Kent, his stepparents, and his brother Kyle.
"The Town,'' a taut heist drama based on Chuck Hogan's book "Prince of Thieves,'' was shot in Charlestown, the North End, Harvard Square, and, of course, Fenway. (It's a wonder the ballpark's still standing after the fusillade finale.) The actors were comedians on the red carpet, joking about filming in Boston and what it was like to work with Affleck. Renner admitted to us that he doesn't have much interest in baseball.
"I can see that it's a rite of passage here.'' No kidding. He went on to describe his bank robber role as "a 7-year-old's dream.'' Hamm joked to us that he hadn't spent any time in Boston before filming "The Town'' because "none of the colleges would accept me.''
He also had a long list of compliments for Affleck as a director, but when asked whether Ben beat out "Mad Men'' director Matt Weiner, Hamm laughed and exclaimed, "Are you kidding me? That guy pays my bills.'' Lively, who admitted on the red carpet that she slept in makeup to look trashier in scenes, said she enjoyed filming in a city with real history.
"The thing we're most proud of is In-N-Out burger,'' she joked, about growing up in California. English actress Hall kidded around about her American accent in the film, claiming she was dubbed. And finally, Affleck told us from the red carpet that when he got stressed about shooting at Fenway, he'd just look out into the field and recall watching games with his dad in the bleachers.
He also joked about where he would film his next movie: "Cincinnati — or Allston. Or Framingham.'' Also on the red carpet was Aaron Stockard, who co-wrote the script with Affleck and also worked on "Gone Baby Gone,'' local rapper-actor Slaine, who plays one of Affleck's bank robber pals in the film, Brian Scannell, "The Town'' producer Basil Iwanyk, Warner Bros. execs Alan Horn and Dan Feldman, and writer Hogan, who brought his wife, Charlotte, and exclaimed as he walked into the ballpark, "I dreamt this story at my desk in my house, and then to see all of this . . .''
Fenway Park made room for 1,770 guests, who watched the movie on a big screen over the third-base dugout. About 500 VIPs were invited to an after-party in the ballpark. Not surprisingly, the night brought out Boston's most familiar faces including Curt Schilling, Linda Pizzuti Henry (who tweeted some nice shots of Hamm and Cooper palling around in the dugout), historian Doris Kearns Goodwin, Fenway Recordings guy Mark Kates, Dropkick Murphys frontman Ken Casey, Donnie and Mark Wahlberg's brother Jimmy, Joan Parker, and Bruins David Krejci, Jeremy Reich, and Tuukka Rask. Chef Todd English, who runs Olives in Charlestown, was also there to defend the neighborhood.
It "was risky to open in '89, but they embraced us,'' he said, of Charlestown. "There's a core of good people there — look, there's a few bad eggs everywhere in the world.'' . . . Two lucky fans won their way into the screening by placing first in a city-wide scavenger hunt put on by Warner Bros. and the Jimmy Fund earlier in the day.
Tyler Bahl and Jessica LaMonica scored seats by being the first team to complete the hunt, which had competitors solving a Sudoku puzzle and making six "Town''-related stops, including the Bunker Hill monument, which is featured prominently in the film. Bahl told us that he and girlfriend LaMonica live near Fenway, so they witnessed much of the filming last year. He had high hopes for stargazing on the red carpet. "I work in marketing so Jon Hamm is kind of cool. But obviously Blake Lively is my favorite.''
September 16th addendum:
The party for the premiere of Ben Affleck's Charlestown-based bank-robber movie "The Town'' lasted late into the night Tuesday with A-list guests lounging under red lights on sectional sofas that replaced picnic tables near Gate B at Fenway Park. Revelers who mingled as a DJ played tunes on the big, green spiral staircase included Theo Epstein, Kelli Pedroia, Ashley Papelbon, Bill Hall's fiancee, Tinique Parker, Tiffany Ortiz, Linda Pizzuti Henry, as well as the folks who walked the red carpet — Blake Lively with her boyfriend Penn Badgley, Affleck, Matt Damon and his family, rapper-actor Slaine, Jeremy Renner, Rebecca Hall, and Jon Hamm. Also spotted was a subdued, Red Sox hat-wearing Brendan Fraser, who starred in the locally-shot "School Ties'' with both Affleck and Damon in 1992. Fraser also filmed the kids' flick "Furry Vengeance'' on the North Shore last year.