By Roger Moore
Boston Herald
Reprinted from the The Orlando Sentinel
September 14, 2010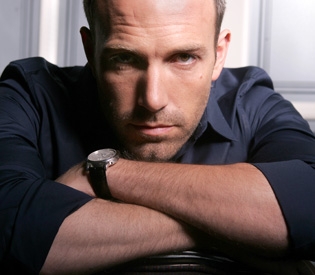 Photo by AP
"If you go, hit the Bunker Hill monument first."
Ben Affleck is talking about home – Boston.
"There are bars – I'm not naming names – down on the main strip, where guys have been known to get stabbed. And the projects are on the other side."
He's not talking about the Boston of Paul Revere, Old Ironsides and the Red Sox [team stats]. Affleck is relating the sights in that part of Beantown – just a mile and a half from where he grew up – where he has filmed two movies. The rough "brown bag" (as Affleck calls it) neighborhood of Charlestown was the setting for "Gone Baby Gone" and Affleck's second film as director, "The Town," which opens Friday.
"The Town is a weird place to be a tourist. Unless maybe you're a crime tourist. Aside from that," Affleck chuckles, "it don't take long to drive around Charlestown."
As "The Town" (based on the Chuck Hogan novel "Prince of Thieves") points out, Charlestown is known for its bank and armored-car robbers, where the profession is passed down father-to-son. Affleck was drawn to the "rabbit warren" streets and the "clannish society" where nobody rats anybody out. Affleck, who grew up in nearby Cambridge, may not have known any bank robbers. But he knew where to find them. And he knew the lay of the land.
"If you're already from a place, you're ahead of the game. Your life has already done a lot of the work for you," he says. "If I were to make a movie in Orlando or Little Rock or Phoenix, tell a story about people who grew up there, I'd have to go down there six months ahead of time. You have to immerse yourself, listen to how people talk, hear their stories, drive around their town."
Affleck interviewed some bank robbers in prison, "and guys I'd talk to would say, 'We did this robbery in the North End,' and I hear that and I think 'cinematic – old Italian neighborhood, narrow streets, distinctive restaurants you can shoot in."
And knowing the city, he'd pepper "The Town" with details. "You've got to have a scene where some characters are in a Dunkin' Donuts. … Somebody from out of town sees that and goes, 'Dunkin' Donuts?' But if you grew up there, you know that Dunkin' is the heart and soul of the city. EVERYbody gets coffee there, all day long. It's not a Starbucks town."
In "The Town," Affleck plays Doug MacRay, a member of a second-generation gang of "brown bag" bank robbers led by a violent two-time loser (Jeremy Renner). Doug falls for a woman (Rebecca Hall) they briefly old hostage during a robbery. Even as he keeps his secret gangster life from her, he considers something none of his mates ever do – leaving.
It's a theme Affleck, 38, holds close, one that turned up in the Oscar-winning script he co-wrote with childhood pal Matt Damon, "Good Will Hunting" – the idea that sometimes, you have to leave home.
There's a plaque on the sidewalk in front of Filene's department store in the middle of Boston denoting "the exact center of the universe." That comes from an Oliver Wendell Holmes quote from the 19th century, Affleck says. "The newspapers there still call Boston 'the Hub,' as in the hub of the universe.
"When I grew up, there really was the sense of 'Why would you want to live anywhere else?' There's a proudly parochial aspect to Boston. That strong tug of place was one of the themes I wanted to work with, the way environment influences what somebody becomes, that and children paying for the sins of their parents."
Affleck, famously, did leave home, working his way up to Hollywood leading man, turning up in the tabloids. That part of his career seemed to peak 2002, with "The Sum of All Fears." A string of bombs and near-bombs followed. And that era of his personal life – Gwyneth Paltrow to Jennifer Lopez – ended when he married Jennifer Garner in 2005.
His film comeback began then, as well, when as he took a supporting role in "Hollywoodland," winning praise as the troubled "Superman" actor George Reeves. In 2007, he directed his brother in the acclaimed Boston-set thriller "Gone Baby Gone." As Rex Reed wrote in The New York Observer, "Mr. Affleck is laying the foundation, brick by brick, for a promising new career."
But he has no intention of becoming to Boston what Barry Levinson ("Diner," "Tin Men") became to Baltimore. Directors, like actors, "don't want to be pigeon-holed," Affleck says. So the next time he directs, don't expect the story to be set in Boston. "After all the streets we blocked for the car chases, I worry I might get jumped if I do another one there," he joked.
He still shares a Bostonian's "pride of place," but once again, he has to move on. "I see people I still know there, they never want to leave. Maybe just for a cruise. Oh, and you know, people from Boston LOVE Florida."
Like their Dunkin' Donuts coffee?" "Wicked fierce," as the locals say?
"Oh yeah. It's the only place they think of to travel to. That's why the one place Doug thinks he might go in the movie is Florida. The only place that they'll think about leaving this place they're so proud of is paradise – sunshine and palm trees."
___