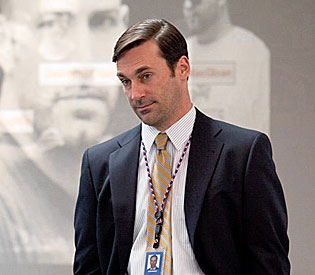 Mad about Boston
By Stephen Schaefer
Boston Herald
September 14, 2010
TORONTO – Jon Hamm will never pull a Ben Affleck – writing, directing and acting as he does in "The Town."
"I can't focus long enough. I find it terrifying," he said cheerfully.
Jennifer Westfeldt, Hamm's girlfriend "going on 13 years," he noted, writes, produces and acts.
"I watch her do that stuff and I don't know how you focus like that. I have the attention span of a hopped squirrel. I act and can't focus on anything else."
At 39, Hamm's a late bloomer, finding his breakthrough role as "Mad Men" ad exec Don Draper just four years ago.
"My life has changed considerably since the success of 'Mad Men.' It's been an exciting ride and strange times indeed. Opportunities come easier now that the profile has gotten broader.
"I don't have any sort of calculus to choosing film roles," he continued. "I just try to pick parts that somehow inspire me creatively and I want to work with people who I respect and admire. Both of those boxes were checked on this project."
Hamm is the determined FBI agent who goes after Affleck's quartet of bank robbers. He was gung-ho when Affleck asked his cast to immerse themselves in real people and places to get the tiniest details right during filming in Boston.
"It was a tremendous advantage to be able to hang out with and talk to several of the law enforcement officials in Boston, both at the federal level and at a state level and local level," Hamm said.
"There are a lot of robberies in Boston and a lot of them get solved because of these guys' hard work. So it was nice to see from the inside out that clear objectiveness. Their job is to stop people from doing bad things. They were very, very clear on that."