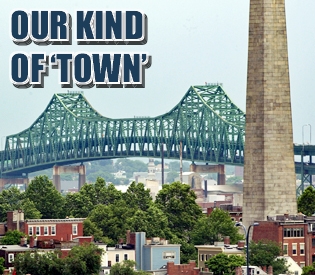 ALL AROUND THE TOWN: Charlestown comes to life on the big screen Friday in 'The Town,' directed by and starring Ben Affleck and featuring Blake Lively. Photo by Mark Garfinkel
By Tenley Woodman and Dave Wedge
Boston Herald
September 14, 2010
Charlestown locals are buzzing with excitement over Ben Affleck's new heist thriller "The Town" – premiering tonight in a star-studded affair at Fenway Park [map] – but want movie-goers to know the tight-knit enclave's infamous past as bank robbery capital of the world is history, not reality.
"It is Hollywood and they make money out of glamorizing these types of events," said state Rep. Eugene O'Flaherty, a Charlestown Democrat. "Certainly there are many families in Charlestown that were deeply affected by these events. Anytime a movie portrays certain negatives of a neighborhood, it does cause concern."
The Town's latest turn in the Hollywood spotlight is a gritty crime drama based on a novel by Canton author Chuck Hogan that dubs Charlestown the "bank robbing capital of the world." The Cambridge-bred Affleck stars and directs in the follow-up to his acclaimed flick "Gone Baby Gone."
Residents of the hardscrabble neighborhood have been angered by Hollywood before, most notably after Denis Leary's 1998 gangland flick "Monument Ave."
Locals like John Kelly, a 58-year-old native who sells Townie T-shirts in Bunker Hill on weekends, say the neighborhood's legendary thugs are just threads in the town's colorful fabric.
"We had families who had cops. Some had robbers, some had priests," Kelly said. "Growing up here there is a time you come to that proverbial fork in the road. (You) take the right or the left, for whatever reason."
O'Flaherty and other Charlestown lawmakers praised Affleck for donating to local charities and giving neighborhood residents jobs. Still, they fear they may be in store for a big screen black eye.
"Am I concerned it will portray Charlestown negatively? Yes, I'm concerned about that," says Charlestown City Councilor Sal LaMattina. "But I'm excited they filmed in Charlestown and there were some opportunities for locals. It brought money through the Boston economy and I think that's exciting."
Mayor Thomas M. Menino also highlighted the economic boost and downplayed any potential image blow. "I think people understand it's a movie. And the mayor understands that it's just a movie," Menino spokeswoman Dot Joyce said. "The film industry has been very good to the city."
Packed with intense violence, the movie features scores of local actors, including Hub rapper Slaine, and is already being hailed as the most authentic of the recent made-in-Boston films, including "The Departed," which copped the 2007 Best Picture Oscar.
"They can't wait to watch this film. The last time it was like this was when 'Miracle' came out," said Ed Callahan, a life-long Townie and member of the Charlestown Historical Society, referencing the 2004 film about the 1980 men's Olympic hockey team that included Townie Jack O'Callahan.
But Charlestown-bred comedian Steve Sweeney said, "One of the downsides to this (film) is kids see this and . . . they emulate it."
Judgment day for Affleck and his Townie tale comes midnight Friday when the movie opens nationwide.
O'Flaherty expects some outrage, just as there was with "Monument Ave."
"As long as no one walks away thinking everyone who lives in Charlestown is a bank robber," he said. "Because the vast majority of residents who live there are decent, hard-working people. I think most people would like to think it's a part of history and want to move on."