By Martin Caballero
Boston Herald
September 19, 2010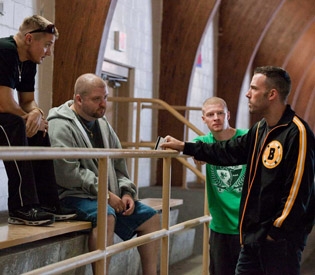 From left; Jeremy Renner, Slaine, Owen Burke and Ben Affleck in 'The Town.' Photo by Claire Folger.
It's easy to see why Ben Affleck cast George "Slaine" Carroll Jr. as a shady character in "Gone Baby Gone." Or why Affleck hired him to play a Charlestown bank robber in his new movie "The Town."
The 6-foot-tall Dorchester-born rapper is an intimidating physical presence with a raspy grumble of a voice flavored with a thick Boston accent.
"I'm not worried about being typecast after two movies," he said, sitting down at Hugh O'Neill's Pub in Malden. "I have other opportunities in the pipeline and I'm sure I'm going to explore a bunch of different roles. If it's a good script, I'll play a gangster, drug dealer, bank robber, whatever."
Slaine was living in a warehouse apartment in Roxbury with no electricity when Affleck read a story in the Herald about his career as a local underground rapper. The result was an invitation to audition – successfully, as it turned out – for the part of Dorchester thug Bubba Rogowski in "Gone Baby Gone."
Affleck asked Slaine back to play a small role in "The Town," an adaptation of Chuck Hogan's 2004 novel, "Prince of Thieves." Slaine ended up with the bigger role of Albert "Gloansy" Magloan, the loose-cannon getaway driver of Affleck's crew of Charlestown bank robbers.
A lifelong Bostonian who's lived in Roxbury, Dorchester, South Boston and now Roslindale, Slaine was already familiar with his character's environment and attitude.
"There are nuances in every neighborhood in the city, and Charlestown has its own," he said. "It's a very parochial neighborhood that's separate from the rest of Boston. It's a Townie mentality that's different from the rest of the city – which I was familiar with. I had friends there and I had been going over there since I was 14."
Slaine was just one of many locals Cambridge native Affleck tapped for "The Town."
"He surrounded the movie with as much authentic Charlestown culture and people as possible," Slaine said. "He had everyone from old-school criminal-type of dudes to regular Charlestown family people. Those were the people he used and it kind of permeated. Very rarely would something like, 'How do you say this?' come up. There were a lot of local people on the set, not just me."
Slaine's more substantial role in "The Town" required a weightier work load – not that he minded.
"To me, it was easy compared to hip-hop, where you're the writer, the main character and the director," he said. "With this, it's easy. All you have to do is figure out your character and how you're going to play off the other actors. It's not all your decision either, it's the director's. I basically deliver the performance he asks me to."
"The Town" is also a showcase for the musical talent of Slaine, who spent the summer touring internationally as a member of the rap supergroup La Coka Nostra, whichteams him up with several former members of House of Pain. The movie features two of his songs, including "99 Bottles," the single from his forthcoming solo album, "A World With No Skies," due in stores Oct. 26.
"It's been a good run," he said. "Since I got that movie, my whole life has changed. The music has had a part in it as well. Things have changed a lot.
Already a hit with the critics, Slaine believes moviegoers in and outside of Boston will dig "The Town," too.
" 'Gone Baby Gone' to me was more of a risky, groundbreaking type of serious drama," Slaine said. "This movie is more of a really good genre film, a crime flick with a good story. Your girl is going to like it and you'll like it, too."