By Gayle Fee & Laura Raposa
Boston Herald
September 19, 2010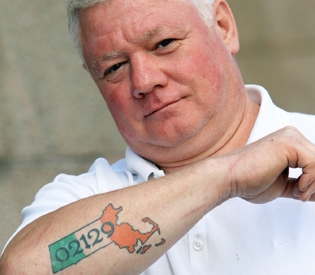 Photo by John Wilcox
When Ben Affleck needed to add some brawn to his shoot-'em-up flick "The Town," he hired real-life Townie Dennis McLaughlin.
McLaughlin, a 6-foot-2, 300-pound, fourth-generation longshoreman from the square mile, plays Rusty, henchman to actor Pete Postlethwaite's ("In the Name of the Father") villain Fergus Colm.
McLaughlin credits his daughters Morgan, 10, and Erin, 18, with his big break.
"If it wasn't for them, I wouldn't have tried out," said McLaughlin, 49, who brought the kids to the casting call so they could be extras.
Intimidating stature aside, McLaughlin said it was his unique tattoo that caught Affleck's eye.
An outline of the commonwealth of Massachusetts – filled in with the colors of the Irish flag and Charlestown's zip code – covers McLaughlin's right forearm.
According to McLaughlin, Affleck loved the tat so much, the studio flew the Townie out to Los Angeles for a close-up of the ink job.
"The fun stuff now is that people actually come up to me and want my picture taken with them," McLaughlin said.
The first-time actor said he is thrilled with his Hollywood experience.
"From soup to nuts, every single person I met on the set was very nice to me. They all knew I was a new guy. Affleck came over unsolicited at one of the locations and (invited my daughters) to the set," he said.
Owen Burke, 21, another real-life Charlestownie, played the fourth member of the Not (Bleep)ing Around Gang, alongside Ben, Jeremy Renner and Dorchester rapper Slaine in the "The Town."
"It was a trip," said Burke, who is in his second year at Bunker Hill Community College.
Burke auditioned for the part of Desmond Elden, who goes by the nickname Monsignor in Chuck Hogan's book "Prince of Thieves." The first-time actor said he had to learn lines for the part, but not the accent.
Renner, on the other hand, had to learn to talk the talk.
So how did he do?
"I think he did a lot of research on his own," Burke said of the Oscar nominee. "He would ask me a lot of things. That blew my mind a bit."
File Under: My Kind Of Townie.
'Dark' ages
And speaking of Ben, if you want to see his very first performance on the big screen, check out "The Dark End of the Street" at ovguide.com.
The flick, Affleck's first movie role, was directed by fellow Cambridge homey Jan Egleson and was a featured film at the Communications Institute of New England's 1981 series on film, television and recorded music.
It is the story of two white teens who witness the accidental killing of their African-American friend.