Federal data don't put Mass. at top of bank robbers' lists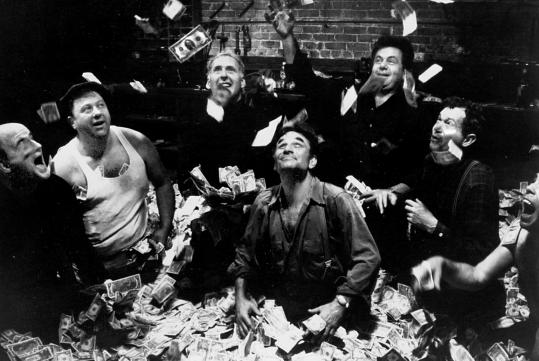 The 1978 film "The Brink's Job'' (above) dramatized a real caper in the North End. Ben Affleck (below), who directed and starred in "The Town,'' acknowledged some of his movie's claims about bank robberies and Charlestown are an "exaggeration.''
By Todd Wallack
Boston Globe
September 23, 2010
The new Ben Affleck film "The Town'' portrays the region as a haven for bank thieves, who pull off dramatic robberies donning masks with guns blazing, but the reality is far from colorful.
It turns out the region isn't "the bank robbery capital of America,'' as the movie posters proclaim. Massachusetts ranked eighth in robberies per resident last year, down from number one in 2008. And most real-life bank robberies are more mundane.
In one Hollywood production after another, bank heists feature squads of trained professionals storming a fortified institution, firing automatic weapons, and fleeing with piles of currency and other loot. But in real life, bank robberies are usually committed by drug addicts desperate for cash who simply pass a note to a teller asking for money.
"It's not realistic,'' said Robert D. McCrie, a professor at John Jay College of Criminal Justice in New York, referring to robberies in "The Town'' and other films. "Only Hollywood makes these types of robberies.''
Most bank robbers never fire a weapon, let alone brandish one. The FBI said bank robbers committed a violent act, such as firing a gun, in just 4 percent of robberies last year. Hostages were taken in only 47 incidents out of more than 6,000 bank crimes. And no customers or employees were killed.
"Most customers don't even know the banks are being robbed,'' said Boston FBI spokeswoman Gail Marcinkiewicz.
Moreover, it's a crime that doesn't usually pay. The FBI reported the average bank heist last year netted less than $8,000 nationwide. And many net less than $1,000. Armored car thefts, like one portrayed in "The Town,'' typically involve more cash, but are rare; the FBI counted just 47 nationwide last year.
In addition, most bank robbers are eventually caught. That's because banks typically employ an array of security cameras, silent alarms, marked bills, and other measures.
And many robbers try to knock off one bank after another, making it more likely they will eventually be caught. (One recent example: an overweight man known as the "Burly Bandit'' who hit as many as 10 banks in Massachusetts and other New England states before getting nabbed in July.)
The FBI says it identifies roughly 70 percent of the people responsible for bank thefts, more than many other types of crime, said Marcinkiewicz.
Added McCrie, the John Jay professor: "It's a losers' game.''
Yet that hasn't stopped screenwriters over the years from burnishing Boston's reputation as a hub for banking thieves.
"The Friends of Eddie Coyle,'' a 1973 film starring Robert Mitchum and Peter Boyle, featured a series of audacious bank robberies. A 1968 classic, "The Thomas Crown Affair,'' showed a bold $2 million robbery organized by one of the bank's executives, portrayed by Steve McQueen.
And a 1978 flick, "The Brink's Job'' with Boyle and Peter Falk, was based on a real-life Boston crime — a 1950 robbery of the Brink's armored car garage in the North End that some dubbed the "crime of the century.''
Nicholas Paleologos, executive director of the Massachusetts Film Office, noted that Boston is home to many authors who have written books that inspired films, including crime thrillers.
"The Town,'' for instance, was based on a Chuck Hogan novel, "Prince of Thieves.''
"As long as Massachusetts remains the literary capital of America, Hollywood will continue to mine that vein,'' Paleologos said.
In marketing materials and interviews, the makers of "The Town'' paint the area as a den of bank thieves. A movie trailer says more than 300 bank robberies and armored car thefts happen every year in Boston. And the movie suggests Charlestown produces more bank robbers and armored car thieves than anywhere else in the world.
Affleck, who directed and starred in "The Town,'' acknowledged in an interview on Comedy Central's "The Daily Show'' last week that many of the claims are an "exaggeration.'' But Affleck, who grew up in Cambridge, insisted: "It is true that Boston has the highest number of bank robberies per capita.''
That wasn't far off — in 2008. Though the FBI doesn't track bank robberies by city, it counted 286 statewide that year, more than any other state per capita. But in 2009, when "The Town'' was being filmed here, Massachusetts fell to number eight, with 180 bank robberies. Oregon, which had more robberies than Massachusetts with half the population, ranked first.
Moviegoers who watched the "The Town'' this week in Harvard Square in Cambridge, where one of the robberies was set, said they weren't expecting accuracy from a Hollywood blockbuster.
Shelton Brown, 35, of Somerville, said he thought the robberies in "The Town'' seemed more credible than heists in other films. "I'm no bank robber,'' said Brown, "but compared to some of the other portrayals, it's very realistic. It's not over the top.''
Yet Paul Simmons, a Cambridge physician, said he doubted the local robberies shown in the movie were anything like real-life crimes. "If that actually happened, it would be one of the biggest events in US history,'' Simmons said.
But Simmons said he didn't mind Hollywood stretching the truth: "It's the movies.''
Todd Wallack can be reached at twallack@globe.com.

OTHER MASSACHUSETTS MOVIE NEWS:
Fans turn out to greet Eisenberg
By Mark Shanahan & Meredith Goldstein
Boston Globe
September 23, 2010
Before screening "The Social Network'' for local college students at the Loews Boston Common last night, star Jesse Eisenberg made a quick appearance at the Thirsty Scholar Pub, where he filmed scenes for the movie.
Eisenberg plays Facebook creator and Harvard student Mark Zuckerberg in the movie, which costars Andrew Garfield and Justin Timberlake — as Napster co-creator Sean Parker. Word of Eisenberg's appearance at the Scholar got out a few hours before his arrival yesterday, which is why he was greeted by fans — including UMass-Lowell film major Adam Camal, who got a hug from the actor.
Eisenberg told the Globe that director David Fincher had creative ways of getting around Harvard University's rule against filming on campus, which means we might actually see some of the campus in the film. "David doesn't stop until he's achieved what he set out to achieve,'' Eisenberg said coyly. Of course, we had to ask Eisenberg about his costar, Timberlake.
"Mark Zuckerberg is in awe of Sean Parker in the same way as an actor I'm in awe of Justin Timberlake. He's literally a rock star,'' Eisenberg said. . . . Speaking of the real Zuckerberg, he was allegedly spotted at a Seattle screening of the movie, according to Twitter posts. The force behind Facebook has said he has no interest in screenwriter Aaron Sorkin's interpretation of the Facebook story.