Greg Saulmon
The Republican
October 23, 2010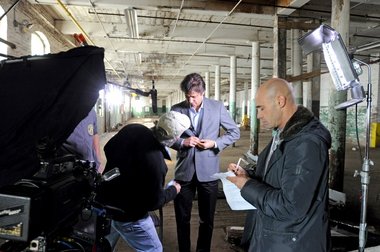 M.I.T. physics professor Max Tegmark, center, has a mic attached to his sportcoat in preparation for an interview with Malcolm Clark (right), creative director of Twister Films. Clark is filming a one-hour special for the National Geographic Channel, and chose the site of the former Albion mill to film several segments. (Photo by Greg Saulmon)
HOLYOKE – Massachusetts Institute of Technology physics professor Max Tegmark fills the frame of a video monitor as a 50mm prime lens throws the decay of a city's industrial past into soft focus.
"You can't even see the peeling paint," says Malcolm Clark, creative director of London-based Twister Films.
Behind Tegmark, October light seeps through dusty, arched windows to illuminate the whitewashed brick walls and precarious floorboards in a cathedral from the Paper City's golden age of industry. A floor below, deep in the old mill's guts, a giant turbine sleeps in a red cast-iron shell.
It's Tuesday morning, and Clark's crew is setting up a temporary studio in the former Albion Co. mill on Water Street. Here, they'll shoot segments for a one-hour special for the National Geographic Channel. No air date has been set, and the episode's exact topic is under wraps during production.
"We're doing a show about new ideas in theoretical physics," Clark says as two members of his four-person production team carry in key lights and tripods.
Some of the ideas presented in the show are "very strange," Clark explains; enter Tegmark, an expert in the field of precision cosmology (translation: he explores issues such as the age of the universe) whose website invites readers to "share my fascination for both respectable and crazy science."
In order to help illustrate such mysterious concepts – and to place the academics and theoretical physicists serving as interview subjects in more visually compelling environments – Clark says, "We wanted to find strange, unfamiliar looking locations, including industrial spaces."
The process of bringing a film crew from the United Kingdom to produce shows for National Geographic, the Discover Channel and PBS's NOVA to Holyoke involves a kind of delicate matchmaking that is driving Massachusetts' burgeoning film industry. Agencies like the Berkshire Film and Media Commission are playing Cupid to production companies and property owners.
The Albion Co. mill is one of the surviving structures on 16 acres between Holyoke's third-level canal and the Connecticut River. Quantum Properties, a limited liability corporation, acquired the land in a series of four transactions earlier this year totaling $620,000.
Quantum is an industrial commercial developer with a focus on distressed mill projects, said manager Glenn E. Shealey in an interview on the morning of the Twister Films shoot. Some of the company's largest projects include the redevelopment of the 9.5-million-square-foot Frankford Arsenal in Philadelphia, as well as rehabs of the Sunbeam Appliances Facility in Chicago and the American Woolen Co. mills in the eastern Massachusetts city of Andover.
A few years ago, while looking for new development opportunities, Quantum Properties surveyed all of Massachusetts' "Gateway cities" – former industrial centers such as Haverhill, Fall River, Lawrence, Fitchburg – and Holyoke.
"Our analysis was that Holyoke had the best shot at a revitalization," Shealey said.
But redeveloping such a large swath of derelict post-industrial property isn't an overnight project. In the meantime, running parallel to its larger aims, Quantum has worked to become a booster of Holyoke's creative economy.
"We've made a point of drawing attention to Holyoke and its assets – particularly to the film community – because this is a very unique city visually," said Quantum representative Mark Duff.
About four months ago, Duff began compiling photographs of the property and developing marketing materials to target the film industry. He sent materials to 150 contacts, including 45 to 50 location scouts in Massachusetts.
One of those contacts was Diane Pearlman, executive director of the Berkshire Film and Media Commission.
"Mark Duff called me and said, 'I have a space that would be good for film shooting,' " Pearlman said.
Pearlman, who previously worked as a visual effects producer for the movies "Judge Dredd," "Event Horizon" and "Die Hard: With a Vengeance" – and whose Lenox studio, Mass.Illusions, developed special effects technology for "The Matrix" and "What Dreams May Come" – visited Holyoke to assess the location's viability.
When she received an e-mail inquiry from Abigail Williams, an assistant producer at Twister Films, Pearlman responded with a list of four suggested locations.
"They selected Holyoke, which I thought was great," Pearlman said.
Twister's final site selection involved a reconnaissance trip about a week-and-a-half before the shoot. Olivia Mausel, a member of Holyoke's Historical Commission, gave Clark and Williams a tour of several sites in the city: the Victory Theatre, warehouses owned by Curran Construction and the building that houses the Paper City Brewing Co.
Twister chose Quantum's site, according to Williams, because of its size, which gave the crew numerous options for filming, as well as the availability of equipment such as power generators.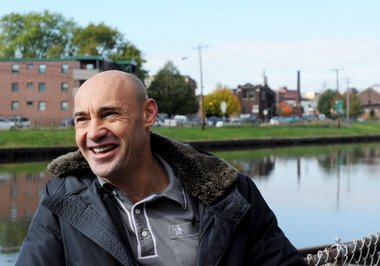 Twister Films creative director Malcolm Clark, of London, who is shooting a one-hour special for the National Geographic Channel. Clark chose the site of the former Albion mill to shoot several segments for the show. (Photo by Greg Saulmon)
Holyoke's general receptiveness to the project helped lure Twister to the city as well, Clark said. Of the final sites that made the cut – which include a former railroad terminal in Buffalo, N.Y., and an abandoned theater in Fall River – Clark explained, "Those were the ones where you could see there was a real groundswell and the community was behind making something happen."
Spurred by the Massachusetts Film Tax Credit, enacted in 2005, "Film is starting to make its way to the forefront of the cultural economy" in the Bay State, Pearlman said.
A study released by the University of Massachusetts at Boston earlier this year examined federal data and found that, between 2005 and 2008, Massachusetts saw a 117 percent increase in employment in the motion picture and video production industries and a 126 percent increase in employment in post-production industries.
While the trickle-down effect from Twister's trip to Holyoke may have only amounted to a few drops – a round of morning coffee and doughnuts and lunch for the crew from nearby Amedeo's restaurant – Pearlman believes even such small projects can serve as springboards to larger success.
"I would like it all to happen so quickly, but sometimes it takes small steps," Pearlman said. "If someone shoots here and has a good experience, they tell other people. It's a snowball effect. Even a small shoot is just the beginning of getting the word out that we can handle shoots out of Western Massachusetts, too."
Those reputation-building exercises support Quantum's interest in helping to foster what Shealey described as a "cohesive arts community" in Holyoke. Noting that "artists are just incredibly good at revitalizing communities," Shealey said, "We honestly believe that anything that helps Holyoke helps us."
And that supports Quantum's long-term goals for the property: "We are looking for segment-leading industries to come into Holyoke. We're looking to bring change agents," Shealey said.
That spirit of redevelopment strikes a chord even with people like Abigail Williams, who only experience Holyoke through a few fleeting visits.
"It is a little bit sad seeing it run all kind of down like this, and you think, 'What would the people who built it think now?' But, it's great that it's being redeveloped, and it's great to support the development of old industrial sites and bring new industry in," she said. Clark agrees.
"The guys here have been amazing, and you can tell that everyone's keen to make sure the infrastructure is kept," he said. "These buildings are partly what gives the place its identity. You lose these buildings, and the community doesn't have the same sense of identity it used to have."