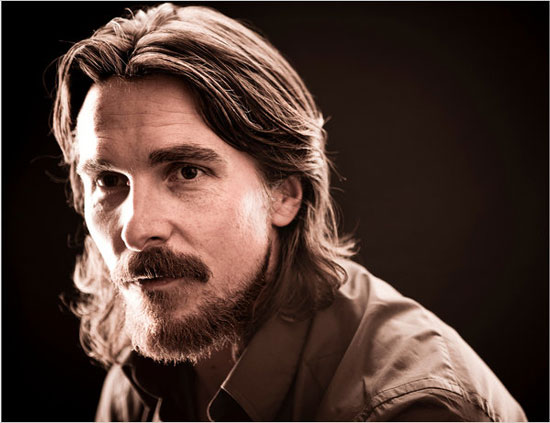 Christian Bale in Beverly Hills, Calif. (Photo by Kevin Scanlon for The New York Times.)
By DENNIS LIM
New York Times
December 3, 2010
BEVERLY HILLS, Calif. – WHILE most actors cultivate a polite illusion of intimacy when facing the news media, Christian Bale has no problem exposing the celebrity interview for exactly what he thinks it is: a quaint ritual, a professional duty, a business transaction.
"There's only one reason to talk about a movie ahead of time, and that's to let people know it's coming out," Mr. Bale said during a recent interview at the Four Seasons Hotel here, swigging from a bottle of Heineken as a weekend press junket for his new movie, "The Fighter," wound to a close. "I want people to go see movies that I make. If I knew they'd go see them anyway, if I knew that I'd keep working, I'd never do another interview in my life."
As he made clear in the course of a 90-minute conversation, during which he was more or less good-natured though not exactly approachable, Mr. Bale does not like to talk about himself, his life, his work and certainly not about the notion of craft as it applies to what he called "the extremely silly profession" of acting. But he is putting up with the scrutiny for the sake of "The Fighter."
Directed by David O. Russell ("Three Kings"), the film, opening Friday, is a long-nursed passion project of Mark Wahlberg, who served as producer and stars as Micky Ward, a former boxing champ and local hero in the working-class city Lowell, Mass. But the meatiest role in this story of suffocating family bonds belongs to Mr. Bale, who plays Micky's ne'er-do-well trainer and half brother, Dicky Eklund, whose own career went off the rails when he developed a drug habit.
Dicky is a departure of sorts for the Welsh-born Mr. Bale, 36, who has put together an intriguing series of haunted, inward performances, even — or especially — when in the company of showboaters. In Christopher Nolan's "Prestige" (2006) he was the workmanlike conjurer to Hugh Jackman's flamboyant illusionist. In James Mangold's 2007 remake of the western "3:10 to Yuma" he played the laconic hero with Russell Crowe's charismatic robber.
In Michael Mann's "Public Enemies" (2009) he again filled the less conspicuous good-guy role, as the federal agent in pursuit of Johnny Depp's John Dillinger. And in Mr. Nolan's two Batman movies, "Batman Begins" (2005) and "The Dark Knight" (2008) — they are teaming up for a third — Mr. Bale made for a stoic, even recessive superhero both in and out of his Batsuit, content to cede the theatrics to the villains played by Cillian Murphy and Heath Ledger.
"One of the great things about Christian is his refreshing lack of ego," Mr. Nolan said. "He figures out how he can be useful to the storytelling. That often means he's a very generous performer, somebody who's playing the part with integrity, not to show what he can do."
It was Mr. Wahlberg who thought of Mr. Bale for the part in "The Fighter" — they knew each other because their daughters attended the same preschool, and Mr. Bale's characteristic intensity seemed a good fit. "He has a willingness to go to places other people seem reluctant to," Mr. Wahlberg said.
Mr. Bale tends to disappear into his roles, but he has a gift for flashy disappearing acts. His transformation into the wiry, weathered Dicky — a onetime welterweight contender who also happens to be, for part of the film, a crackhead — is of a piece with Mr. Bale's other physical feats: embodying the buff, preening lunatic of "American Psycho" (2000) or the emaciated insomniac of "The Machinist" (2004), for which he famously lost more than 60 pounds.
He has played real-life figures before, but in the effusive Mr. Eklund, Mr. Bale had for the first time a living, breathing model before his eyes, and one with highly distinctive mannerisms and speech patterns to boot.
"To do me it's hard because I talk so fast," Mr. Eklund said by phone. (Besides speed, there are also the complicating factors of a broad regional accent and extensive dental work.) "I sort of have my own language," he added. "They call it Dickynese."
Mr. Eklund showed Mr. Bale around his old haunts in Lowell, while the actor took notes and recorded conversations. Mr. Russell pointed out that Mr. Bale's task involved far more than mimicry. "Dicky has a whole rhythm to him, a music," he said. "Christian had to understand how his mind works."
Mr. Russell and Mr. Eklund both marveled at Mr. Bale's dedication to staying in character throughout the shoot. "I don't know what I do," Mr. Bale said. "If other people look at that as staying in character, I'll take their word for it." (Last year a recording of Mr. Bale exploding at a crew member on the set of "Terminator: Salvation" was leaked, endlessly spoofed and even remixed; the obscenity-strewn 10-minute tirade is delivered in the American accent he adopted for that film.)
"David would say a couple of times, 'O.K., be Dicky,' and that's just not the way I work," Mr. Bale said. Instead he offered a curiously gruesome analogy: "I kind of slowly do it, like a frog that you stick in cold water and slowly turn up the heat so it never knows it's being boiled alive." He added: "Eventually it's just happening but it's vague, the line where you started. And when you've done it that way, it can take a bit of time to wear off."
The most vivid example of Mr. Bale's deep-dive approach to character immersion remains "The Machinist," which introduced him to what he called "a commitment level which I discovered I greatly enjoyed." Shedding a third of his weight for a part might seem the ghoulish ultimate in actorly masochism — with his sunken cheeks and alarmingly visible rib cage he resembled a famine victim — but Mr. Bale speaks of it almost as a purification rite. "I needed that," he said.
"I'd felt a real staleness in the work and that rejuvenated me."
Born into a nomadic family — his father was a pilot, his mother a circus performer — Mr. Bale has been acting since he was a child. His breakout role came when he was 13, in Steven Spielberg's "Empire of the Sun." As a young man Mr. Bale found himself pegged as a costume-drama heartthrob (in "Little Women," "The Portrait of a Lady," "The Secret Agent"). He proved his range in collaborations with indie auteurs — Todd Haynes on "Velvet Goldmine," Mary Harron on "American Psycho" — only to slip into another mini-rut with B-grade action movies like "Equilibrium" and "Reign of Fire."
When Mr. Nolan first met Mr. Bale, he was preparing for "The Machinist" — and so skinny that Mr. Nolan recalled seeing his spine through his shirt. "I remember Christian was worried because he was meeting to play a superhero," Mr. Nolan said. "But I came away from it feeling I'd never seen such focus and dedication from an actor."
His Batman alter-ego gave Mr. Bale new clout. Financing started to fall into place for tougher, smaller movies like Werner Herzog's P.O.W. drama "Rescue Dawn" (2006). Shooting that film in the jungles of Thailand was not just a challenge — he ate maggots and wrestled snakes — but an adventure. Which is as good as it gets for an actor, Mr. Bale said: "I can't control the end result, so I look at the process as an incredible opportunity to have experiences and test yourself."
Adventure has always been a lure for Mr. Bale, who was not yet a teenager when he was off on far-flung film shoots in Russia and China without his family. His impatience with the promotional rigmarole was apparent even then. During a junket for "Empire of the Sun," the young Christian unnerved his interviewers by stabbing at an orange with a pencil, then walked out of the hotel.
As a child star, Mr. Bale has said, he was an object of both fascination and ridicule among schoolmates, and he still seems a little embarrassed to be an actor. "Nuclear apocalypse — who do you need?" he asked, launching into a half-joking rant. "Actors are probably not top of the list. What can I do for you? I can pretend to be somebody who can grow you some nice crops."
Mr. Bale's views on artistic privacy are related to his faith, perhaps a naïve one, that an anonymous actor is a more credible shape shifter. "I like the idea of movies having a magic element," he said. "How many times have you seen an actor in a movie who you know only as the character? It's wonderful, isn't it?"
To the extent that Mr. Bale can approximate a blank slate in his films, he said, it is because he is an actor, not a movie star. He guards his personal life — he and his wife of 10 years, Sibi Blazic, have a 5-year-old daughter — and save for the "Terminator" blow-up and allegations of verbal assault on his mother and sister in 2008 (the charges were dropped), he has not gotten much tabloid attention. "A movie star is someone people look at and go, 'I want to be like that person,' " Mr. Bale said. "There's the responsibility of desire. It's not something I'm interested in trying. I would fail miserably at it, so why even bother?"
It is hard to imagine the prickly, plain-spoken Mr. Bale, a serious actor who does not want to be seen as taking his job too seriously, throwing himself into the glad-handing circus of the Hollywood awards season. He all but flinched at the mention of the Oscar campaign that likely awaits. (He has been called a front-runner in the best-supporting-actor category.) "I'm human," he said. "I love it when people say you did good work. It makes me all happy and shiny." Professing ignorance of Oscar politics (he has never been nominated), he added, "I'll campaign for the movie, but I won't campaign for myself."
Several times during the conversation Mr. Bale seemed to correct himself — dismissing his chosen profession one minute, declaring his love of acting the next. "It's a paradox and maybe I don't articulate it very well," he said. "It's fun and I'm not knocking it. I love it, otherwise why would I be doing it?"
For an actor who often seems sheepish about what he does, he has a pretty heartfelt take on what it means to act. "It's got to do with putting yourself in other people's shoes and seeing how far you can come to truly understand them," he said. "I like the empathy that comes from acting."