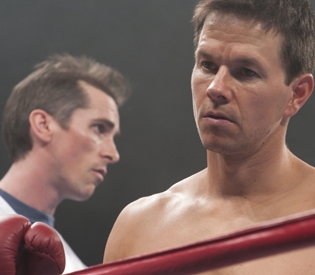 Photo by AP
By James Verniere
Boston Herald Movie Review
December 8, 2010
THE FIGHTER: B+
A cheesy "Raging Bull"-"Rocky" mash-up served on a hot buttered bulkie roll, David O. Russell's "The Fighter" is Scorsese-lite with Mark Wahlberg's boxer Micky Ward flanked by two performances that are as much about overacting as acting.
A pandemonium of Massachusetts accents, the film is set in large part in working-class Lowell, the epicenter of the American Industrial Revolution -turned-1990s wilderness of triple-deckers packed with dysfunctional families of all stripes.
Take the Ward-Eklund clan. Miniskirted matriarch Alice Ward (Melissa Leo) has not only given birth to nine children, she is a Lucrezia Borgia of boxing, managing her younger son Micky, while leaving training duties to elder son Dickie Eklund ("Dark Knight" Christian Bale going much, much darker).
When ex-fighter Dickie isn't inhaling gales of crack cocaine at a local den with his Cambodian girlfriend and a band of neighborhood degenerates, he's at the gym training Micky and reminding everyone of how he once knocked down Sugar Ray Leonard. (Some believe Leonard simply tripped.)
When Alice and Dickie agree to let ESPN pit Micky against a much bigger opponent at the last minute, allowing Micky to take a terrible, humiliating beating, Micky has his doubts.
Enter Charlene (Amy Adams), tramp-stamped ex-high jumper. A bartending siren, Charlene locks eyes and then limbs with Micky and has the temerity to step between him and his "sacred" family.
Dickie and Micky's gargoylish sisters are a cross between a Greek chorus and the "Jersey Shore" girls by way of Lowell.
Much of the action is cut to catchy tunes such as "How You Like Me Now?" and, inevitably, Aerosmith's "Back in the Saddle." Wahlberg's Micky is the salt of the earth. But he's stuck between two scene-stealing characters, and the fight scenes, culminating with the 2000 London title bid against Shea Neary, are routine.
Sporting a stiff blond bouffant and halo of cigarette smoke, Leo's Alice schemes, swears, wheedles, cajoles, wraps her boys around her finger and does everything to get her way.
Bale turns "squirrely," 27-times-arrested Dickie into an Olympic event. If De Niro can gain and lose 100 pounds, legendary self-mortifier Bale can have all his teeth pulled out (it looks that way, anyway). His Dickie twice jumps out of a window into a Dumpster to escape his mother and appears to be equal parts Ed Grimley and Ralph Kramden.
(In addition to horrifying hairdos, "The Fighter" contains profanities, drug use, violence and sexuality.)
Rated R. At the AMC Boston Common, Regal Fenway and suburban theaters.