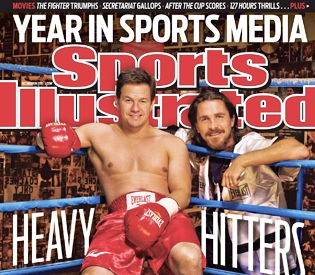 'The Fighter' stars Mark Wahlberg and Christian Bale are this week's Sports Illustrated cover boys. (Photo by SI/ Michael O'Neill)
By Gayle Fee and Laura Raposa with Megan Johnson
Boston Herald
December 15, 2010
Three Massachusetts-made movies — "The Fighter,'' "The Social Network'' and "The Town'' — copped a whopping 13 Golden Globe nominations yesterday, a sure-fire coming attraction that Bay State flicks will dominate this year's Oscars.
"The Fighter,'' the biopic of Lowell boxers Micky Ward and his half-brother Dickie Eklund, took six nominations: Best Picture, Best Director (David O. Russell); Best Actor (Mark Wahlberg); Best Supporting Actor (Christian Bale) and Best Supporting Actress ( Amy Adams and Melissa Leo).
"The Social Network,'' the story of the birth of Web godzilla Facebook in a Harvard dorm room — based on a book proposal by Boston author Ben Mezrich — also rang up six nods, including Best Picture. And Jeremy Renner, who played a bank-robbing, Charlestown tough guy in Ben Affleck's "The Town," was nominated for Best Supporting Actor.
"It's insane that we got this movie made, and to have this kind of reaction, it's just mind-blowing, it really is," Dorchester homey Mark Wahlberg told Harry Smith on CBS' "The Early Show'' yesterday. Wahlberg, who long championed the flick and made a promise to Ward and Eklund that he would bring their story to the big screen, said that the six nominations from the Hollywood Foreign Press Association nearly brought him to tears.
"They'd be happy tears,'' Marky told Harry.
"Our picture was always a bit of an underdog,'' said director Russell, who was in town last week for the flick's local premiere in Hingham. "It took a long time to get it made. We were kind of like Micky Ward, a slow starter. Micky Ward doesn't get started until the 6th or 7th round, and for some reason, the rhythm of everything about the film has been that way.''
Keith Dorrington, who brought the story to Hollywood in 1999 and was an executive producer on "The Fighter,'' credited Wahlberg's tenacity with getting the story told.
"Mark is the reason that this movie was made," he told the Track. "From the moment he became attached to it (back in 2006), he would not let it die.''
And if the accolades from the Hollywood Foreign Press ain't enough, Wahlberg and Bale made the cover of this week's Sports Illustrated! Hope the boys don't believe in the SI Cover Curse…
Boston author Ben Mezrich — whose proposal for his new tome "The Accidental Billionaires" was so good, Hollywood didn't even wait for him to write the book before they started working on the screenplay — was also thrilled.
"It's fantastic, I'm incredibly excited that this hometown project is getting this sort of recognition; Fincher and Sorkin took my book and turned it into something truly classic, and I'm simply thrilled to be a part of this wild ride," Mezrich told the Track.
Besides Best Picture, Jesse Eisenberg was nominated in the Best Actor-Drama category for his portrayal of Facebook founder Mark Zuckerberg . Andrew Garfield, who plays Zuckerberg's friend and business partner who sued the Accidental Billionaire for screwing him out of billions, is among the Supporting Actor nominees. Director David Fincher and screenwriter Aaron Sorkin were honored, as well as Nine Inch Nails frontman Trent Reznor and composer Atticus Ross for the Best Original Score.
"I've had the time of my life working alongside my colleagues on 'The Social Network,' and I'm grateful to the HFPA for recognizing their great, hard work,'' said Sorkin. "On a personal note it's humbling to be nominated alongside six of the best screenwriters in town.''
"The Social Network'' already has snagged three key prizes: The Los Angeles, New York and Boston film critics groups picked it as the year's best movie.
"The Town'' auteur Ben Affleck was shut out of acting, directing and writing awards for his Charlestown cops 'n' robbers flick. Word out of Tinseltown is that Ben was beat out by O'Russell of "The Fighter.'' But Renner, who will carry the flag for "The Town" at the Globes, channeled Jem, the out-of-control 'Townie he played in the flick, when asked about the 5 a.m. wake-up calls he got notifying him of the nod.
"Normally those are actions that deserve hospitalization,'' Renner said. "But they had such wonderful news, I couldn't hate them."
File Under: Glob-al News.