By Greg Braxton and Amy Kaufman
Los Angeles Times
December 15, 2010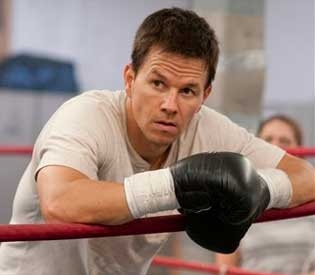 Photo by Jojo Whilden/Paramount Pictures
LOS ANGELES — Mark Wahlberg scored a knockout with the Golden Globes.
Wahlberg received a nod as lead actor in a drama for his role as a struggling boxer at odds with his family in "The Fighter," which he also produced. The acclaimed drama nabbed a total of six Golden Globe nominations, including motion picture (drama).
Meanwhile, Wahlberg's production company, Leverage, also landed a nomination for TV series (drama) for HBO's "Boardwalk Empire," which is set in the underworld of Atlantic City during the 1920s. The series, which premiered this year to critical raves, received a total of three nominations. Leverage is also a producer of HBO's "In Treatment" and "Entourage."
The former rapper had a frantic Tuesday morning, juggling congratulations and media interviews. At one point, he sounded extremely tired as he talked on the phone about the nominations, speaking softly so he would not awaken his family.
"It's such an exciting thing," he said in a gravelly voice. "We tried so hard to get this movie made. We fought tooth and nail, and to have this kind of reaction — I always thought it could be special."
Later in the morning, Wahlberg was nearly overcome by his emotions as he talked to Harry Smith of CBS' "The Early Show." As Smith listed the nominations "The Fighter" received, Wahlberg said, "Don't make me cry, please. … No, they'd be happy tears."
Asked why he thought the Hollywood Foreign Press Association lavished such attention on the film, Wahlberg said, "I just felt like they understood it was very close to being real. You felt like you were watching a documentary about these people as opposed to a film about their lives."
But at this point, he's not getting ahead of himself. He said that anticipating how "The Fighter" will do in upcoming Oscar nominations is not a priority: "No, you don't think about that. I'm looking forward to Christmas with the kids."