By Susan King and Rene Lynch
The Los Angeles Times
February 27, 2011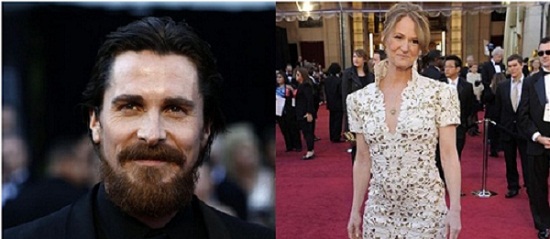 Photos by AP; Christian Bale won supporting actor and Melissa Leo won best supporting actress for "The Fighter"
LOS ANGELES — "The King's Speech" won the final two awards, including best film, Sunday night at the 83rd Academy Awards.
After winning practically every award out there for "The King's Speech," Colin Firth topped off a phenomenal year, winning the lead actor Oscar for playing George VI's attempts to overcome his stuttering before he assumes the throne of England.
"I have a feeling my career just peaked," Firth deadpanned as he accepted the honor.
Nominated for 12 Academy Awards — the most of any film — it won four Oscars, including statuettes for original screenplay and Tom Hooper for director.
Meanwhile, Natalie Portman danced away with Oscar for playing a prima ballerina spinning into madness in "Black Swan."
It has been a magical awards season for Portman, who had swept nearly every honor she was nominated for, and she has glowed every step of the way: She met her now fiance on set.
"This is insane. … I'm so grateful to do the job that I do," Portman said.
"Inception" also ended the night with four Oscars. "The Social Network" won three. And "Toy Story 3," "The Fighter" and "Alice in Wonderland" each won two apiece.
Christian Bale won supporting actor for his role as the drug-addicted former boxer in "The Fighter." "What the hell am I doing here in the midst of you?" Bale said, referring to all the talent in the room. He singled out his co-stars, including Melissa Leo, who earlier had won for supporting actress for playing his mother in the film. But, Bale joked, "I'm not going to drop the f-bomb like she did." (Leo later apologized for the emotional slip.)
Bale and Leo were considered shoo-ins, and it was just two of many awards that went as expected.
Adapted screenplay went to Aaron Sorkin for "The Social Network," while original screenplay went to David Seidler for "The King's Speech." "Toy Story 3″ won animated film and best original song for Randy Newman's "We Belong Together." Art direction went to production designer Robert Stromberg and set decorator Karen O'Hara for "Alice in Wonderland."
Cinematography went to Wally Pfister for "Inception." Director Susanne Bier became only the third woman to win in the foreign language film category for Denmark's "In a Better World." (Bier had won the Golden Globe.) Original score went to Trent Reznor and Atticus Ross for "The Social Network," and "Inception" won for sound mixing and sound editing. Makeup went to "The Wolfman," and costume design went to Colleen Atwood for "Alice in Wonderland."
Other honors given out were short subject documentary, which went to Karen Goodman and Kirk Simon for "Strangers No More," a film about a Tel Aviv school for children struggling to overcome adversity. Live action short went to "God of Love" by Luke Matheny, who thanked his mother for doing craft services during shooting the film about a modern-day Cupid.
Oprah Winfrey handed out the Oscar for documentary feature to Charles Ferguson and Audrey Marrs for "Inside Job," about what caused the country's economic crisis. Ferguson noted that three years after the crisis, not a single financial executive has gone to jail, "and that's wrong," he said.
A surprise appearance by Billy Crystal, considered by many to be the best Oscar host over the past 20 years, earned a standing ovation. He introduced a tribute to Bob Hope, who had hosted the awards 18 times. Through movie magic and some crafty dubbing, Hope was projected, hologram-like, at a podium to crack wise and introduce presenters Robert Downey Jr. and Jude Law. The pair handed out Oscars for visual effects ("Inception") and editing ("The Social Network").
To lure younger audiences, the academy chose James Franco, nominated for lead actor for "127 Hours," and Anne Hathaway, nominated two years ago for lead actress for "Rachel Getting Married," to emcee the awards, held at the Kodak Theater in Hollywood.
The pair kicked off the show with a clever montage in which they were injected into the top Oscar-nominated films, including "Inception," "True Grit," "The Kids Are All Right," "The King's Speech" and more. After taking a trip "Back to the Future," the couple ended up onstage for banter with each other — and their mother and grandmother. A bit long, perhaps, but otherwise nonoffensive and kind of sweet.