By: Dana Barbuto
The Patriot Ledger
October 8, 2012
You've probably heard the rumor: Quincy Mayor Thomas Koch was a stand-in for actor Kevin James on the Quincy set of the film "Here Comes the Boom."
Laughing, Koch said, "We're similar sizes in height and girth, but that's not true."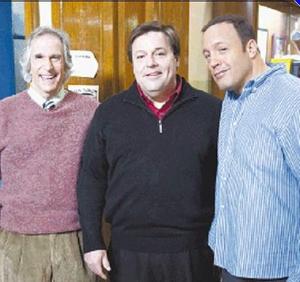 Opening Friday, "Here Comes the Boom" is about a teacher (James) who moonlights as a mixed-martial-arts fighter to raise money to save his school's music program. Scenes were filmed at the old Quincy High School on Coddington Street, Veterans Stadium and Coddington Hall, a former Quincy College building. Shooting ran from February through June last year.
Koch took his kids for a visit to the set, where they met James and co-star Henry Winkler
"They were very gracious and terrific," said Koch, who's planning to see the movie. "I'm not a huge movie guy, but I hope to see it with my kids."
Koch said he watched the film's trailer, which shows a lot of interior shots of the old school. "There were some familiar scenes in there," Koch said. "It was kind of weird and neat at the same time … It (the movie) was such a positive experience for the city."
Dana Barbuto can be reached at dbarbuto@ledger.com.