By Pat Ryan
The New York Times
August 15, 2013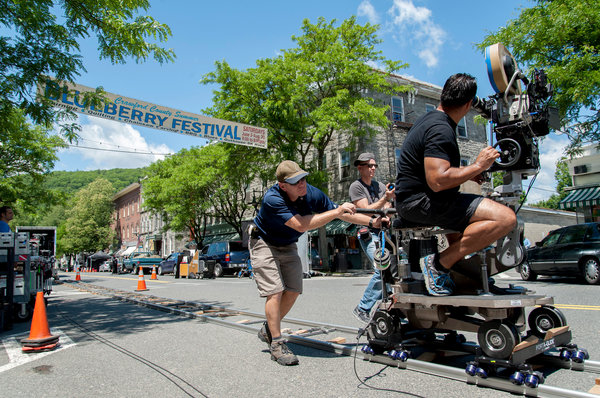 SHELBURNE FALLS, Mass. — UP in the highlands of western Massachusetts, a Brigadoon lies squirreled away in the dense forest.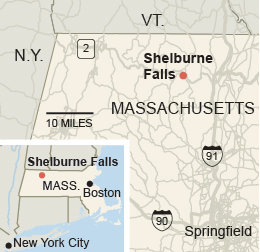 Indians fished for salmon at the falls on the Deerfield River here in the 17th century; Europeans settled here in the 18th century. After the Mohawk Trail, designated a scenic road, opened early in the 20th century, touring families began to discover the attractions of this town, named for William Petty, Earl of Shelburne. And now, 100 years later, explorers have arrived from out West.
In the last year, Hollywood has made Shelburne Falls the cinematic canvas for two movies. Overnight, with a little window dressing, this village can mutate into other places or eras. Any morning, townsfolk could wake up in a Colonial village, the Wild West or even Indiana.
For Emily Bourque, a waitress at the Gypsy Apple restaurant on Bridge Street, there's magic in watching that transformation. "The last movie, we were in New Hampshire," she said, "and now Indiana. I'm interested to see where we'll be in the next one."
"Labor Day," filmed here last year and scheduled for release on Christmas Day, is set in Holton Mills, N.H., an imaginary town at the heart of Joyce Maynard's novel of the same title. "The Judge," which takes place in the fictional Indiana town of Carlinville, was filmed here this summer.
The team behind "The Judge," which is directed by David Dobkin and stars Robert Downey Jr., Robert Duvall and Vera Farmiga, spent a lot of time searching for a location with just the right small-town appeal, said Susan Downey, a producer of the film and Mr. Downey's wife. Shelburne Falls, somewhat surprisingly, matched their photographs of southern Indiana, she said.
The town, not far from Greenfield and the Vermont border, is "very much a character" in the story, Mrs. Downey added. Its image had to "speak quickly" to the viewer and relay what it would feel like for a man to return to the place he had walked away from years before.
"It's ironic that we want to capture what makes this place unique and small town and picturesque," she said by phone from the set, "and we're totally invading it."
Shelburne Falls (population about 1,900) is not the only falls in the area: There's also Millers Falls, as well as Turners Falls, a former mill town on the Connecticut River, where I'm from. I've spent much of my life smiling wanly at the responses when I mention where I grew up: "Is that like Bedford Falls?" "Isn't that the place in 'It's a Wonderful Life?' " "Doesn't Jimmy Stewart live there?" I usually say yes, it's west of Grover's Corners and south of Peyton Place.
These are small towns that really do speak quickly to audiences, like Holton Mills in Ms. Maynard's "Labor Day," where "the main attraction is bowling and horseshoes," and "people know each other's business." In the film, a depressed single mother (Kate Winslet) and her son offer a ride to a wounded man (Josh Brolin). Or like Carlinville in "The Judge," where a big-city lawyer (Mr. Downey) returns to his childhood home for his mother's funeral and learns that his father, the town judge (Mr. Duvall), is suspected of murder.
"We started scouting for 'Labor Day' a year in advance of our shoot," the film's director, Jason Reitman, wrote in an e-mail, and "something happened" when they drove into Shelburne Falls. They were hooked by its charm, he said, "its commitment to a time and place in America that we read about but rarely see."
Lisa Strout, the director of the Massachusetts Film Office, said, "There is an authenticity to a place like Shelburne Falls that is unmistakable to a filmmaker, just as it is to a tourist."
The village, not visible from the Mohawk Trail (State Route 2), sits ensconced between the towns of Shelburne and Buckland, with the Deerfield River running through it. For many years, the main tourist attractions have been the Bridge of Flowers, a former trolley bridge turned civic garden, and the Glacial Potholes, ancient natural sculptures carved in the rocky riverbed just below the falls..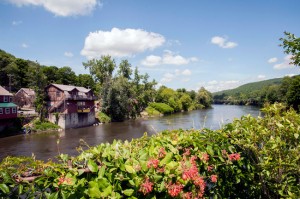 In June, as film production assistants attached strips of Velcro to road signs in preparation for the quick change from Massachusetts to Indiana, the villagers seemed to be taking it all in stride: The talk in the Baker's Oven Bistro was about which shops got new awnings for the filming this time around. In the Keystone Market, T-shirts bearing the slogan "Shelburne Falls: Little Hollywood," hung nonchalantly over the vegetable bins. Mr. Duvall and Vincent D'Onofrio sat on a stoop eating lunch.
Michelangelo Wescott, the chef of the Gypsy Apple, can see touches of Brooklyn, his hometown, in Shelburne Falls. It's "shabby chic," he said, with the local pharmacy and insurance agency sitting cheek by jowl with the art galleries, and the outlet for Lamson & Goodnow, one of the country's oldest cutlery manufacturers, across the bridge from Mocha Maya's espresso bar.
Dennis Patterson, who owns the Bird's Nest Bed & Breakfast in nearby Buckland with his wife, Cyndy Weeks, and her mother, Pat Weeks, moved to the area from Detroit 12 years ago when they bought the 1797 house where Mary Lyon had once taught an "exclusive school for young ladies." At first amazed by the resounding quiet, Mr. Patterson said he's become so accustomed to the country that downtown Shelburne Falls, three miles away, seems lively to him.
This is "the other Massachusetts," neither Tanglewood territory nor a cluster of ivy-covered colleges. A three-hour drive from Manhattan brings visitors to Greenfield and the Mohawk Trail, and then it's just a jaunt into the Berkshire Hills to Shelburne Falls and towns with forthright Yankee names: Ashfield, Plainfield, Colrain, Hawley, Heath and Rowe. Nathaniel Hawthorne wrote that he had "never driven through such romantic scenery, where there was such variety and boldness of mountain shapes as this."
Frank Capra could have chosen this area for his own picture of America in his film "It's a Wonderful Life." His hero, George Bailey, yearns to travel to the exotic places he's read about in National Geographic, but the twists and turns of life never let him escape Bedford Falls. (That fictional town is assumed to be in New York, where Seneca Falls has christened itself "the real Bedford Falls," though the set was built on a studio lot in California.)
With the summer stars gone, will dedicated film fans journey to Shelburne Falls? New Zealand, after all, has its "Lord of the Rings" tours; Sweden its "Millennium" tours, based on the Stieg Larsson trilogy; and Seneca Falls its yearly "It's a Wonderful Life" festival, as well as a museum. Time and the movies will tell.
To the New Hollywood Hills
GETTING THERE From New York, drive north on Interstate 95 to I-91 north. From I-91, take Exit 26 in Greenfield, Mass., and follow State Route 2 west (the Mohawk Trail) for about eight miles. For downtown Shelburne Falls, turn left at the Sweetheart Restaurant sign onto Maple Street, then left onto Bridge Street.
FOR MORE INFO Shelburne Falls Business Association, shelburnefalls.com,; The Bridge of Flowers, bridgeofflowersmass.org; Mohawk Trail Association, mohawktrail.com.
WHERE TO EAT Gypsy Apple Bistro, 65 Bridge Street, (413) 625-6345; Blue Rock Restaurant, 10 Bridge Street, (413) 625-8133, thebluerockrestaurant.com; Mocha Maya's, 47 Bridge Street, (413) 625-6292, mochamayas.com; Baker's Oven Bistro, 24 Bridge Street, (413) 489-3110, thebakersovenshelburne.com.
WHERE TO STAY Bird's Nest Bed & Breakfast, 2 Charlemont Road, Buckland, (413) 625-9523; birdsnestbnb.com