By Andrea Shea
WBUR
August 26, 2014
BOSTON — Whether it's Fenway Park in "Fever Pitch," the Bunker Hill Memorial in "The Town" or the Fairmont Copley Plaza in "American Hustle," a lot of us get a kick out of seeing Boston on the big screen.
We've also seen Boston transformed into other places through movie-making magic. It played Paris in "The Pink Panther 2," and Revere became Miami in the "Whitey" Bulger biopic "Black Mass" that shot here this summer.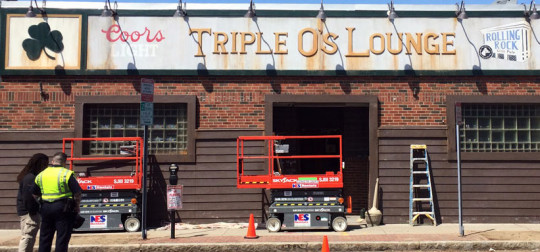 It takes an army of professionals to cast, prep and secure places around Massachusetts for their turns on film, but one person plays a particularly critical role in the creative and logistical gauntlet that comes with the territory.
Location manager Charlie Harrington, a 29-year industry veteran, lives in Dennis and has found the perfect beaches and townie bars for a slew of movies made here, including "Good Will Hunting" and "Black Mass."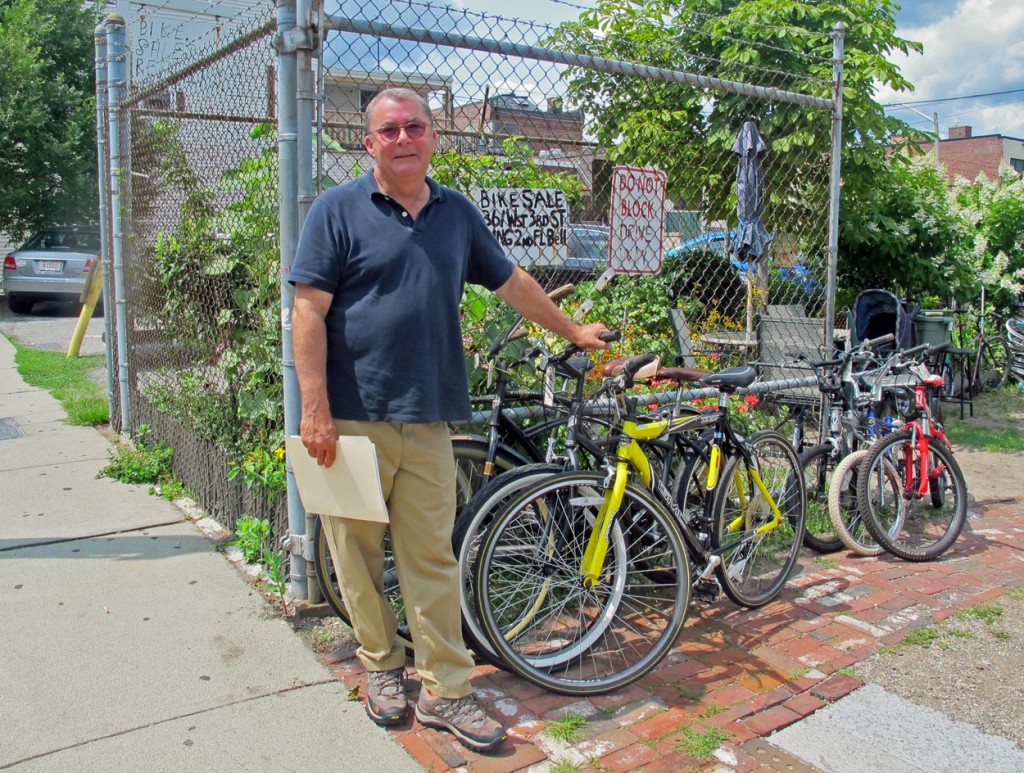 Harrington acknowledges his title can seem glamorous, but he's quick to clarify. "I have crew members come up all the time and pat me on the back going, 'I would definitely not wanna have your job!'"
As a location manager, Harrington spends a lot of time in his car. Hours and hours tooling around with Hollywood producers and directors like Gus Van Sant or Lasse Hallstrom so they can check out locations that might work in their films. Harrington shows them examples from Boston's pool of ubiquitous triple-deckers and taverns, along with icons like the State House or MIT.
"I'm like a real estate agent that sells real estate to designers and directors," Harrington explained as we cruised through South Boston. Then he pulls into a parking lot next to a modest, urban house. A group of used bikes punctuates the edge of the property. The location manager has been here before.
"When I was scouting it, instead of just taking pictures I said, 'Is it OK if I take pictures?'" he recalled.
Harrington also told the couple who lives here the name of the project and explained that if the directors chose to shoot here, they would get paid.
That was months ago. Harrington ended up coming back over the summer with a cinematographer and said, "now they make some money."
The couple takes a break from tending their tomatoes to sign the location agreement, and Harrington tells them they'll make $500.
We walk across the street to check out a classic, very Southie-looking barber shop. Harrington had hoped to get it into "Good Will Hunting" in the late 1990s. Gus Van Sant shot some exteriors and a few interiors in Boston, but the rest of the film was made in Toronto.
"There was no barber shop in the movie," Harrington recalled. "But you know everybody agreed they liked it. And so finally on this movie when we were doing the second unit I drove the cinematographer by it and he said, 'This is fantastic!'"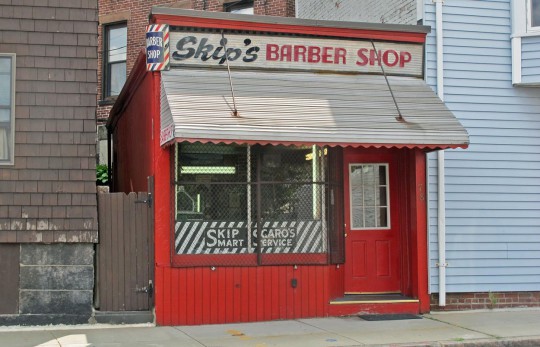 Harrington's been working locations for nearly three decades. But not just in Boston. He's had exotic gigs all over the world.
"Fly around the Caribbean and find the best waterfall," he recalled. "Or one summer I just flew around the Arctic Circle, dog sledded and helicoptered everywhere, and the movie never got made. Other times it's, uh, figuring out where people are gonna poop."
According to Harrington, scouting locations is one thing, managing port-a-potties and parking is another. There can be 20 trucks just for crew, and they need to be near the set during a shoot. These are the kinds of logistics that make up the reality of his job.
Scouting came first, though. Harrington fell for movie-making as a teen. He recalls a fateful summer in 1974 when the cast and crew for Steven Spielberg's "Jaws" set up shop in the Martha's Vineyard hotel where he was working as a bellhop.
"I saw the whole process," Harrington remembered. "All the movie stars stayed in the hotel, and that's where they edited."
Harrington managed to get some production assistant work on "Jaws." Inspired, he went on to study film at Boston University. A few years later he discovered he had an eye for locations.
"The first big movie I did was the 'Witches of Eastwick,' which I shot in Cohasset, my hometown," Harrington recalled.
He moved to Los Angeles in the 1980s because that's where the work was. Harrington returned home in the '90s and says things really picked up after the state film tax credits were enacted in 2007. When he starts listing off his filmography, Harrington has trouble remembering the dozens of films he's had a hand in over the decades.
"I should probably pull up an IMDb on myself," he said, laughing. "And this has nothing to do with me being old — it's just this is like the 63rd movie I'm working on now."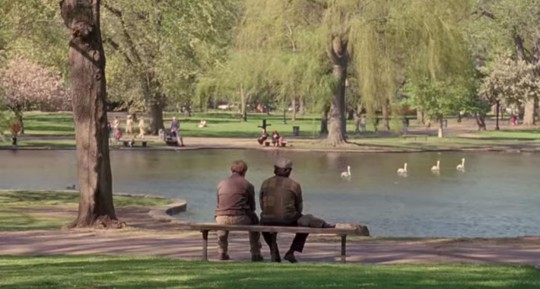 There's a reason Harrington has been so busy, according to Lisa Strout, director for the Massachusetts Film Office.
"Charlie is a complete pro," she said. "He has a really good notion of what a director is looking for."
Strout's main objective is to entice filmmakers to set up their productions in the state. The 25 percent film tax incentive is a major draw. When directors and producers shop for locations, Strout shows them an online image database of photogenic places around the state. But she says having a veteran location manager like Harrington helps the sale.
"People don't realize that the scouting part is extremely creative — but the other half of it is moving the company around, finding the parking, dealing with police, fire, parks department," she said. "Basically a location manager is the connect from the company to the real world."
Harrington has worked consistently for Massachusetts-native Adam Sandler's Happy Madison production company. Sandler producer Barry Bernardi has produced six films here with Harrington, including "Grown Ups" and "Grown Ups 2."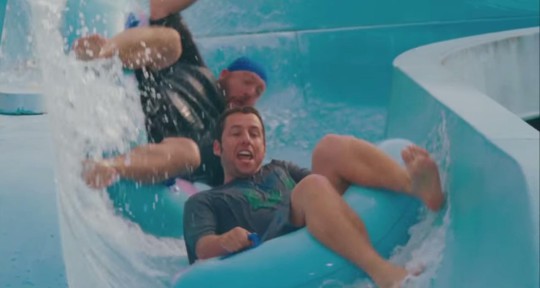 "[Harrington] has worked in Los Angeles, he has worked in numerous states in the union and is well know by many studio heads," Bernardi said on the phone from a shoot in Toronto. Harrington, he explained, understands the medium. "He's primarily a filmmaker, so he works very closely with the production designer and the art directors and makes sure that the location is going to satisfy."
Massachusetts has some diverse locations to choose from, Bernardi added. The versatility — plus the film tax credit — make the state desirable for Hollywood filmmakers.
"You know you can have a great classic Cape Cod setting — set against the water either on the North Shore or down on Cape Cod," Bernardi said. "You can have great provincial, eastern areas in the city. You can have small-town looks, you can have rural looks and you can play Boston for other locales."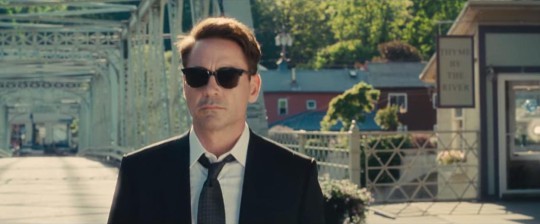 On average, Harrington says he manages 25 to 35 different locations for most films. The last one he worked on here racked up more than 100. A big part of Harrington's job requires him to know a lot of people around the state. He is quite aware of where filmmakers are welcome and where they are not.
"There's probably eight or 10 location managers in Boston, and a few of us have our towns that we like to film in because the selectman or the mayor or the police chief are easy to deal with," Harrington explained. "Some towns can actually be a nightmare."
Harrington says municipal workers are sometimes reluctant to cooperate because movie sets can be disruptive. Productions roll in and pretty much take over whole neighborhoods or downtown areas, creating a lot of extra work. Harrington is also the guy who handles complaints from residents who he says might say it took them 10 minutes to get home from work instead of five because of the traffic jam caused by trucks and police detail.
"And other times it can be a significant thing, like 'My handicapped mother couldn't get to her appointment because you had the road blocked off,'" Harrington said.
To do his job, this location manager seems to keep a mental catalog of countless streets and neighborhoods. And he notices subtle things — like how the quality of light in Boston is different than in LA or Venice.
This city's underbelly is popular with directors, too. Harrington recalls a stinky, loud, rat-infested alley in the Back Bay.
"We scouted every alley in Boston, but the director and the designer were in love with this place. So we power washed the thing and put Clorox down. We made deals to shut off all the air conditioners," Harrington recalled. "We made it work for the director. He was grateful for that."
So was the locally-based sound man on the film, Tom Williams. He would've struggled to capture clean dialogue competing with the ventilation systems.
"Charlie is certainly the elder statesman of the scouts — there's not doubt about that," Williams said during a break in a shoot for "Black Mass."
"I don't know about elder statesman," Harrington responded with a little smile. "It's a young man's job, and I'm 57. I'm still doing it. And sometimes when it gets stressful I feel like this is gonna be my last movie — and then once you get through it you're like, 'OK, bring on another one.'"
Harrington is currently managing locations for re-shoots on the upcoming Vince Vaughn comedy "Unfinished Business" that's set to opens next year. He looks forward to seeing "Black Mass" and hopes the beautiful little barber shop he found in Southie makes the final cut.