By Patrick Sargent
GoLocal24/GoLocal Worcester
November 17, 2014
Brian and Joe Girard of Worcester, Mass. spent their summer working on Gus Van Sant's film "The Sea of Trees," starring Matthew McConaughey, Naomi Watts and Ken Watanabe.
"Gus Van Sant is one of my favorite directors of all time. And I'm thinking if Gus Van Sant is coming in, I don't care what I'm doing, I am not leaving this town. I am working on this movie," said Brian Girard.
'The Sea of Trees,' scheduled for release in 2015, is a film about a suicidal American man, Arthur Brennan, getting lost in a dense forest at the base of Mt. Fuji. In the forest, Brennan (played by McConaughey) encounters Takumi Nakamura (played by Watanabe), a Japanese man who is also lost, and together they search for a way out.
Everything Clicked Upon Arrival in Worcester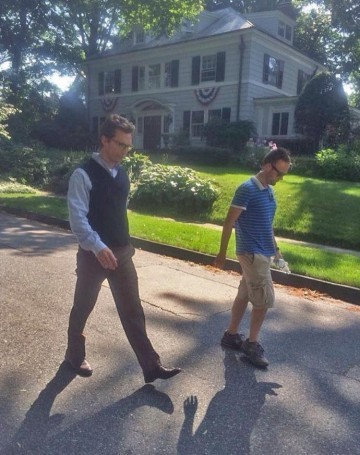 On June 6th, the Girard brothers flew into Boston to attend a cousin's wedding the following day. Brian was flying in from Los Angeles and Joe flew in from South Carolina. Their plan was to go to the wedding and then drive across the country back to L.A.
"Joe wanted to give L.A. a run. As much as I tried to talk him out of that, he was pretty convinced that this is what he wanted do," said Brian.
However, when they arrived in Worcester, Brian received an email from a friend telling him that Gus Van Sant was working on a project in Worcester. After some research, Brian realized he knew the Production Supervisor, Sasha Veneziano. They were Facebook friends, so Brian sent him a message inquiring about the project and asking to be a production assistant.
An hour later, Brian got a call from Veneziano. Brian was told that he starts first thing Monday morning.
"I said 'Alright,'" Brian said, "but here's the other hook. My brother, who's about to drive cross-country, he's here as well.'" Veneziano didn't hesitate and told Brian that Joe could start work that Monday too.
"On June 9th, instead of driving across the country, we began working on that film," said Brian. "The first few days in Worcester, we were literally working out of our parents house as a kind of make-shift production office. Everything was based within a three mile radius from the house that we grew up in."
"We didn't know what was going to happen, but we went along for the ride." said Brian.
Joe Girard Serves as McConaughey's Assistant
On the film, Brian worked with the Locations Department, spending time on the road and clearing locations for filming and working on logistics.
Joe served as Matthew McConaughey's on-set assistant. "I was originally in the office as an Office PA, and then two days before we started shooting,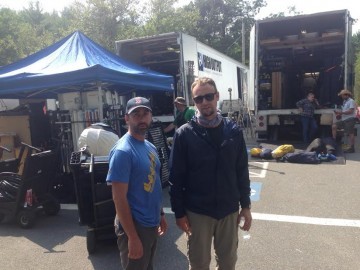 the Assistant Director pulled me aside and said 'I want you to be on set with us. I want you to handle the actors, specifically Matthew," said Joe. "And of course I said, "Yeah, that's fine. I think that's a great idea.'"
Joe said, "I was his right hand man. His shadow. Whatever he needed, I had to get done. McConaughey, like most actors, spend 85% of their careers in foreign places and working with different people all the time. Any kind of routine and anything we could set up that could be consistent obviously creates an environment for him to do his thing and be able to work."
"I was on set everyday and I was no more than 30 feet from every shot of the film. Being right there in the process of actually making this film was incredible, " said Joe.
Van Sant Shoots In Worcester
According to the Girards, there were two variables as to why Van Sant, director of 'Good Will Hunting' and 'Finding Forrester,' filmed in Worcester. The first was Purgatory Chasm.
Brian said, "The actual formation of those rocks is such a unique geological structure. Gus fell in love with that place. He wanted to shoot there so badly that he asked 'From here, how can we do the rest of the film?'. The Chasm, along with several other locations that were part of the Mass. State Park system, were used to replicate parts of the Aokigahara Forest at the base of Mt Fuji, or otherwise known as 'The Sea of Trees'"
The second reason is the number of colleges in Worcester that Van Sant could choose from. "McConaughey's character is a college professor going through trials and tribulations of every day life," said Brian. "And with Worcester being a college town, and with Purgatory Chasm right down the road, now all the elements that they need for the script, happened to be within a 30 mile radius, with Worcester being the hub."
Worcester Energized By Film
Brian, who just finished working on a pilot for the E! Channel, said "It was such a big project for the city. To have a good size Indie-film come to a place like Worcester and to have it executed the way it was is incredible. It was not only a great work experience, but it was great experience in the city. I'm so anxious to see footage, and see it together and to see how Worcester looks."
Joe said, "Working in Worcester all summer, there was such great energy. People knew we were there so we set up in camp in various locations and people would come by and take pictures. They really couldn't get too close, but there was a ton of interest and people thought it was really cool. There was a buzz about it and a positive feeling about it. There was so much support and so much love for us being there. And to be a guy from Worcester, and being part of a movie that brings in business, and bring that much energy into the city and embrace it, it was awesome. That's a great day at the office no matter who you are."
"It was such a unique experience to be able to come home, and work on something of that caliber," said Brian.