Boston Globe
December 30, 2014
Whatever you think about using tax credits to entice Hollywood to make movies in the Hub, it seems to be working. At least it did in 2014.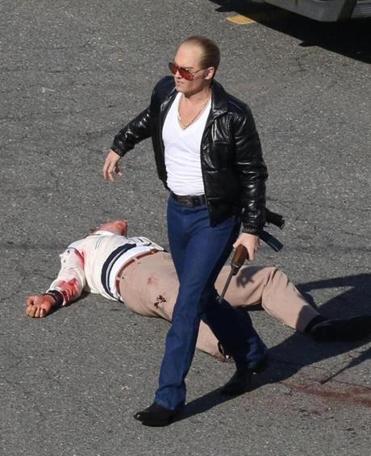 Of course, we can't vouch for the quality of films such as "Unfinished Business," a screwball comedy starring Vince Vaughn and Dave Franco as dingbat businessmen, but a total of 30 movie and TV projects got made in Massachusetts this year, and that's what matters to the folks at the stood in for Florida thanks to a few imported palm trees and ice cream-colored cabanas), the big-budget biopic directed by Scott Cooper stars Johnny Depp as the notorious gangster, Benedict Cumberbatch as his brother Billy, Joel Edgerton as John Connolly, Jesse Plemons as Kevin Weeks, Rory Cochrane as Steve Flemmi, and Sienna Miller as Catherine Greig. "Black Mass" will be released in September.
Not attracting as much attention, but no less promising is Gus Van Sant's "The Sea of Trees," starring Oscar winner Matthew McConaughey and Naomi Watts. Curiously, the movie about an American who befriends a Japanese man lost in a forest at the base of Mount Fuji was filmed in several state forests in Massachusetts.
"The irony is our vegetation is pretty darn similar," says Lisa Strout, director of the Mass. Film Office. "We've doubled for Maine, New Hampshire, Vermont, Rhode Island, and New York, but this is pretty special. We think ["The Sea of Trees"] is going to get a lot of attention."
Then there's "Ted 2," the inevitable sequel to Seth MacFarlane's "Ted," which was shot in Boston in 2011 and became an enormous success. (The original earned $548 million worldwide.) "Ted 2," which was directed and co-written by MacFarlane, filmed in the fall with Mark Wahlberg, Amanda Seyfried, and Pats QB Tom Brady, who, we're told, makes a cameo in the movie. It's due to be released in June.
Meanwhile, keeping the Teamsters busy on the South Shore was "Good Kids," which starred Ashley Judd and the lovely Zoey Deutch, whose previous credits include "Vampire Academy" and "Beautiful Creatures." The comedy, which also stars Demian Bichir, Nicholas Braun, and Israel Broussard, is about a group of overachieving high schoolers who decide they've missed out on some important adolescent experiences and reinvent themselves before going off to college.
More recently, Casey Affleck, Chris Pine, and Ben Foster were in Chatham and at the Fore River Shipyard in Quincy filming "The Finest Hours," a Disney movie about a daring Coast Guard rescue off the coast of Cape Cod in the 1950s. Before wrapping a few weeks ago, Affleck told us he'd had a great time on the set, which he acknowledged isn't something he says at the end of every shoot. We'll be interested to see this big-budget seafaring tale because it's something of a departure for director Craig Gillespie, who's best known for making the quirky and quiet "Lars and the Real Girl."
Not to be overlooked, least of all by us, is "Spotlight," director Tom McCarthy's take on The Boston Globe's Pulitzer Prize-winning series about the Catholic Church abuse scandal. The movie's A-list cast includes Liev Schreiber as former editor Marty Baron, Michael Keaton as former Spotlight editor Walter Robinson, Mark Ruffalo as reporter Michael Rezendes, Rachel McAdams as reporter Sacha Pfeiffer, John Slattery as former reporter/editor Ben Bradlee Jr., and Stanley Tucci, playing attorney Mitchell Garabedian. Even before filming began, Ruffalo was a familiar sight in the newsroom, huddling with Rezendes to talk about how the story came together.
Two smaller films were shot on Nantucket this year. One was "Peter and John," an adaptation of the Guy de Maupassantbook of the same name, directed by Jay Craven and starring British actress Jacqueline Bissetand "NYPD Blue" alum Gordon Clapp. The other was "Grey Lady," a mystery written and directed by longtime Nantucket resident John Shea and starring Eric Dane, Natalie Zea, and Amy Madigan.
There were also several TV shows filmed in Massachusetts, at least partially, including an episode of HBO's "The Newsroom," ABC Family's "Chasing Life," and four installments of Germany's popular "Katie Fforde" series.
Strout said it's likely that some or all of the TV and movie projects would have been shot elsewhere if not for the state's controversial tax credit program, which provides filmmakers with tax breaks to shoot here.
"What matters to us, what constitutes success, is that our people are working, and there are a variety of projects and locations around the state," she said. "That's what's important to us."