By Steve Pond
The Wrap
July 28, 2015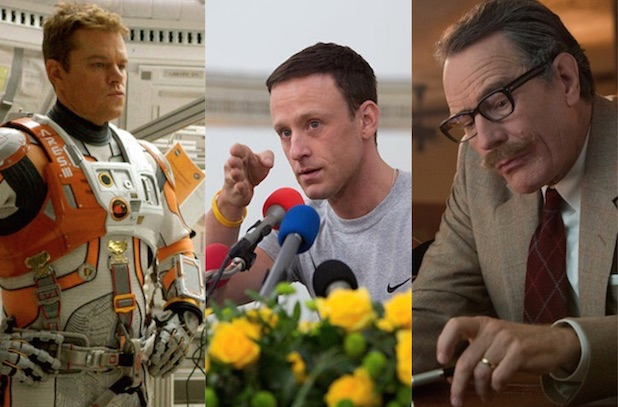 "The Martian," "The Danish Girl," "Black Mass" among titles; Johnny Depp, Bryan Cranston, Jessica Chastain, Julianne Moore and Benedict Cumberbatch also among actors list coming to this year's festival
Ridley Scott's "The Martian," Tom Hooper's "The Danish Girl," Scott Cooper's "Black Mass," Roland Emmerich's "Stonewall" and Jean-Marc Vallee's "Demolition" are among the films expected to bring such stars as Matt Damon, Jessica Chastain, Eddie Redmayne, Johnny Depp, Benedict Cumberbatch, Julianne Moore, Jake Gyllenhaal and Dakota Johnson to the 40th annual Toronto International Film Festival, TIFF organizers announced on Tuesday.
The 48 films are all among the first batch of selections to be announced for the 2015 festival, which will run from Sept. 10-20 in Toronto.
The festival's typically hefty helping of high-profile awards contenders includes a number of films dealing with hot-button social and political issues. "The Danish Girl" stars Redmayne as the first recipient of male-to-female gender reassignment surgery, while "Stonewall" is "Independence Day" director Emmerich's look at the 1969 New York City riots that were instrumental in the right for gay rights.
Other politically-charged films include "Trumbo," from "Game Change" director Jay Roach, which stars Bryan Cranston as blacklisted novelist and screenwriter Dalton Trumbo; Peter Sollett's "Freeheld," with Julianne Moore and Ellen Page as the real-life lesbian couple who fought the state of New Jersey for pension rights; "Beasts of No Nation," a story of an African child soldier starring Idris Elba and directed by Cary Fukanaga ("Sin Nombre," "Jane Eyre" and the first season of "True Detective"); Tom McCarthy's journalism drama "Spotlight," with Michael Keaton, Rachel McAdams and Mark Ruffalo in the story of a Boston newspaper's expose of abuse in the Catholic Church; and Paul Gross' "Hyena Road," about three different characters facing the moral complexity of modern warfare.
Although the festival's full documentary program will be revealed at a later date, the initial announcement also included a special world premiere screening of "Where To Invade Next," the first documentary in six years from Michael Moore.
The opening-night film will be "Demolition," starring Jake Gyllenhaal and directed by "Wild" and "Dallas Buyers Club" director Jean-Marc Vallee, a Canadian.
Other world premieres at the festival include "The Martian," with Damon, Chastain, Jeff Daniels and Chiwetel Ejiofor; "Stonewall," with Jonathan Rhys Meyers; "The Program," "Philomena" director Stephen Frears' film about Lance Armstrong; Jocelyn Moorhouse's "The Dressmaker," with Kate Winslet and Liam Hemsworth; and "Desierto," a drama about Mexican immigrants starring Gael Garcia Bernal and directed by Jonas Cuaron, the son of Alfonso Cuaron and the co-writer of his father's "Gravity."
"Legend," a new crime drama from "L.A. Confidential" writer Brian Helgeland starring Tom Hardy in a dual role as the real-life British gangsters the Kray twins, is an international premiere, screening at TIFF on the heels of its UK release.
Other films include "Black Mass," Scott Cooper's Whitey Bulger story, starring Johnny Depp as the fugitive mobster, along with Benedict Cumberbatch and Dakota Johnson; Rebecca Miller's comedy "Maggie's Plan," with Julianne Moore and Bill Hader; John Crowley's "Brooklyn," written by Nick Hornby and starring Saoirse Ronan and Domhnall Gleeson ; Adam Salky's "I Smile Back," with Sarah Silverman; "The Lady in the Van," with Maggie Smith; "Sunset Song," from acclaimed British director Terence Davies; "Frank" director Lenny Abrahamson's "Room," starring Brie Larson and William H. Macy; and "Lolo," from actress-director Julie Delpy.
One of the the most unusual films on the list is likely to be "Anomalisa," a stop-motion animated film co-directed by "Being John Malkovich" and "Eternal Sunshine of the Spotless Mind" writer Charlie Kaufman.
The Cannes Palme d'Or winner "Dheepan" will make its North American premiere, while the festival will also showcase a number of other Cannes titles: "Son of Saul," "Sicario," The Lobster," "Louder Than Bombs," "Mountains May Depart" and "Youth."
Because of TIFF's policy of transparency, and its refusal to allow films that are planning to play the Telluride Film Festival to bill themselves as world premieres, it's now possible to view the Toronto lineup and figure out which films are likely planning to appear in Telluride and Venice, both of which take place just before TIFF.
"The Martian," "Stonewall," "Trumbo" and "Where to Invade Next" will not appear at any festival prior to Toronto, while "The Danish Girl" and Atom Egoyan's "Remember," billed as North American premieres, could well play in Venice but not Telluride.
Films whose "Canadian premiere" billing makes them likely Telluride bookings include "Black Mass," "Beasts of No Nation," "Room," "Spotlight" and "Son of Saul."
A number of additional announcements will be made in the coming weeks. The final lineup:
OPENING NIGHT FILM
"Demolition" Jean-Marc Vallee, USA (World Premiere)
GALAS
"Beeba Boys" Deepa Mehta, Canada (World Premiere)
"Eye in the Sky" Gavin Hood, United Kingdom (World Premiere)
"Forsaken" Jon Cassar, Canada (World Premiere)
"Freeheld" Peter Sollett, USA (World Premiere)
"Hyena Road" ("Hyena Road: Le Chemin du Combat") Paul Gross, Canada (World Premiere)
"Lolo" Julie Delpy, France (World Premiere)
"Legend" Brian Helgeland, United Kingdom (International Premiere)
"The Man Who Knew Infinity" Matt Brown, United Kingdom (World Premiere)
"The Martian" Ridley Scott, USA (World Premiere)
"The Program" Stephen Frears, United Kingdom (World Premiere)
"Remember" Atom Egoyan, Canada (North American Premiere)
"Septembers of Shiraz" Wayne Blair, USA (World Premiere)
"Stonewall" Roland Emmerich, USA (World Premiere)
"The Dressmaker" Jocelyn Moorhouse, Australia (World Premiere)
SPECIAL PRESENTATIONS
"Anomalisa" Charlie Kaufman, Duke Johnson, USA (Canadian Premiere)
"Beasts of No Nation" Cary Fukunaga, Ghana (Canadian Premiere)
"Black Mass" Scott Cooper, USA (Canadian Premiere)
"Brooklyn"John Crowley, United Kingdom/Ireland/Canada (Canadian Premiere)
"The Club"Pablo Larrain, Chile (North American Premiere)
"Colonia" Florian Gallenberger, Germany/Luxembourg/France (World Premiere)
"The Danish Girl" Tom Hooper, United Kingdom/Sweden (North American Premiere)
"The Daughter" Simon Stone, Australia (North American Premiere)
"Desierto"Jonás Cuarón, Mexico (World Premiere)
"Dheepan" Jacques Audiard, France (North American Premiere)
"Families" ("Belles Familles") Jean-Paul Rappeneau, France (World Premiere)
"The Family Fang"Jason Bateman, USA (World Premiere)
"Guilty" ("Talvar")Meghna Gulzar, India (World Premiere)
"I Smile Back" Adam Salky, USA (Canadian Premiere)
"The Idol"("Ya Tayr El Tayer") Hany Abu-Assad, United Kingdom/Palestine (World Premiere)
"The Lady in the Van" Nicolas Hytner, USA (World Premiere)
"Len and Company" Tim Godsall, USA (North American Premiere)
"The Lobster" Yorgos Lanthimos, Ireland/United Kingdom/Greece/France/Netherlands (North American Premiere)
"Louder than Bombs" Joachim Trier, Norway/France/Denmark (North American Premiere)
"Maggie's Plan" Rebecca Miller, USA (World Premiere)
"Mountains May Depart" ("Shan He Gu Ren") Jia Zhang-ke, China/France/Japan (North American Premiere)
"Office"Johnnie To, China/Hong Kong (International Premiere)
"Parched" Leena Yadav, India/USA (World Premiere)
"Room" Lenny Abrahamson, Ireland/Canada (Canadian Premiere)
"Sicario" Denis Villeneuve, USA (North American Premiere)
"Son of Saul" ("Saul Fia") László Nemes, Hungary (Canadian Premiere)
"Spotlight" Tom McCarthy, USA (Canadian Premiere)
"Summertime" ("La Belle Saison") Catherine Corsini, France (North American Premiere)
"Sunset Song" Terence Davies, United Kingdom/Luxembourg (World Premiere)
"Trumbo" Jay Roach, USA (World Premiere)
"Un plus une" Claude Lelouch, France (World Premiere)
"Victoria" Sebastian Schipper, Germany (Canadian Premiere)
"Where To Invade Next" Michael Moore, USA (World Premiere)
"Youth" Paolo Sorrentino, Italy/France/United Kingdom/Switzerland (North American Premiere)