By Jill Harmacinsk
Eagle Tribune
November 10, 2015
LAWRENCE — Expect street closings, detours and some prohibition-era drama as Hollywood actor Ben Affleck comes to downtown Lawrence this week to film his new movie.
A section of Appleton Way, between City Hall and Lawrence Superior Court, was being dug up Monday in preparation for filming.
And the Lawrence Police Department was tweeting all kinds of area street closures to prepare pedestrians and drivers for the lights, cameras and action starting Thursday.
"We are setting up for a movie. Ben Affleck will be here for the next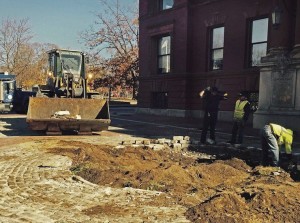 couple of weeks," said John Isensee, Director of Public Works, when asked why his crews were using heavy machinery and digging up part of Appleton Way Monday morning.
He explained the workers were removing signs, benches, concrete and the city's holiday tree to make way for a scene in Affleck's upcoming movie "Live by Night," a 1920's prohibition-era, crime drama film scheduled for release in 2017.
It's no secret Affleck is interested in shooting scenes in the Immigrant City. In mid-September, he toured various sites in Lawrence for "Live by Night."
The movie's screenplay, which Affleck wrote, is based on the novel of the same name by Dennis Lehane, who is from Dorchester.
Affleck is slated to play the movie's main character, Joe Coughlin, the son of a Boston police captain who becomes an outlaw in Boston in 1926. Also starring in the movie are actors Chris Messina and actresses Elle Fanning, Zoe Saldana and Sienna Miller.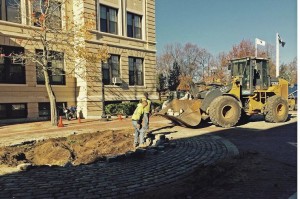 Lawrence Superior Court at 43 Appleton Way will double as a bank in the movie. Affleck will reportedly flee the bank, jump in a car and drive straight down Appleton Way, cutting through Essex, Methuen and Canal streets. Once he hits the canal, Affleck will switch cars.
"There will be intermittent traffic delays for drivers and intermittent traffic delays for pedestrians," Isensee said.
Lawrence police tweeted numerous traffic instructions that will be in effect from Thursday to Saturday of this week. They include:
– Common Street will be closed from Lawrence Street to Jackson Street with no parking all day.
– No parking on Essex Street from Jackson Street to Lawrence Street.
– No parking on Appleton Street.
– No parking on Haverhill Street from Lawrence Street to Jackson Street.
– No parking on Jackson Street from Haverhill Street to Common Street.
The Buckley parking garage at 99 Amesbury St. will remain open for area parking, Isensee said.
After filming, Isensee said another holiday tree will be planted in Appleton Way.
"We already lined up another right for that same spot," he said.
The city is being compensated for the work they are doing for the film, said Isensee. He was not aware of the specifics.
"The final number is still fluid," he said.
Abel Vargas, Lawrence's business and economic director, previously said he receives inquiries from "site finders," about possible locations film crews might use in the city.
Affleck, 43, of "Good Will Hunting," "Gone Girl" and "Town" fame was born in Berkeley, Calif. His parents later moved to Central Square in Cambridge. He's starred in many movies, including "Good Will Hunting," with his local buddy Matt Damon, and "Gone Girl."
Follow staff reporter Jill Harmacinski on Twitter @EagleTribJill.