By Devan Coggan
Entertainment Weekly
February 14, 2016
Back in 1989, Ghostbusters II predicted that the world would come to an end on Feb. 14, 2016. (Or as Peter Venkman says, "Valentine's Day. Bummer.") Well, Valentine's Day 2016 is officially here, and while the world hasn't ended yet, Sony has marked the occasion by releasing the first look at the upcoming Ghostbusters.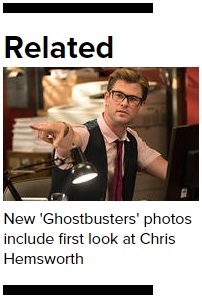 The new teaser trailer doesn't give us a glimpse of Abby Yates (Melissa McCarthy), Erin Gilbert (Kristen Wiig), Jillian Holtzmann (Kate McKinnon), and Patty Tolan (Leslie Jones), but it does show the first footage from the upcoming film, including shots of New York City and speeding police cars. So far, we've only seen photos of the new phantom-fighting team, as well as one of Chris Hemsworth as their secretary.
The teaser does, however, ask an all-too-familiar question and reveal the date for the first official trailer: March 3.
The new Paul Feig-directed Ghostbusters hits theaters on July 15, 2016.