By Kristin Toussaint
Boston.com
February 22, 2016
In a speech at the Athena Film Festival, she praised how the film's characters were represented.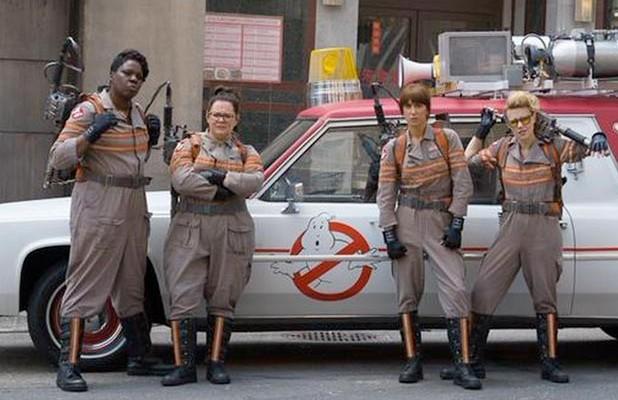 Ghostbusters, set for a July 15 release date, may not be the most realistic concept, but to actress Kate McKinnon, the new movie is truthful in the way it represents women — specifically, female scientists.
In a speech McKinnon gave at the Athena Film Festival, a celebration of women in the industry that took place this past week in New York City, McKinnon talked about the virtues of getting to wear "ugly jumpsuits." She also praised her Ghostbusters director Paul Feig—who has worked with leading women through multiple directorial efforts, including Spy, The Heat, and Bridesmaids—for how he portrays women throughout the film.
Feig received the Leading Man Award, which honors someone who is a strong advocate for women onscreen and behind the scenes, according to the festival. Feig is Athena Film Festival's first-ever male honoree.
"We filmed [Ghostbusters] in Boston over the summer, and the best part of the summer was getting to wear a jumpsuit," McKinnon said in her speech, according to Vulture. "I wore pants the whole time and my hair was up the whole time. … It sounds like a small thing that I got to wear pants and have my hair up, but it's actually a really big thing because we were playing scientists."
In her speech, McKinnon also noted how monumental it was that Mattel made dolls of the Ghostbusters characters — without adding unnecessary cleavage — and how the jumpsuits will be available as girls' Halloween costumes.
"While we were filming, Paul would sometimes release pictures of how things were going, the costumes or whatever. And we'd get a wonderful email from him whenever someone would tweet back a picture of their daughter rocking a Ghostbusters jumpsuit and a proton pack, which happened a lot," she said. "It's sweet and it's cute, but it's also actually quite new and quite huge. This morning, I Googled 'girl's Halloween costume,' and I can tell you with scientific certainty that those jumpsuits will be the only girls' Halloween costumes available this October that include pants."
Read more of McKinnon's speech at Vulture.