By Juri Love
Sun Chronicle/Foxboro Reporter
November 13, 2019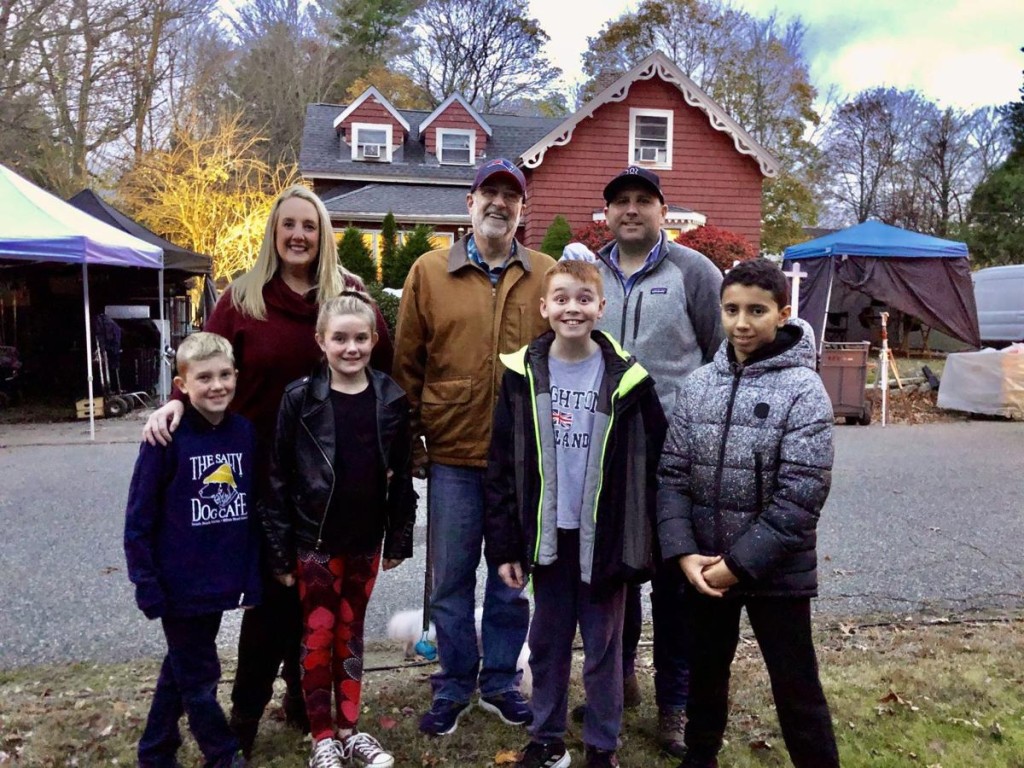 A quiet Union Street in Foxboro transformed into a Hollywood movie set last week.
On Nov. 7, a house at 30 Union St., which is currently for sale, was packed with 65 film crew members, actors, professional equipment and huge trucks from early morning to the late evening.
According to Joe Piasecki, location scout, and assistant location manager, who is a member of IATSE Local 481, 65 crew were filming on the set to produce a new TV series called "Emma," which will be released on a new video streaming platform called Quibi, scheduled to launch next year.
The production involved about 30 different locations in towns across Massachusetts.
Piasecki said the team spent about a month taking the production designer and director to visit dozens of possible house locations and businesses for filming.
"From everything we presented to the director and designer, Foxboro locations had the best look for this production," said Piasecki, who came to the Oct. 29 selectmen's meeting to receive the final approval for filming.
Piasecki, who is a resident of Attleboro, and works as a location scout and manager for movies and television shows that film in Massachusetts, said the production filmed the interior and exterior of the 30 Union St. home, including a night scene in the backyard of the house.
For Piasecki, this was his first time filming in Foxboro.
"I am always excited to work in a new town. It's been a pleasure working in Foxboro. Every department has been extremely supportive. We look forward to filming here again in the future with another project," he said.
"I think it is amazing because I've never seen all the equipment in front of my eyes. I have never seen acting happening in real life. I think I want to be in a movie, too and I like this experience," said Adam Taj, 11, a fifth grader at Foxboro Regional Charter School who has been volunteering at Foxboro Cable Access as a camera operator and youth production reporter and editor.
"I thought this was cool because I got to see all the equipment and how people act in real film," said Liam Conz, 11, a sixth grader at Ahern Middle School. His mother Melanie Conz thought it was an amazing and great opportunity for her son and for his interest in making a short film. Liam has been volunteering at Foxboro Cable access since April.
"These opportunities make his interest stronger and solidify what he believes in and loves. The set is pretty neat. It's transformed, tents everywhere, the cameras, the cords. It's really exciting and feels like I am in Hollywood," said Melanie Conz.
Selectwoman Leah Gibson thought it was amazing to turn down Union street and see all the big production going on in the midst of a small town.
"It's exciting. My kids and I can not wait to watch the final production," said Gibson.
Selectmen Chairman Mark Elfman said the set looked a lot more complicated than he thought it would be, with a lot more crew and trucks.
"The crew has been wonderful and not disruptive. I talked to a few of the downtown people where they were filming last Friday and they said they could barely see any changes or flow of traffic. They worked very well with our community," said Elfman, adding "To think this house and other locations in Foxboro were used, I can't wait to watch the show."
Robert Mitchell of Plymouth, who is a location production assistant said Foxboro is a very easy town to get around.
"The residents have been very friendly on the street, especially three detail officers have been fantastic on top of everything. I enjoyed my time so far in Foxboro," Mitchell said.