By Erin Trahan | WBUR | November 3, 2023
If he hadn't been born during an epoch with cinema, Alexander Payne says he would've been a journalist. Because when it comes to depicting a place and its people, the celebrated director behind "Election" (1999), "About Schmidt" (2002), and "The Descendants" (2011), among others, prioritizes "getting it right."
To do that, he favors shooting in real locations and casting non-actors in small roles. In "Sideways," Payne used the Hitching Post restaurant as a backdrop for the mid-life unraveling of two wine-obsessed buddies played by Paul Giamatti and Thomas Haden Church. The California institution still banks on its affiliation with the 2004 film (and still bottles its own wine).
On a stop in Boston before a screening for the cast, crew, and IFFBoston members on Oct. 30, Payne discussed how he once again took "a documentary approach" with his latest, "The Holdovers." Shot entirely in Massachusetts and set at an all-boys prep school in the 1970s, "The Holdovers" brings together an unlikely trio — teacher Paul Hunham (Giamatti), student Angus Tully (Dominic Sessa) and head cook Mary Lamb (Da'Vine Joy Randolph) — over the holidays. The film opens in Boston on Nov. 3.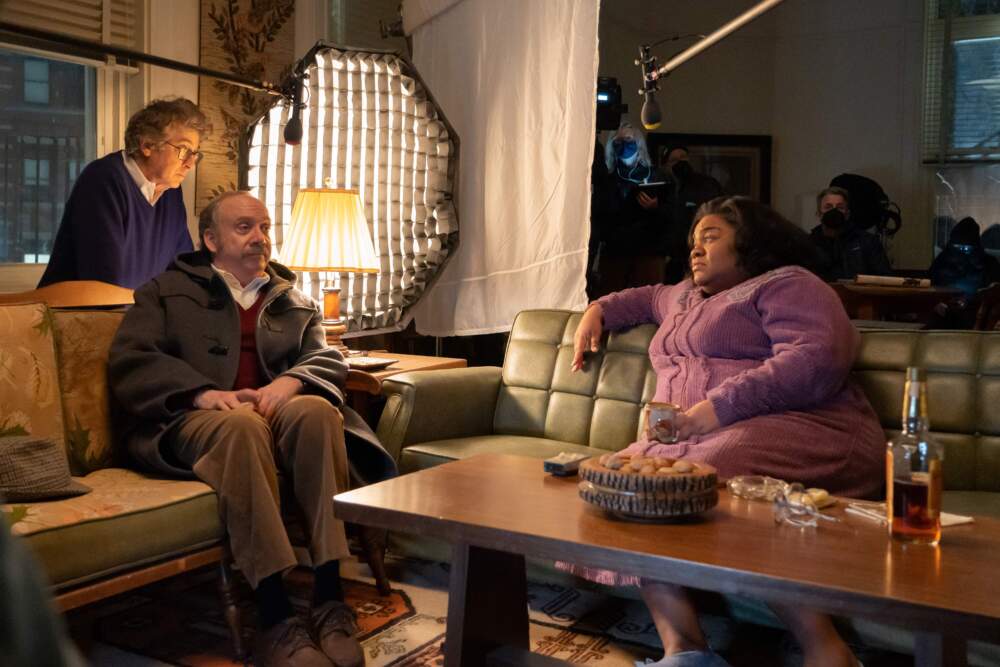 Payne explained that he chose Massachusetts for the "economic incentives" of the 25% film tax credit. Plus, he found all the locations he needed with help from Kai Quinlan, his "location czarina." Deerfield Academy, Fairhaven High School, St. Marks School in Southborough and other sites stand in for Barton, the fictional school. Somerville Theatre, Brattle Book Shop, Orpheum Theatre and other recognizable spots pop up during a "field trip" to Boston. Creating a '70s feel was relatively easy "because change comes slowly to New England," said Payne, adding, "You can still go have dinner in restaurants that have been there since 1760."
Though he used an era-perfect candlepin bowling alley, that alone wouldn't be enough. "It's not just the look — that the locations are accurate — but that there's a feeling, there's a rhythm to how people relate to one another," he said. Whereas Boston area actors with speaking roles — from Sessa, pulled from the ranks of Deerfield Academy for his onscreen debut, to Naheem Garcia, who plays Mary's subtle love interest — have rightfully earned what Payne calls "plenty of ink" and critical praise, Payne said, "You have to talk about the extras. Because the extras are the most important component of production design."
Payne relayed a story about striking up a long conversation about movies with a shoe seller at a big Massachusetts mall, only to invite him on set to be a background actor. In a similar vein, Payne's Boston movie critic friend Gerry Peary shows up briefly in the background as a member of the prep school faculty. Payne mentions one actor after another who hails from the region, like one of the other Barton students (Ian Dolley) or a scene where a sex worker (Melissa McMeekin) unsuccessfully propositions Hunham. The stories remind this author of how Payne similarly enrolled a mall shoe seller into a scene eventually cut from "Sideways," as told in its DVD extras.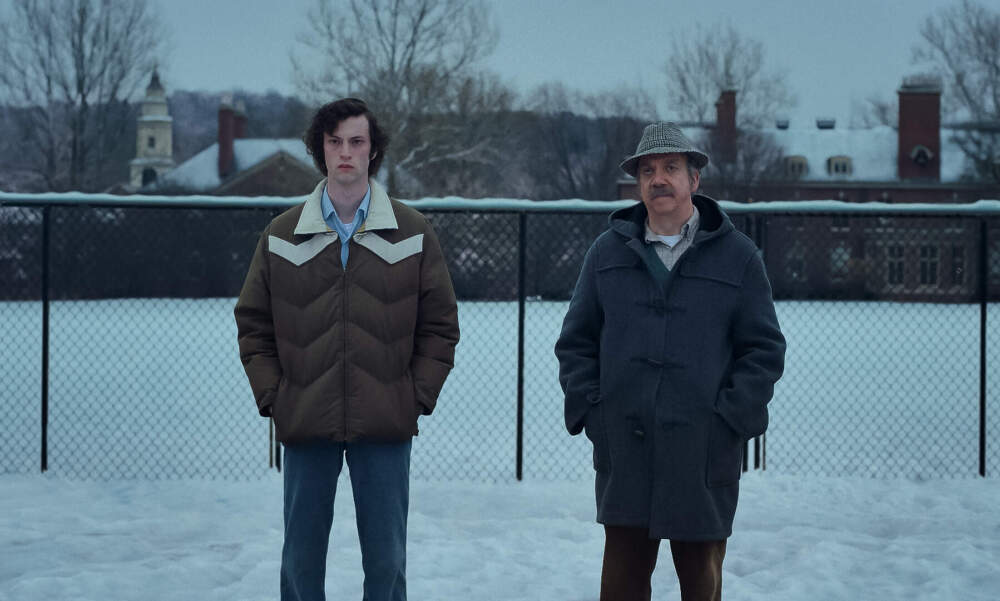 Just as important to "getting it right" are the wintry exterior looks handled by special effects (SPFX) supervisor Adam Bellao of Boston. Bellao creates physical effects like snow, wind, rain or fire for the camera to capture in scene. (As opposed to visual effects added in postproduction.) He talked area schools and businesses into saving snow for the production. "They piled it up for us," he said. "We were taking it out of people's yards and parking lots." He also wrangled 200 tons of chipped ice from a fishing outfit in New Bedford to manufacture snow. A couple of times the production got lucky. The snow on Boston Common is real, said Bellao. And a snowstorm that fell on Worcester's ice rink required a team to shovel it off. For "The Holdovers," Bellao, who also coordinates SPFX for the Max series "Julia," helped make flammable ice cream. "I make food you should not eat," he said.
While Bellao couldn't say enough positive things about his experience on Payne's set, he pointed to the stress of paying the bills while the SAG-AFTRA strike persists. A member of IATSTE Local 481, Bellao's union is not on strike. "A lot of behind-the-scenes people are suffering right now." He said he must be available when there's work, often for 10 to 12 hours a day, and that makes it difficult to have a second job.
Terrence Hayes, who served as second unit photographer and camera operator on "The Holdovers," shares a similar point of view. The South Boston writer-director-cinematographer (known for wearing a full suit on set) has been out of work for seven months. He said he "knows a lot of people losing houses and losing cars because of strikes." Yet, he said he'd work for free for Payne, or AP as he's affectionately known. "AP is a master storyteller. He's very simple, doesn't overcomplicate it. A good collaborator," said Hayes, who shot most of the film's opening credit sequence and other key shots.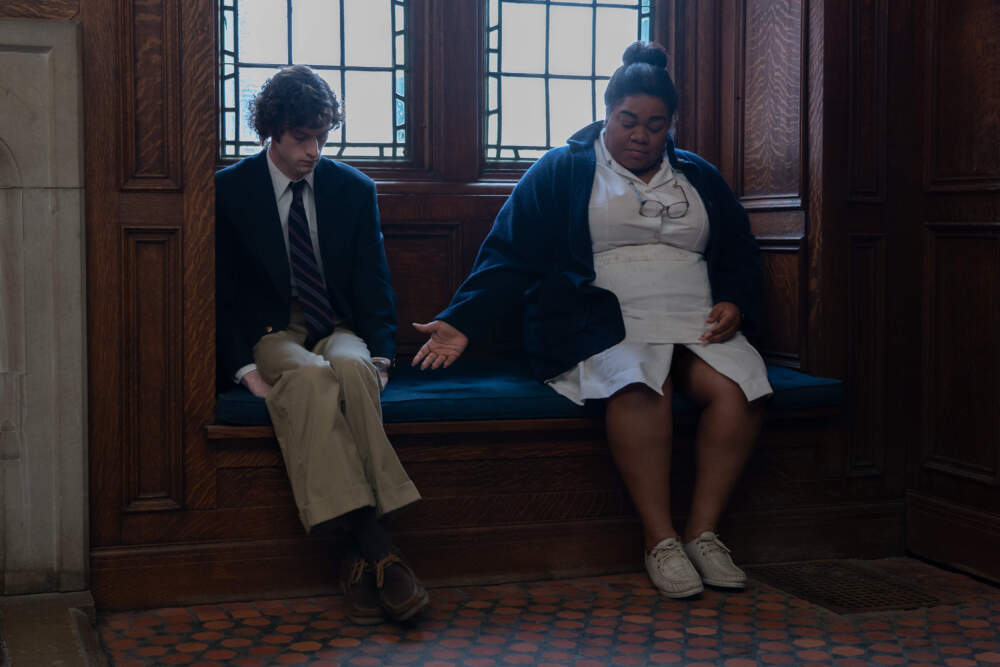 While supporting the overall cause of the strike, Payne echoed his crew members' frustration. "Hell yes, the whole damn country's worried," Payne said. All three mentioned that the lack of understanding of how the film industry functions makes it hard for the public to understand who's out of work. "Think of the caterers and drivers, the Teamsters … and then in local economies like this, the rental cars and hotel rooms," said Payne. "It's a big chain reaction from this strike. It's heartbreaking."
Yet when working together, the same chain makes a movie like "The Holdovers" gel in a way that Bellao said a viewer can sense. "Some movies, they have better look of continuity when everybody put in their best."
Payne said he fell in love with Bostonians on this project. "I began to call them Eastern Midwesterners," from a man who grew up in Nebraska. His barometer for feeling at home? If you've seen "Sideways" or now "The Holdovers" the answer won't come as a surprise.
"I found consistently fantastic waitresses in Massachusetts with great hairdos and hilarious frankness," said Payne. On his recent flight from Los Angeles, a Boston-based flight attendant warned him not to order a particular sandwich because it was 'disgusting.' Payne didn't try to mimic the accent. He said, "I just thought, 'These are my people. I'm coming home.'