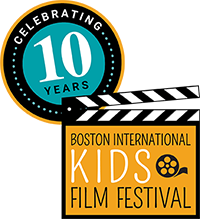 The Boston International Kids Film Festival highlights the talent of independent filmmakers everywhere while inspiring young people to share their own stories with the world.
Filmmakers Collaborative created the BIKFF in 2013 with a goal of showing kids that making a film can be a powerful way to tell a story, express your emotions, state a point of view and ( more importantly) to have fun!
By screening amazing student-made films from around the world while at the same time offering these young filmmakers a look at professionally-made films created just for them, we are enabling the next generation of filmmakers to realize the power and potential of media.
The young filmmakers that participate in FC Academy, our after-school and summer filmmaking program, are given center stage at special blocks throughout the weekend, as we screen the short films that they have created in front of their family and friends.
For more information and schedules for 10th Boston International Kids Film Festival, click here.