The rise of Mass. filmmaking means opportunities for local creative teams – like bringing Alaska home
By Mark Feeney
Boston Globe Staff
June 12, 2009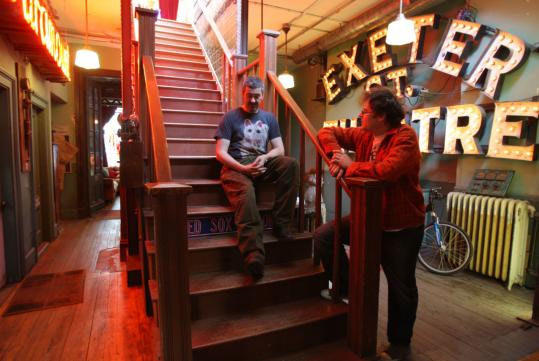 Brickyard VFX, co-owned by Geoff McAuliffe (left) and Dave Waller, handled the effects work on "The Proposal," a Hollywood movie filmed in Massachusetts. (Suzanne Kreiter/Globe Staff)
In "The Proposal," which opens next Friday, Sandra Bullock plays a high-powered executive who has to pretend she's engaged to her assistant. You'd think the plot twist that sets up the engagement – Bullock's character, a Canadian, needs an American husband to keep from being deported – would be the only special effect the romantic comedy requires.
Actually, "The Proposal" has 350 special effects shots. This is what happens when the North Shore, where the movie was almost entirely filmed, has to look like Alaska, where the movie is largely set.
All those special effects being necessary, you'd assume they'd be done in California by an FX giant, like Industrial Light and Magic or Digital Domain. Actually, they were created up a flight of creaky stairs in an old brick building near the intersection of Newbury Street and Massachusetts Avenue.
"There was this great opportunity to reach into a different market and try something," said Dave Waller in a recent interview. Waller is co-owner of Brickyard VFX, which handled the effects work on "The Proposal." That great opportunity is the ongoing boom in local filmmaking that followed the 2006 implementation of tax incentives for in-state film productions.
"We expected the film tax credit would spark growth in the surrounding industries – and Brickyard is a prime example of that," said Jason Schupbach, creative economy industry director of the Massachusetts Office of Business Development, in a phone interview. Brickyard, Schupbach said, exemplifies "the intangible knowledge base we're trying to grow here. That's what's so exciting for us, seeing the people infrastructure grow. The physical infrastructure is great, but the people infrastructure is what matters."
That people infrastructure (there are 38 visual effects people credited on "The Proposal") largely consists of recent Emerson, Northeastern, Boston University, and Museum School graduates. Sean Devereaux, a Fitchburg State grad, supervised visual effects on "The Proposal." At 32, he almost seems like an old man by comparison.
Brickyard's offices have the look and feel of a college hangout. The 20 compositing suites' hardware may be state of the art, but the battered wooden furniture (Waller purchased much of it on expeditions to the Brimfield Fair) is decidedly low tech. There's even an example of that most retro of information-technology equipment, a blackboard. Stained-glass windows, vintage signs, and widespread clutter add to the cheerfully Luddite counter-aesthetic.
Waller, 45, founded Brickyard in 1999. The Emerson graduate named the firm after the Lynn neighborhood where he grew up. Over the past decade Brickyard has steadily expanded. Its staff now numbers around 55, with offices in both Boston and Santa Monica, Calif. Although Brickyard has done the occasional music video and some television work, it's mostly concentrated on advertising.
The promos running for the NBA playoffs? (In one of them, Larry Bird steals the ball in an empty Boston Garden, which by the time Dennis Johnson scores off a pass from him has morphed into a sold-out Garden.) Brickyard did them. Besides the NBA, other clients include Volvo, Citizens Bank, and LG Phones. "Commercials are our bread and butter," said Devereaux, whose pre-Brickyard film credits include "X-Men" and "Transformers."
When the producers of "The Proposal" approached Brickyard about bidding on the film's effects work, Waller said, it seemed like a natural extension of the firm's other projects. Providing the effects for a feature film proved more of a challenge than he'd expected, Waller said. "The mistake I made was that it's a very different process. A lot of the skills are translatable, but there's a lot of new things about color and working at a much higher resolution. So everything takes longer."
Also the number of effects shots quadrupled from the time Brickyard was hired and when it finally finished work on "The Proposal," in late April. Brickyard began its FX work on the film the old-fashioned way: with shoe leather, albeit high-mileage shoe leather. Waller and Brickyard co-owner Geoff McAuliffe flew to Alaska to photograph various sites in Sitka, where much of the movie takes place (it's where Bullock's prospective in-laws live).
"I was always wondering why wouldn't they just go to Sitka if there's this much to do," Waller recalled with a laugh. "When I went, I realized that it takes about 24 hours to get there. A lot of times the weather won't even allow you to fly in at all. There are no A-list hotels for the stars – and not even hotels for the crew."
The movie was shot in Gloucester, Rockport, Manchester-by-the Sea, and Beverly. While far less daunting locales than Sitka, they're also far less Alaskan. Filming was in April 2008. Visually, Waller said, this "was a little confusing, since [the filmmakers] wanted leaves on the trees. There aren't a lot pine trees there, anyway, and the coastline is really built up. I think they just didn't figure there'd be as much landscape stuff as there turned out to be."
That's where all those FX shots came in. Bullock and co-stars Ryan Reynolds, Mary Steenburgen, Craig T. Nelson, and Betty White didn't have to endure blasts, crashes, or other standard computer-generated uproar. The only shot attentive viewers might suspect was computer-generated – and they'd be right – is of an eagle snatching up a dog. Otherwise, it's all a matter of turning scenes familiar to Deval Patrick into scenes familiar to Sarah Palin.
"We take the original photography," Devereaux explained. "We make these gray areas a little bluer. Put in a nice big mountain. A lot of this tree work. Adding in information here, just filling things out a bit." That might sound straightforward enough. But CGI, like God, is in the details – especially the follicular details.
"We had to handcut every frame, very fussy stuff," Waller said. "Even people's hair. We love Betty White – except we don't love her hair."
"Aw, man!" Devereaux muttered.
"It's so flyaway," Waller said. "All that [background] detail gets lost."
"That was one of the bigger challenges on this film," Devereaux said, "her hair. Its opacity completely changes, depending on what's behind it."
If it's any consolation, hair is low on the list of Brickyard's concerns on its current film project, "Surrogates." The futuristic fantasy, which stars Bruce Willis, is so special-effects heavy Brickyard is sharing the assignment with three other different companies. "It's the opposite of the Sandra Bullock movie," Devereaux said. "It's robots and explosions and helicopter crashes."