By Laura Raposa
Boston Herald
June 20, 2009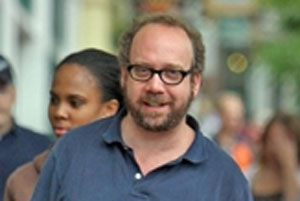 Photo by Mark Garfinkel
NANTUCKET – Would Paul Giamatti consider replacing Sean Penn as Larry Fine in the Farrelly Brothers upcoming "Three Stooges" flick? Soitenly!
The Emmy Award-winning actor, who is here at the Nantucket Film Festival with his dark comedy "Cold Souls," revealed that, as a kid, he thought Moe, Larry and Curly were scary and creepy. But he's come to appreciate their comedy in middle age.
"They were always so dark and grim," winced Paul G., who won an Emmy last year for his role as the dark and grim John Adams in the critically acclaimed HBO miniseries. "And Moe was this ancient man with a little boy's haircut. But Larry? I don't get Larry. He's strange. He's sort of the blank guy in the middle."
Peter and Bobby Farrelly thought they'd finally cast their long-awaited comedy with Penn, Jim Carrey and Benicio del Torro until Penn pulled out this week for his self-imposed yearlong hiatus. But coincidentally the Farrellys and Giamatti are all on Nantucket for the rainy film festival so some impromptu casting may happen!
Bobby Farrelly told the Track yesterday that Giamatti would be "a sensational Larry."
"We'd love to have Paul," he said.
However, Peter said the duo "have an offer out to someone else."
The Rhode Island homeys have been working on their "Stooges" script for 10 years and were set to begin filming it in August in Massachusetts. However, the Penn departure may push them back to October or next spring.
"We were devastated to lose Sean," Peter said, "but we can't blame him for choosing his family over our film."
Penn pulled out of "Stooges" and a second project to spend more time with his family after months of marital turmoil between him and his wife, Robin Wright Penn .