By Inside Track
Boston Herald
June 24, 2009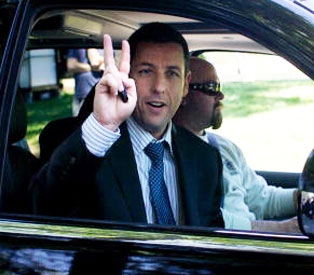 Actor Adam Sandler flashes the peace sign to his fans during a break at the second day of filming for GROWN UPS at the Pilgrim Church in Southborough, Mass.
Word from the Left Coast is that Adam Sandler, Cher, Sly Stallone, Jon Favreau and Judd Apatow will voice animals in Kevin James' "The Zookeeper," which will shoot at the Franklin Park Zoo in October.
The funny flick, which sounds like a cross between "Dr. Doolittle" and "Cyrano de Bergerac" is about a lowly zookeeper – surprise! – who can't win the heart of his beloved (Rosario Dawson) until his furry charges start talking and giving him love advice.
Sandler, who is with James filming "Grown Ups" on the North Shore, will be the voice of a capuchin monkey, and Cher will be a giraffe. Favreau will lend his voice to a bear, Stallone is a lion and Apatow is an elephant, Variety reported yesterday. Peanuts all around!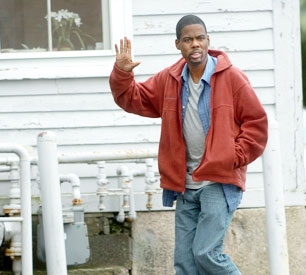 GROWN UPS star Chris Rock showing his face outside of Woodman's in Essex where the buddy comedy also starring Adam Sandler, Kevin James and David Spade, is filming this week (fried clams for everyone!) . . .
Photos by Kevin Ma (Sandler) and Patrick Whittemore (Rock).