'Wheel of Fortune' is latest show to hit city as officials court TV producers
By Johnny Diaz
Boston Globe
September 2, 2009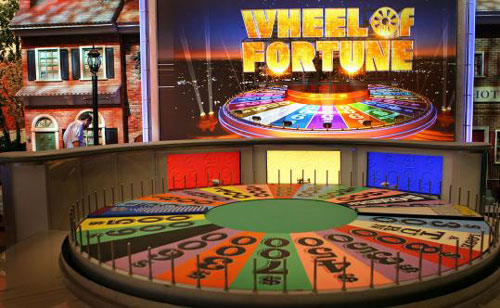 The giant electronic green puzzle board is up. The colorful flat wheel is ready to be spun.
"Wheel of Fortune,'' the popular syndicated game show, has rolled into Boston this week to tape 15 shows at the Boston Convention and Exhibition Center tomorrow through Saturday. The episodes, which will air over three weeks during the competitive November ratings sweeps, are all Boston-themed, featuring contestants and audience members mostly from the Hub. And flanking the recognizable big wheel will be replicas of New England row houses and the Old North Church, which were built to make the set look like a mini-Boston to a national audience.
The "Wheel'' is just one of several shows that have been in Boston recently as the Massachusetts Convention Center Authority and city officials have been working to attract them – and their money – to the seventh-largest TV market. Fox's "American Idol'' reality singing competition has been here twice this summer. "So You Think You Can Dance,'' a Fox reality dance competition, also held auditions here. And the CW's "America's Next Top Model'' and NBC's "America's Got Talent'' have had casting calls in Boston in the last two years.
"Boston essentially gets free commercial time as a destination,'' said James Rooney, executive director of the Massachusetts Convention Center Authority, noting that his office and the city highlight attractions that incoming shows should showcase during their shoots. "That has huge value. Beyond that, it's a fun event and it creates a buzz around the city.''
For its part, the "Wheel'' is expected to give Boston's economy a bump: The show is bringing its 160-member crew from Los Angeles and renting hotel rooms for them. It is also hiring 200 workers in Boston for security and police support for the production. Officials say the "Wheel'' will be a televised postcard to the rest of the country when it airs on 211 affiliates.
Overall, city officials estimate that "Wheel of Fortune'' will spend at least $1 million here directly this week, according to the Boston Redevelopment Authority. Mayor Thomas M. Menino will proclaim tomorrow "Wheel of Fortune Day.''
Harry Friedman, the show's executive producer for the past 15 seasons, estimates that the show will cost about $4 million to produce in Boston. "We will leave behind three quarters of a million dollars in cash prizes,'' said Friedman, who is also executive producer for the show's sister program, "Jeopardy!''
As Friedman toured the "Wheel of Fortune'' set at the Convention Center's Exhibition C Hall yesterday, he pointed to the wall-length bleachers that will hold 5,000 audience members a day for the show's tapings over the three days. Since early summer, the show has been promoting its arrival in Boston by offering free tickets to residents and tourists who would be visiting Boston this week. The tickets are so popular that some of those wheel watchers are offering their seats for $25 on Craigslist.
" 'Wheel of Fortune' is so simple,'' said Friedman, as he stood at the set's centerpiece: an 8-foot wheel that contestants spin to win cash and vacations. "It's hangman with prizes.''
The show hits the road twice a year to give viewers another backdrop to watch. In July, the show taped four weeks' worth of episodes in Las Vegas. Those shows will air later this month and in February. The show has not been to Boston since 1993, when it taped at the former Wang Center, which is now the Citi Performing Arts Center's Wang Theatre.
This time, the show will have Boston-themed weeks such as historic Boston, college week, and Boston sports. Through the episodes, viewers will see co-host Vanna White at popular Boston tourist spots such as Boston Common, Faneuil Hall, and Beacon Hill. "It's a way for the audience to vicariously travel with us to the city,'' Friedman said.
"Wheel of Fortune'' has entertained and challenged daytime audiences since it debuted in 1975 on NBC. The show became syndicated in 1983. The "Wheel,'' with hosts Pat Sajak and White, remains the most-watched syndicated show.
In August, the show averaged about 9.2 million viewers a week, ahead of "Jeopardy,'' "Two and A Half Men'' reruns, and "Judge Judy.'' In Boston, the show airs at 7 p.m. on WSBK-TV (Channel 38), where it regularly wins or places second in its time slot.
One media observer said the show's longevity can be attributed to its simple formula: Contestants buy vowels and guess the hidden word behind the board. "There is something in the human spirit, that, when it sees a board with some letters on it and some blanks, that creates an immediate drama and you have to fill those in,'' said Robert Thompson, professor of TV and pop culture at Syracuse University.
"Many times in that half hour the show presents something on that screen that begs you to stick around and see it out.''
Johnny Diaz can be reached at jodiaz@globe.com