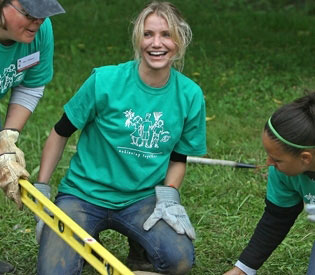 Cameron Diaz helps set up a fence today, on the nation's first National Day of Service and Remembrance. Diaz, along with members of the Celtics, City Year and Harvard Pilgrim Health, volunteered at the Young Achievers Pilot School in Mattapan. Photo by Mark Garfinkel

By Inside Track
Boston Herald
September 11, 2009
Hollywood honey Cameron Diaz surprised Boston Celtics [team stats] J.R. Giddens and Bill Walker this morning when she turned up to get her hands dirty at the team's beautifying project at the Young Achievers Pilot School in Mattapan.
Diaz, who begins filming "The Untitled Wichita Project" with Tom Cruise next week in Worcester, helped to dig new flower beds at the school to mark the National Day of Service and Remembrance, a nation-wide observance for the victims of the 9/11 terrorist attacks.
"She wasn't messing around," said Celtics spokesguy Christian Megliola, adding that the actress is a volunteer with a City Year-type organization in Los Angeles. "She dug right in. And she was very gracious."
The event was a joint project between City Year, the Celtics and Harvard Pilgrim Health Care.
Article URL: http://www.bostonherald.com/track/inside_track/view.bg?articleid=1196903