Boston Herald – The Inside Track
By Gayle Fee and Laura Raposa
October 7, 2009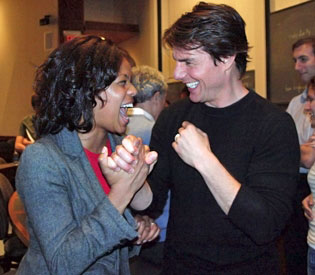 Photo by Jessica Corsi
Tom Cruise isn't an attorney, but he's played one on the big screen and the other day the Hollywood heavy was in Cambridge auditing a class at Harvard Law School!
According to Harvard Law Record blogger Jessica Corsi, Cruise popped into celebrity attorney Bertram Fields' guest lecture in professor Bruce Hay's entertainment-law class. After announcing he had never heard his buddy lecture before, Cruise took a seat in the back of the class at Langdell South and even participated in the two-hour discussion.
Apparently, Fields, who is a 1952 Crimson alum, and Cruise are quite tight in Tinseltown. Hence, Tom's appearance.
"Throughout his discussion, Fields would refer questions back to Tom, and Cruise would also interject his own experiences," Corsi blogged. "He spoke about tabloid magazines . . . working with director Stanley Kubrick and the business of how the ratings on movies get set in the U.S. as opposed to Europe."
The students, were, of course, blown away.
The leading man also talked about the paparazzi, his children and how he deals with the omnipresent cameramen.
"(H)is daughter, Suri, has, according to Cruise, some comical responses," reported the Record writer. "For example, she will sometimes throw down her hands and say, 'Why is this person following me?' She has responded to encroachments on her privacy by raising a hand and declaring, 'Personal space!' "
The students, although star-struck by Cruise, acted cool by continuing their usual classroom activities of taking notes, GChatting and surfing retail Web sites, said Jessica. But by the end of the class, "a bush fire of text messages, emails and IMs" swept through campus and the room was crowded with kids who hadn't signed up for Hay's course. How odd.
Corsi wrote that Cruise stayed an hour after class to answer student questions – which is way more time than their own professors are able to give!
Hollywood's Mr. Personable doled out advice, stories, high-fives, handshakes, hugs, and – even at one point – an impromptu dance. No couch jumping though.
File Under: One Classy Guy.