By Auditi Guha
WickedLocal.com
November 19, 2009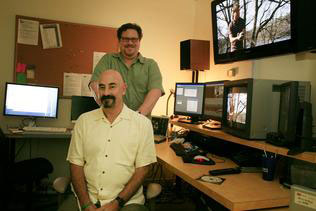 Wicked Local photo by Zara Tzanev
Melrose resident and Powderhouse Productions President Tug Yourgrau (seated) and CEO Joel Olicker are shown in their offices at Powderhouse Productions in Somerville in this photo taken in September. The men started the successful non-fiction production company 15 years ago.
MELROSE – You've probably watched entertaining TV shows like "Build it Bigger," "Mega Engineering," "How Stuff Works" and "Dogs 101," but did you know that they are being produced by Melrosians?
Now in its 15th year, Powderhouse Productions, located in Somerville's Davis Square, develops and creates "dazzlingly original, award-winning factual and alternative entertainment for television and emerging media," according to the company's tagline, shown on cable channels such as PBS, TLC, Discovery, History, National Geographic and Animal Planet across the country and around the world.
"We blend classical documentary backgrounds with highly entertaining and factual programs, and that's our strength," said President Tug Yourgrau, who lives in Melrose. "We also have a lot of fun telling stories in an entertaining way, with real style."
Yourgrau and three other Melrose residents — Johnny Healey, Mary Mullaney, and Brad Johanson — work collaboratively to create non-fiction documentary programs at Powderhouse.
Yourgrau is a familiar face in Melrose and not only for the tall, bald, striking figure he cuts, but also for his participation in the local a cappella men's group Blue of a Kind. Yourgrau is the group's stage manager, and his deep voice cannot be missed when the group performs at local events.
At Powderhouse, the shows produced range from building a prison to hold dangerous criminals ("Engineering Supermax Prisons" on TLC), and protecting the emotional lives of boys ("Raising Cain" on PBS), to ingenious inventions such as the airscooter ("Invent This" on Tech TV), and profiling a life of clogged toilets and leaky faucets ("American Plumber" on Discovery).
A "cockamamie dog-training" show called "Super Fetch" premiered in October. Vice President of TV Development Seanbaker Carter described it as a 'bromance' between a dog and its owner in a bit irreverent but very unusual training show.
The next documentary from Powderhouse is "A Girl's Life," which I scheduled to premier on PBS on Dec. 30, and features author, educator and coach Rachel Simmons and four girls who tell their personal stories as young women growing up today.
How it started
It all began when two friends, Yourgrau and Powderhouse CEO Joel Olicker, got together and decided to make an independent film about South Africa in 1994, in the aftermath of Nelson Mandela's election. They traveled there, shot footage, returned home, put together a creative road trip journal and pitched it to WGBH. The one-hour documentary became a successful show and was subsequently aired on several PBS stations.
"We never looked back," CEO Joel Olicker said.
Before they knew it, they were making shows such as "The Science of Crime Solving" and "The Science of Historical Investigation" on the Discovery Channel. As projects came in, they began hiring people to help from a small space on Elm Street, starting with an accountant and associate producers.
"We had no idea we wanted to grow this big," said Yourgrau, who recalled being careful enough to sign their first deal before putting down the lease payment for a space in an Elm Street basement room in Davis Square.
Olicker had a science background and had worked at WGBH's "NOVA," and Yourgrau had written a Broadway play. Boasting diverse backgrounds and experiences, both friends were freelance TV producers working together at WGBH before becoming business partners.
Olicker lived near the historic Powder House in Somerville and was fascinated by it, so he named the company after it and continues to stress the importance of working, spending and hiring locally. "We have a lot of people working here who live in Davis Square, Union Square, Porter Square and Cambridge. We also have folks who have moved from New York and LA to work here," Olicker said.
Yourgrau loves calling Melrose home, but also loves working in the Davis Square area and is proud of running a successful local business that brings talented students from Tufts, Harvard, Emerson, Boston University and other greater Boston schools to the company in a rigorous internship program.
The company recently remodeled its subleased office spaces in the 212 Elm St. location with about 116 employees and a half-dozen shows being produced at this time.
"It's wonderful in a lot of ways," said Seanbaker Carter, vice president of television development, to lead "a rockstar development team with a lot of creative freedom."
Carter worked for Scout Productions before he joined the Powderhouse team three years ago and says he loves the energy of the office. "We are a full-blown TV business and the hours can be crazy, but [Yourgrau and Olicker] are family guys who understand that it's important for people to have a good time," he said. "I like that the quality of our programming is very, very good. We are also in a place where we don't have to take up stuff unless we want to do it."
It wasn't easy to get where they are, and Yourgrau was scared of the risks of running a business initially. Filmmaking has its phases, being slow at the beginning and intense during the end of a project, he explained. Tired of the constant ups and downs, he and Olicker decided to take on more shows than one at a time along with a staff.
"So we started hiring people and became a real business with a budget, consultants and corporate offices — right here," Yourgrau said.
What once seemed like a risk has certainly paid off. Despite the down economy, business is booming at Powderhouse, which can be found online at Powderhouse.net, and it has reportedly grown three times in the past three years. Thanks to a state tax credit for qualified businesses, the production company has continued to expand, hire and make new shows.
"Basic cable TV is the least affected by recession," Yourgrau said. When people are out of jobs, they tend to be home watching TV more. Even when they cut back, most people try to at least keep basic cable. "The long-term prognosis for cable TV is continued growth," he said. "It's a great example of how it pays off for the state and for us."
Where are they headed? Yourgrau believes they will continue to grow and that there will a significant TV and cable industry in Massachusetts in another 15 years that they could contribute to.
"Companies like this usually move to New York or LA; we've made a conscious effort to stay local. We like the quality of life here," he said. "We'd like to work for more networks and go international in Asia, UK, Europe, right from Davis Square."
Carol Brooks Ball, senior editor of the Melrose Free Press, contributed to this report.